Wednesday November 14, 2012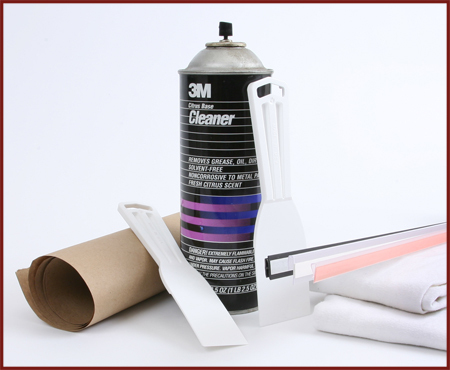 Occasionally, our customers require sign channels or sign feet without the foam tape that is standard for these parts. Both our sign channels and our sign feet can be custom-run without tape, however, in order to be cost-effective, quantities need to be rather high. If just a small number of pieces is required, there is an alternative to an expensive custom run; with a little determination, the tape can be removed.
To remove the tape, begin by using a plastic putty knife to scrape off the bulk of the tape. Next, lay the sign channel or sign foot on a piece of butcher paper, or newspaper, and spray a coating of adhesive remover onto the remaining tape residue. Our recommended product is 3M adhesive remover.
Let the adhesive remover sit on the tape residue for fifteen minutes to one half hour, then wipe the tape residue off with a rag. If needed, repeat this process; no more than two applications of the 3M adhesive remover should be necessary. Finally, a bit of lacquer thinner on a rag, wiped over the sign channel or foot, will clean up any remaining tape residue.
Related Products and Categories
---
Popco's steel snap-rings are shipped in a closed position. This keeps the rings from tangling in shipment and, in one sense, makes the rings easy to handle. However, on large kitting projects, opening the rings prior to use can be time consuming and, in the case of the small-sized rings, somewhat difficult.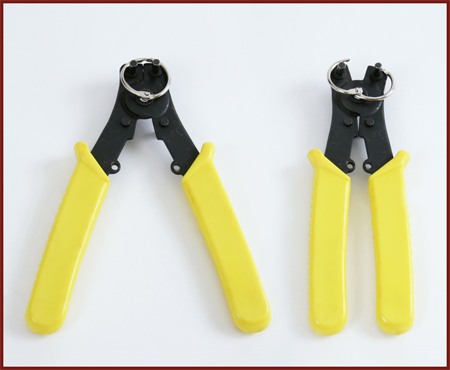 To speed up this process, a common automotive tool know as a seal-ring pliers or a retaining-ring pliers works well. At Popco, we use a seal-ring pliers with a 90 degree angled tip. We rest the tool on a work bench, lay the snap-ring over the tool tips (making sure that the ring's hinge pin is at the 6:00 o'clock position). Then, closing the tool's handle will pop open the ring.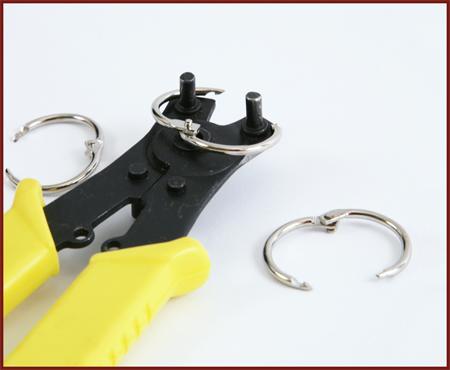 Like any tool, snap ring pliers are available in higher or lower quality. We recommend choosing a stout, high-quality tool that will last and spare you the frustration of working with a cheap tool.
Related Products and Categories
---
Friday September 14, 2012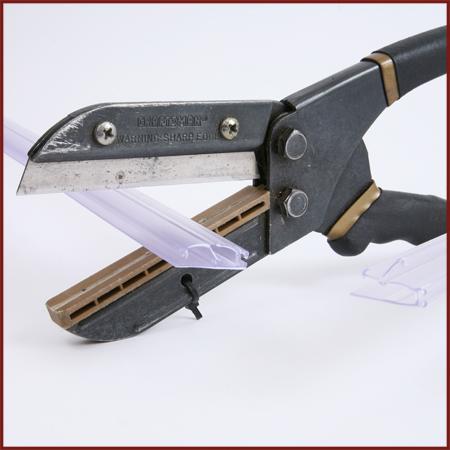 Popco's SNAPRAIL™ and sign channels are available in a variety of stock lengths, but sometimes a custom length is required. Though Popco offers cutting services, customers occasionally choose to do their own cutting. A great tool for cutting Popco's SNAPRAIL™ or sign channels is the Craftsman Handi-Cut. The Handi-Cut features a super-sharp replaceable blade that cuts through the plastic of Popco's parts cleanly and does not leave the stress marks that other, less effective cutters do.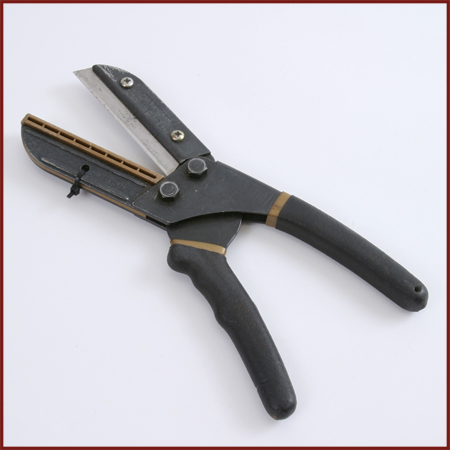 Pictured here is one of Popco's trusty old hand-cutters. As you can see, this tool can take a beating and it will keep doing a great job. The Handi-Cut is widely available and modestly priced.
For more information on this tool, here is a link to the Craftsman website: click here.
Related Products and Categories
---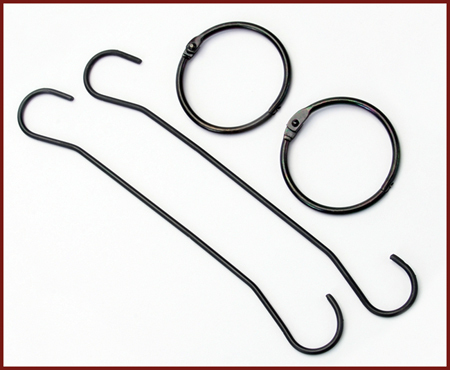 Popco now offers colorization of select metal parts. This process is most typical for our wire hooks and our steel snap rings, which are stocked with a silver-colored finish, and the most common color variation is black. Additional cost and lead time is incurred and minimum quantity requirements may apply.
For more information on colorizing Popco's products, please contact us; click here.
Related Products and Categories
---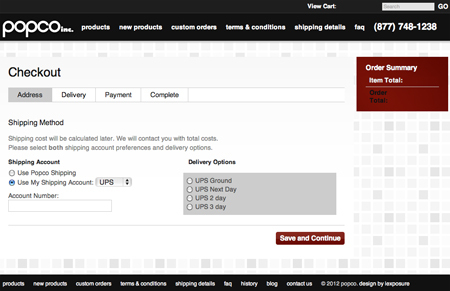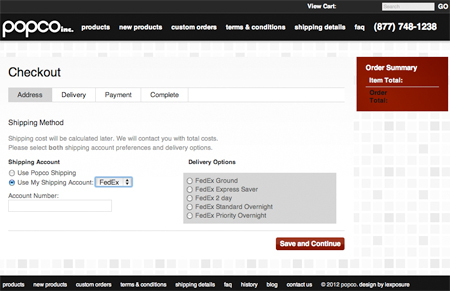 Responding to customer's requests, we've updated our website to allow customers to ship using their UPS or FedEx accounts. Now, when completing an order, shoppers can choose to "Use My Shipping Account," select either UPS or FedEx, enter their account number and choose from a full list of UPS and FedEx shipping options.
For orders shipped in this manner, there is no additional billing for the shipping. However, Popco does charge a $4.00 fee for FedEx ground shipments. This is because we do not have a daily FedEx pickup at our distribution warehouse. Instead, our warehouse staff drops your package at a FedEx facility incurring the $4.00 fee.
For more information on this fee, and other shipping requirements, click here.
Related Products and Categories
---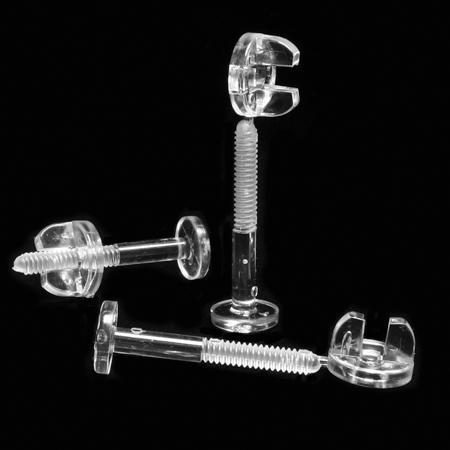 Popco's limited quantity of 1.5", course-thread ,Viking Hat Screws is now on sale for $16.00 per 1000 (just $0.016 per part in case lots of 6000 pieces). As a comparison, our standard 1.5" Viking Hat Screw sells for more than twice this cost.
This polycarbonate screw binds materials from .7" to 1.33" and is very similar to our standard screw except that the gripping rings are more widely spaced (course thread).
This offer is good only while supplies last and is available by phone only. Call Popco at 800-557-6726 for more information or to place an order.
Related Products and Categories
---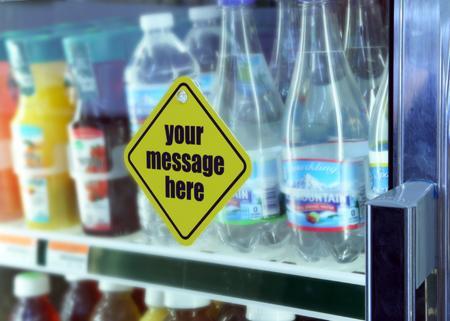 Responding to customer's requests, Popco now offers a small suction cup with a mushroom head. This product, often referred to as the "baby-on-board" sized suction cup, is designed to hold small signs to cooler doors and windows. The suction cup's cap, or mushroom head, is meant to pass through 1/4" pre-drilled or punched holes on a sign. The sign then hangs from suction cup's cap; no hook or tack is required.
Popco has created a new tool for this product and is running stock at our plant here in the US. The item number for this new product is SCM-81, and it is in stock now and ready for immediate shipment. To learn more about this new 7/8" diameter mini suction cup, or to place an order, click here.
Related Products and Categories
---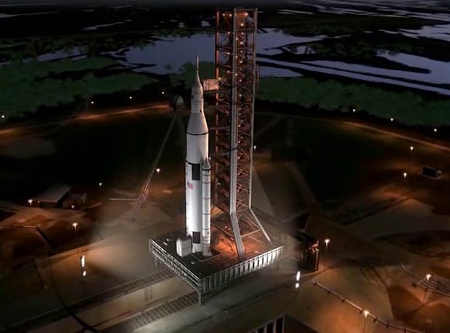 Welcome to the first installment of Popco's new blog and welcome to our new and, we believe, dramatically improved website.
With our new site, we aim to make it easy for customers to find, learn about, and purchase Popco's products. We also hope to better communicate our policies and to describe our offerings for custom products. Perhaps most importantly, we hope to begin a dialog with customers; to address their needs and to share some unusual merchandising solutions we have come up with as part of our custom work.
Future posts will focus on the issues faced by retailers and how Popco's solutions can help. We will examine some unique approaches to POP installations that our customers have shared with us and we will share our own ideas about POP merchandising.
We hope you'll find our new web site enlightening and easy to use. Please share your views with us. Our contact us form is a great way to send us your message. To use our contact us form, click here.
Related Products and Categories
---