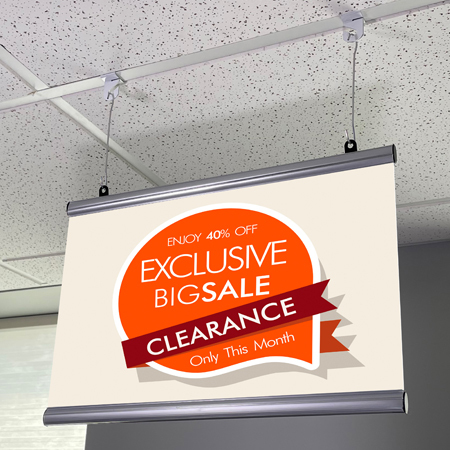 Let's talk a bit about ceilings. As we see them, they are far more than protection from the elements. They are essentially blank canvases from which all manner of point-of-purchase displays can be hung. For banners, posters, mobiles, you name it; ceilings are practically begging to serve as a marketing opportunity. Best of all, ceiling-hung p-o-p pieces are highly visible and they don't use up valuable floor space which is better used for product or traffic areas.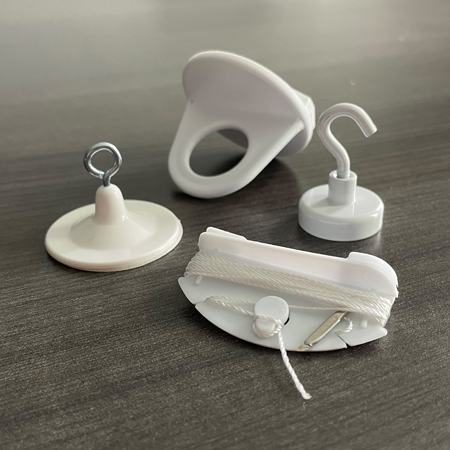 No matter what style of ceiling you're working with, Popco likely has a product that will serve as the perfect connection point. Some of our products grip and lock onto drop ceiling grids – from these parts, double-c-hooks can connect to your sign. Other products connect to ceiling grids and include string that connects to signs with a simple barbed end. Some of our products connect to ceilings with either adhesive or magnet.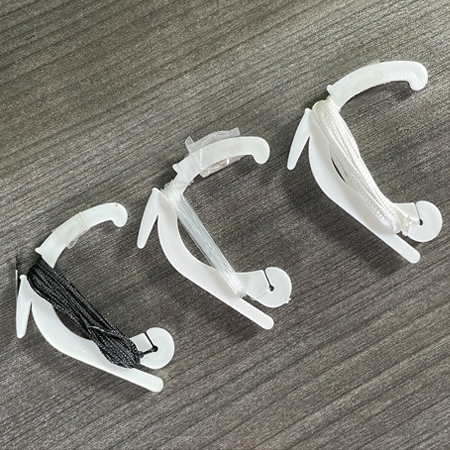 One popular product for ceiling-connection is our C-hook with string. This product wedges securely into drop ceiling grids, hangs from pipes, metal truss ceilings and a number of other ceiling features. Each C-hook includes six feet string; either black, white or clear monofilament. A barb at the end of the string connects to your sign.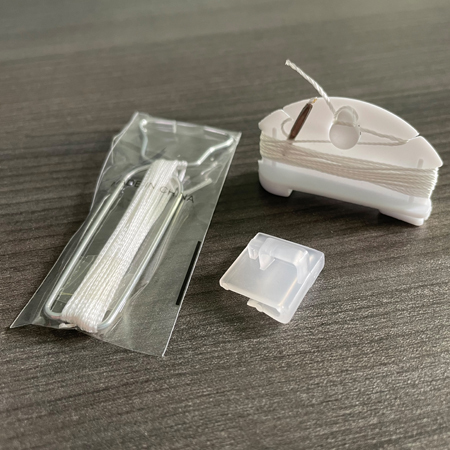 There are many other styles of ceiling hardware to choose from in our line-up and this means that you need to look no further than Popco for practical, functional and cost-effective ceiling hangers.
Related Products and Categories
---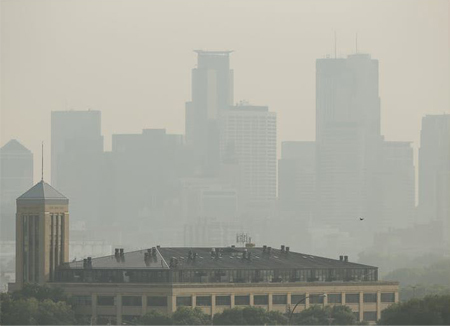 photo by Jeff Wheeler courtesy of the Minneapolis Star Tribune
A hazy hello from Popco. Canadian wildfires have blanketed our Twin Cities in smoke which is both strangely beautiful (at night the moon glows orange) and apocalyptic (the fires are hundreds of miles away and yet the smoke obscures our skyline).
On a far lighter note, comically inspired by all this smoke, we decided to devote our new blog post to mirrors — specifically, mirror clips.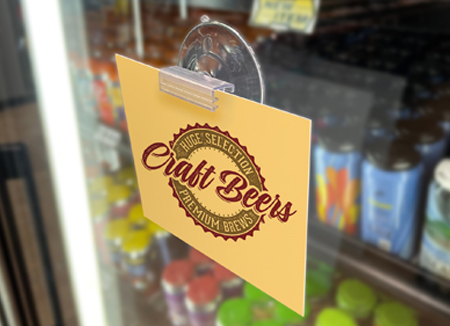 Mirror clips, in Popco parlance, are sign gripping clips that slide snuggly over the top caps of our suction cups. The mirror clip then becomes a super simple tool for presenting small signs. The benefits of this product are many: It is easily repositioned; it lasts for ages and can be reused many times over; it works on cooler doors, windows and non-porous surfaces like metal or tile.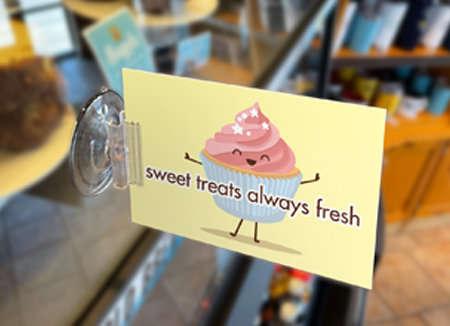 A companion product is the flag clip, which works in the same way as the mirror clip but holds signs at a right angle to the mounting surface – whereas the mirror clip holds signs flush to the mounting surface. Mirror or flag, smoky or clear, if you have coolers, windows or other surfaces waiting for marketing materials, then these Popco products are right up your alley.
Related Products and Categories
---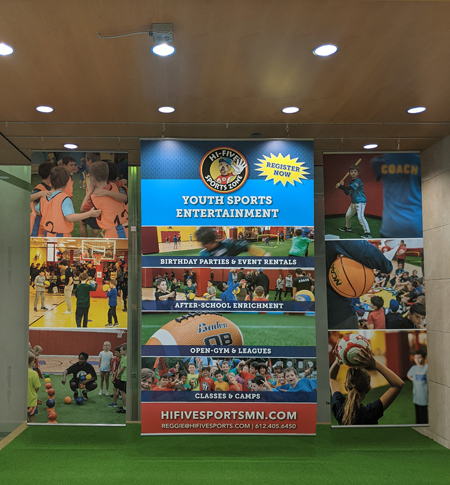 If you don't mind us saying so, today's post is super cool on many levels.
Please, read on, we think you'll agree.
The story begins with Shawn Nejman and Whitewood Graphics. After producing a collection of fantastic print pieces, Shawn enlisted Popco to provide hanging hardware and installation assistance.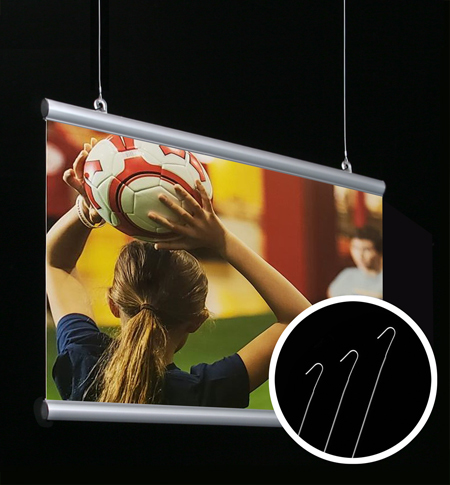 Shawn chose Popco's NX series snap rail to hang posters, and Popco's expandable jetwires to hang die-cut graphics for his customer, Hi-Five Sports Zone.
Mary, a Popco staff veteran, and gal-in-the-know when it comes to graphics installation, met Shawn on location at Hi-Five and together they assembled the installations pictured in this post.
This is where Popco excels; we delight in working with our local customers and providing hands-on assistance with projects such as Shawn's.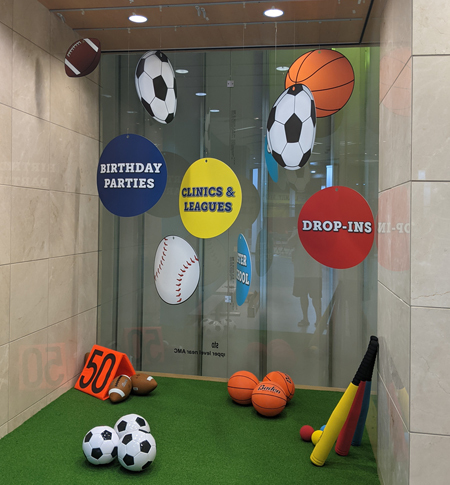 Adding to the cool-factor of this project is the location. To say that Hi-Five Sports Zone is cool is a remarkable understatement. Hi-Five Sports Zone, a state-of-the-art indoor sports facility located in Eden Prairie, Minnesota, occupies 20,000 square feet of basketball courts, turf fields, a multi-use court, and putting green.
The Hi-Five mission is to foster sports exploration and development specifically for young children. Hi-Five offers an after-school club where children are introduced to a variety of sports, learn lessons of positive sportsmanship, and, above all, can have fun. Hi-Five also organizes leagues in which children can participate in soccer, t-ball, hoops and flag football. To top it off, the Hi-Five facility is available for birthday parties and private rentals. Super cool indeed.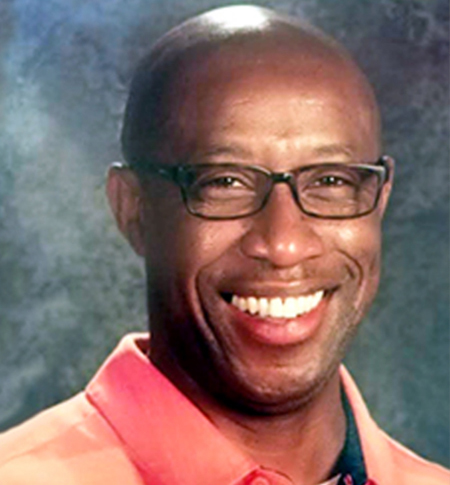 Just when we thought this project could be no cooler, we learned that the owner of Hi-Five is Mr. Reggie Perkins. Reggie Perkins, former St. Cloud University basketball star, who helped SCSU win three consecutive North-Central Conference division II championships and was twice voted NCC MVP!
Reggie Perkins who was once a HARLEM GLOBETROTTER!
In ten-plus years of writing the Popco blog, I can finally say that I'm star struck. As a kid, I spent most Saturday mornings glued to the TV watching the Globetrotters animated cartoon. I'll never forget the positive messages from that show and the jaw-dropping virtuosity of the Globetrotters that I saw when the real team was on TV. It seems, after all these years, that Mr. Perkins is still influencing young people and spreading a gospel of positivity through sports.
On behalf of Popco, a big thank you to Shawn from Whitewood Graphics and to Reggie from Hi-Five. We are thrilled to contribute to your projects and this particular blogger is in fact star struck.
Related Products and Categories
---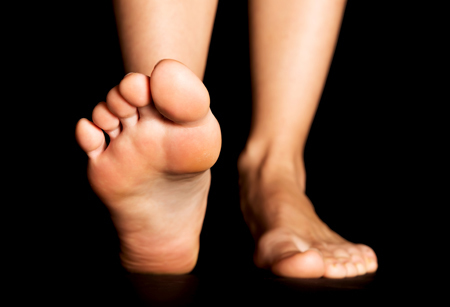 Feet are underappreciated. Aside from certain aficionados, most folks consider chiseled abs, bulging biceps and toned quads to be the more impressive body parts. This hardly seems fair since the utility of feet can't be overstated, and a few figures of speech – "stand on your own two feet, get a foot in the door, put your best foot forward" – hardly do justice to feet. Afterall, without them we'd topple.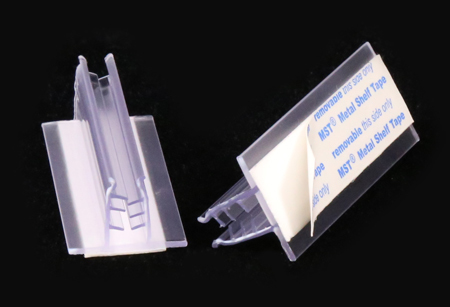 The same is true in the P-O-P industry. The humble sign foot isn't glamourous. But glamour isn't the point, functionality is. For example, if you want to display a marketing piece on a table top, there's a sign foot for that. If you need to support a rigid poster atop an endcap, there's a sign foot for that. If you must create divider sections in a cooler case, there are sign feet for that.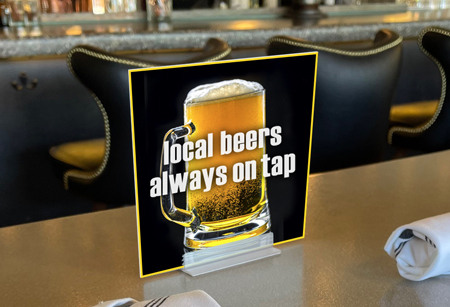 So, consider please that your P-O-P projects might be well served by a Popco sign foot. Your messages and your images can take center stage, as they should, and the simple sign foot – the unsung hero – will provide the necessary support.
Related Products and Categories
---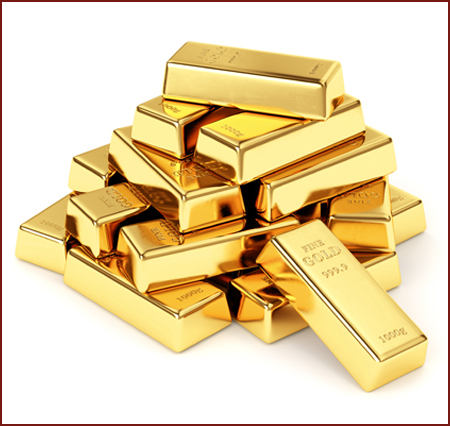 Nowadays it seem like a pile of gold is equivalent in value to a similarly-sized pile of plastic.
If you're reading this post, perhaps you're in our industry, and you may already know that plastic costs have gone through the roof. Adding insult to injury is the lack of plastics availability (at any price). These challenges are so great that we've considered retooling and making our products out of ground unicorn horn; that's a material that might be more readily available and reasonably priced.
There are a number of reasons for this. They are: Covid, Covid and Texas. Due to Covid protocols, the off loading of raw petro-chemical materials at west coast ports has been dramatically delayed, resulting in material shortages. Due to Covid, the demand for plastics (for face masks, barriers, gloves, you name it) has lead to shortages and driven prices up. Even the freak blizzard earlier this year in Texas has played a role in this nightmare; having disrupted oil production and reduced availability of petro-chemicals essential in plastics production.
Because of this, Popco has had to raise prices and increase lead times on our manufacturing. We've even had to disable sections of our website so that certain products can't be ordered online. This is because we can't maintain the website fast enough to stay apace with volatile material cost fluctuations.
Until rays of sunshine break through these dark clouds (and they will eventually), we ask that you remain patient with us and call us so that we can offer you best information and best service in this unusual time.
Related Products and Categories
---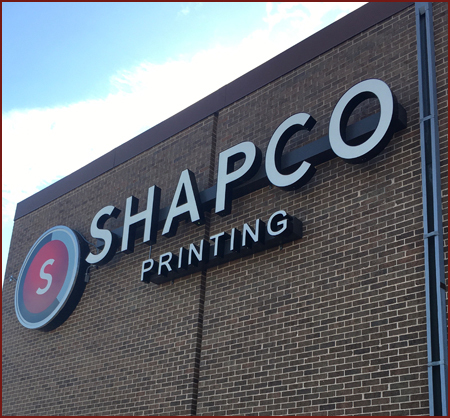 When you're in the widget business, you spend a lot of time describing how this goofy little part or that does what it does. Once these goofy little parts are understood, they become less goofy and more remarkable; in some cases essential. In order to bridge the understanding-gap between goofy and essential, Popco has developed a series of display racks that make it easy for designers to zero in on the parts that will help make their creations come to life.
Shapco Printing, in Golden Valley, Minnesota, is among Popco's most valued customers and, recently, Shapco made space in their facility for our racks.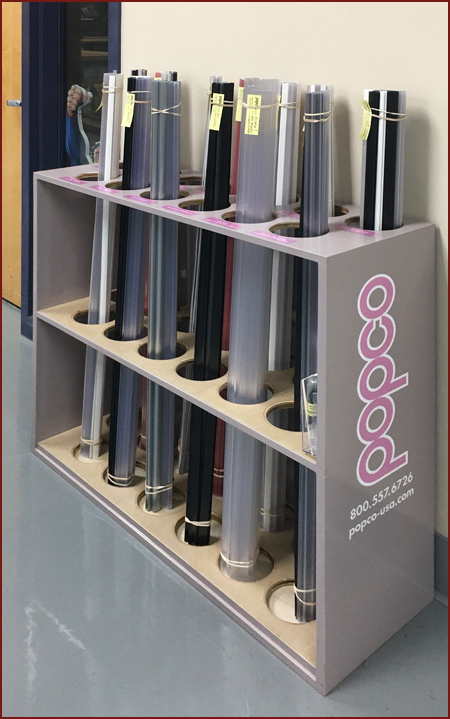 Shapco's racks include a full complement of Popco's SNAPRAIL™ poster hangers, sign channels, display formers and C-channels. We call this collection, shown above, our extrusion rack. As you can see, we include a number of pieces of each product so that designers have what they need to prepare mock-ups. If the rack becomes depleted, a Popco representative with restock the rack, keeping all that we offer at the designer's fingertips.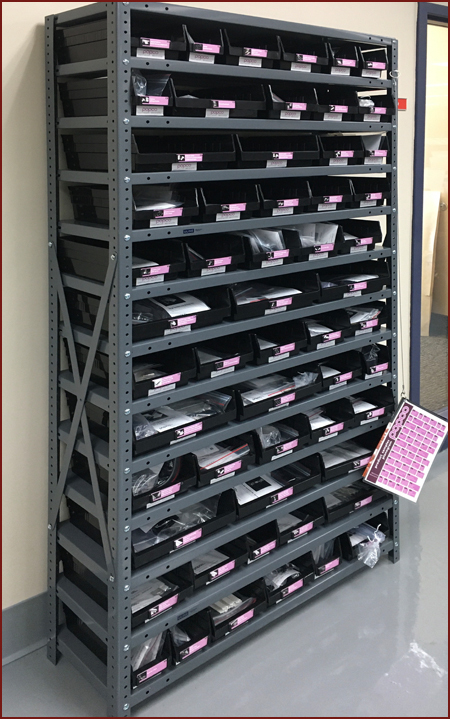 A second Popco sample rack is also in place at Shapco. It is our small-parts rack and it includes an enormous selection of products including: suction cups, binding posts, shelf-channel sign holders, book rings and a whole lot more. So that designers can find what they need in this massive collection, we've organized the rack's trays in a practical manner, included photos of the parts the trays contain, and provided a planogram that describes the organization of the rack. As with the extrusion rack, Popco representives will keep the rack well stocked since it is our hope that designers will be using the parts for mock-ups.
The racks are big, they're elaborate and we can't offer them to all of our customers. That's where our smaller, boxed sample-kits come into play. The first step to acquiring Popco samples is to reach out to us. Be it with a small sample box, or a big sample rack, a Popco representative will assist you in coming to understand our product line. Just give us call: 800-557-6726 and get the conversation started.
Thanks to all of the folks at Shapco who made the installation of the Popco racks happen and who look to Popco for those goofy and essential widgets. To learn more about the extensive and award winning services offered by Shapco Printing, vist the Shapco website.
Related Products and Categories
---
Thursday February 25, 2021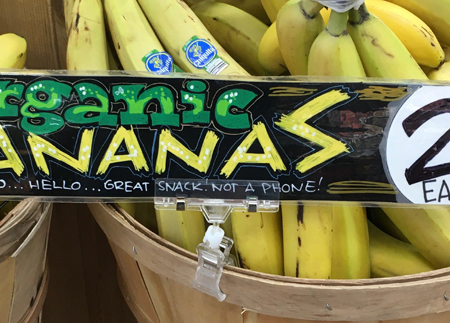 Choose a favorite adjective and it'll likely apply to Popco's squeeze-clip sign holders. Here are some modest suggestions: Simple, straight-forward, versatile and practical. Or, if you'd prefer, some more extravagant suggestions are: spectacular, outstanding, remarkable and essential. If you think we're exaggerating, you haven't tried the squeeze-clip sign holders.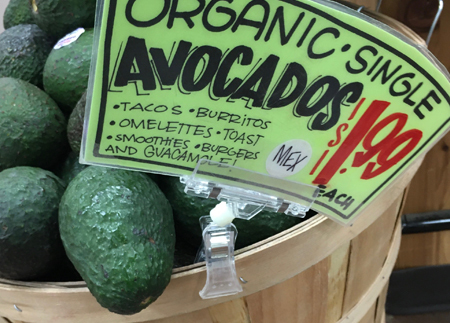 With all modesty, we can say that the squeeze-clip sign holders are straight forward. What could be more straight forward that clipping one end of the squeeze-clip to any number of surfaces, and clipping the other end to your sign? As for versatility, the squeeze clips are practically contortionists. A movable piece between the top and bottom clips (we call it an articulating knuckle) makes it possible for you to display your sign in almost any position; straight, angled, flush or at a right-angle to the surface you're attaching to.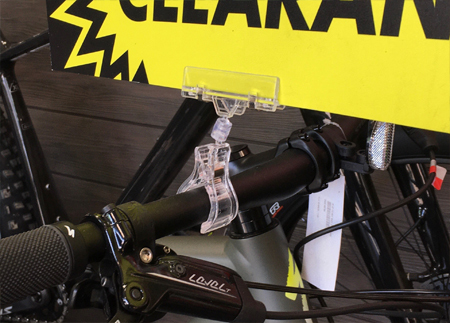 Essential? You bet! When it's time to change signs, just unclip and update. If your sign needs to move to another location, just unclip and move. If you're gripping something thin, no problem, and the same goes (within reason) for gripping thicker objects.
If small sign change-outs are frequent in your retail setting, you really owe it to yourself to try Popco's squeeze-clip sign holders. We're sure you'll agree, using them really is as easy as clip, clip, done!
Related Products and Categories
---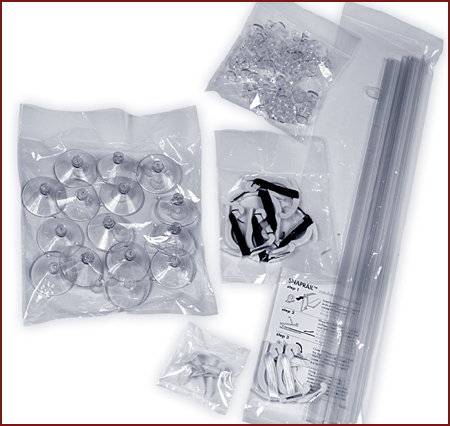 At Popco, we understand that it's not enough to design great stuff, make great stuff and ship great stuff expeditiously. We know that some of our customers are seeking fulfilment as well. Fortunately, we offer fulfilment, and you don't have to climb a mountain looking for a holy man to get it. Just call Popco and one of our sales representatives will chat with you about your project, quote the project and get the production-ball rolling if you choose to proceed.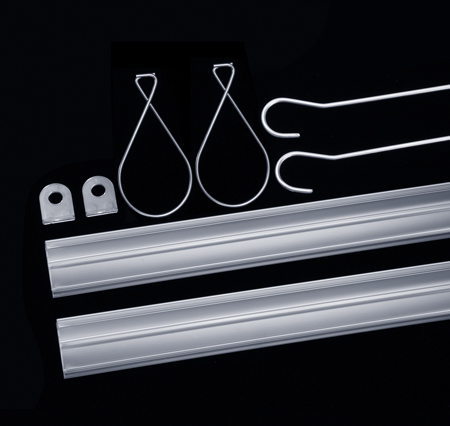 Our crew can suggest combinations of products based on the specifics of your project. We can customize our products, assemble them in bags, boxes, or both. We can ship them to your distribution centers or, if need be, we can ship blind to your customers. In short, we can offer most anything required to fulfill complex projects. We do, however, draw the line at enlightenment. For that you'll have to look to that holy man on the mountain top, or perhaps a monk, priest, guru or shaman.
Related Products and Categories
---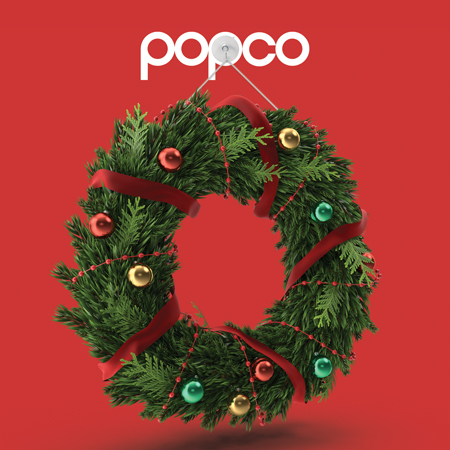 There's no need to enumerate the ways that 2020 has been a struggle, and no good will come from inserting more gloom and doom into the conversation. What would be helpful would be some positivity and, even in the darkest times, if you look hard enough, something positive will emerge.
Popco has not been immune from the challenges of 2020. Our crew is scattered; some of us working remotely and some of us holding down the fort and shipping out the orders. This has been strange but we've adapted and we've stayed afloat. For this we have our customers to thank. They too are adapting to a changed landscape and they are sticking with us - and we with them. As the pandemic saying goes, "we're all in this together."
So during this holiday season, we'd like to offer thanks and gratitude to our customers and we'd like to wish them a Merry Christmas, a Happy Hanukka and a joyous New Year. We are weathering a storm but that storm is clearing and the sunshine is sure to emerge in 2021.
Related Products and Categories
---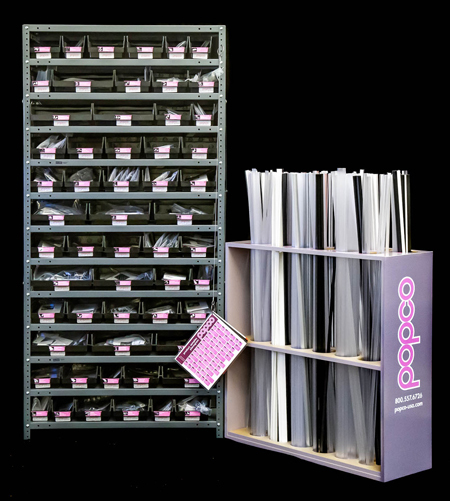 Who doesn't like free samples? Haven't you said yes when offered those tiny spoons of ice cream at your favorite parlor? Or yes to the barkeep pouring tastes of craft beer?
Well, now you can look to Popco for samples in a way that wasn't possible before since we've upped our samples game in a big way! We've gone from providing samples on request to assembling kits and racks that represent nearly our entire product line.
Our grand-daddy sample racks are pictured above. One rack features bins filled with our fasteners, suction cups, sign bases and a whole lot more. Another rack features our sign channels, SNAPRAIL™ and data strips.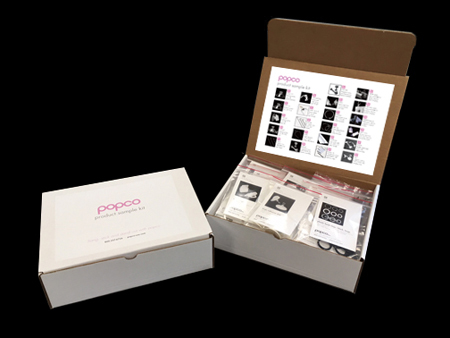 As you can imagine, given the scope of the sample racks, their availability is somewhat restricted. Popco account representatives can discuss with you our requirements for installing the racks in your company. Popco reps can also get you started with our more concise sample boxes.
If you're a designer, a buyer or an end-user of point-of-purchase widgets, you really should give us a call and inquire about our sample offerings.
WARNING: Don't lick any of the items we supply. They taste nothing like ice cream or beer.
Related Products and Categories
---