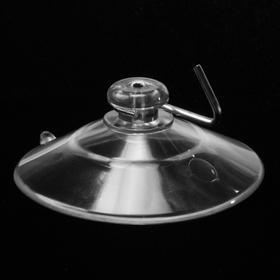 premium large suction cup with hook
The SCH-240 is a large, mushroom-head premium suction cup with an attached wire hook. The hook is affixed between the "mushroom head" cap and the stem and provides a hanging point for signs, banners or light weight, non-fragile, product.
specifications
2.4" diameter suction cup base
.57" diameter cap atop a .38" stem
with a galvanized steel hook
made from UV resistant PVC
configurations
sold in batches of 100
priced per batch
pre-bagged in batches of 100
uses & features
adhere to smooth, hard surfaces and hang signs from the attached hook
suction cups are RoHS compliant (a European Standard) and contain no heavy metals, click for details
wholly made in North America - NAFTA compliant
---
---
Quantity & Pricing Chart - Call for Large-Quantity Quotes
| | |
| --- | --- |
| SCH-240 | $41.00 |
Related Posts
Learn More about this product by reading these blog posts:
Related Products
Below are a few products that may be required to use the product you are viewing.