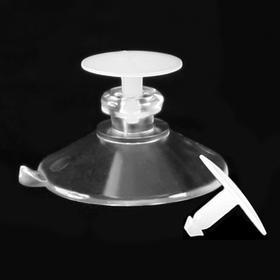 premium small suction cup with nylon secure tack
The SCNT-118 is a small premium suction cup coupled with a nylon secure tack. The tack pierces sign stock, or passes through drilled or punched holes. It then grips the corresponding hole in the suction cup's stem holding signage in place. The tacks barbed end creates an extra-secure grip in the suction cup's stem hole.
specifications
1-3/16" diameter suction cup base
.37" diameter cap atop a .26" stem
.15" diameter tack shaft and .675" diameter tack head
the suction cup is made from UV resistant PVC
the barbed-end tack is made from nylon
configurations
sold in batches of 100 sets
a single set equals 1 suction cup and 1 tack
priced per batch
bulk packed with suction cups and tacks in separate bags
uses & features
adhere to smooth, hard surfaces and hang small signs using the nylon secure tack
suction cups are RoHS compliant (a European Standard) and contain no heavy metals, click for details
wholly made in North America - NAFTA compliant
---
---
Quantity & Pricing Chart - Call for Large-Quantity Quotes
| | | | |
| --- | --- | --- | --- |
| SCNT-118 | $10.00 | $9.50 | $9.30 |
Related Posts
Learn More about this product by reading these blog posts:
Related Products
Below are a few products that may be required to use the product you are viewing.