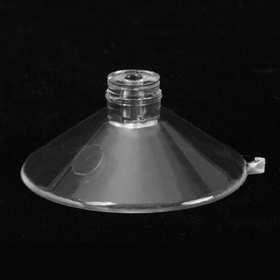 premium suction cup with medium hole
The SCMH-187 is a medium-sized premium suction cup with a .16" stem hole. This is the same suction cup that is sold combined with a pan-head screw (the SCMS-187). Sold without the screw, the SCMH-187 allows users to choose their own insert for the.16" stem hole which expands to accept .187" diameter inserts with a friction fit.
specifications
1-7/8" diameter suction cup base
.46" diameter x .32" high top stem with a .16" hole
the suction cup is made from UV resistant PVC
configurations
sold in batches of 100 only
suction cups are packed bulk
uses & features
choose an insert for the .16" hole specific to your usage
affix the suction cups to glass or other non-porous surfaces
ideal for holding plexi-glass displays
suction cups are RoHS compliant (a European Standard) and contain no heavy metals, click for details
wholly made in North America - NAFTA compliant
---
---
Quantity & Pricing Chart - Call for Large-Quantity Quotes
| | | | |
| --- | --- | --- | --- |
| SCMH-187 | $9.00 | $8.50 | $8.00 |
Related Posts
Learn More about this product by reading these blog posts:
Related Products
Below are a few products that may be required to use the product you are viewing.