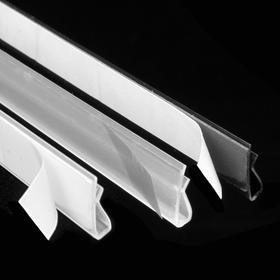 sc-60 / 61 / 62 sign grip
The SC-60/61/62 series of sign channels grips material up to 3/32" thick and mounts securely to vertical surfaces with either permanent, peel-and-stick foam tape or high-tack acrylic film tape.
This product is temporarily unavailable online. Please call for orders or quotes.
specifications
stock lengths: 48"
1/2" mounting base x 3/8" front sign-grip lip
available in black or clear PVC
SC-60 is clear with white foam tape
SC-61 is clear with TESA clear film tape
SC-62 is black with black foam tape
configurations
priced and sold individually
bulk packed
custom cutting is available for small and medium sized orders
custom runs, to specified lengths, are available for large orders
uses & features
mount signs in the channel and easily slide horizontally for positioning or sign changing
use the channel at the top and bottom of your sign to keep signs from bowing or dropping out
a slight flare at top makes it easier to insert stock
the tear drop profile spreads to accept a wider array of stock
the tear drop profile also grips tightly at the top to hold stock securely
---
---
Quantity & Pricing Chart - Call for Large-Quantity Quotes
| | |
| --- | --- |
| SC-60 series | $0.00 |
Related Posts
Learn More about this product by reading these blog posts:
Related Products
Below are a few products that may be required to use the product you are viewing.