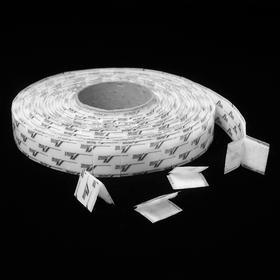 VELCRO® hook & loop tape pre-mated on the roll
For rapid assembly of displays and signage, Popco offers pre-mated VELCRO® hook-and-loop squares on the roll, kiss-cut in two lengths. Adhesive backed, with a removable liner, pre-mated VELCRO® squares are a popular product for a wide variety of point-of-purchase applications.
specifications
3/4" or 1" squares
hook-and-loop pieces are pre-mated, each side with an adhesive back
the hook side is backed on the roll's continuous liner
the loop side has individual segments of kiss-cut liner
available in white
configurations
sold by the roll
3/4" squares are on rolls of 1175 pieces
1" squares are on rolls of 890 pieces
other sizes are available as custom orders
uses & features
use for rapid assembly of displays and signage
use to mount signs to a wide variety of surfaces
use for very strong, yet removable sign holding
high-tack, permanent, rubber-based adhesive adheres quickly for immediate use
---
---
Quantity & Pricing Chart - Call for Large-Quantity Quotes
| | | | |
| --- | --- | --- | --- |
| TRB-3/4X3/4White | $53.00 | $48.00 | $45.00 |
| TRB-1X1White | $55.00 | $50.00 | $47.00 |
Related Posts
Learn More about this product by reading these blog posts:
Related Products
Below are a few products that may be required to use the product you are viewing.