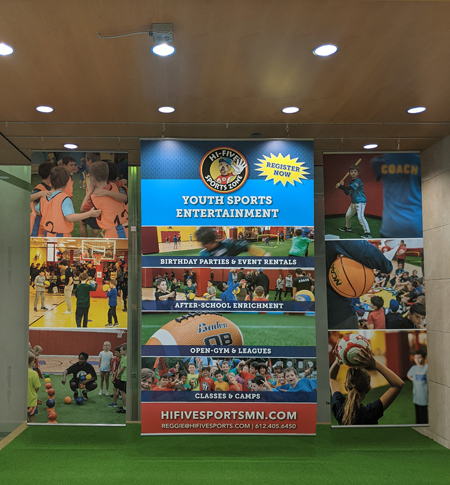 If you don't mind us saying so, today's post is super cool on many levels.
Please, read on, we think you'll agree.
The story begins with Shawn Nejman and Whitewood Graphics. After producing a collection of fantastic print pieces, Shawn enlisted Popco to provide hanging hardware and installation assistance.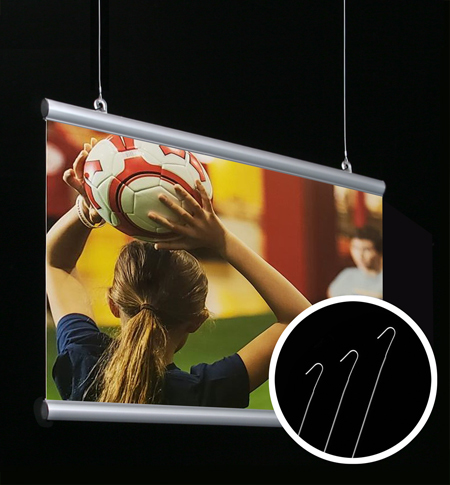 Shawn chose Popco's NX series snap rail to hang posters, and Popco's expandable jetwires to hang die-cut graphics for his customer, Hi-Five Sports Zone.
Mary, a Popco staff veteran, and gal-in-the-know when it comes to graphics installation, met Shawn on location at Hi-Five and together they assembled the installations pictured in this post.
This is where Popco excels; we delight in working with our local customers and providing hands-on assistance with projects such as Shawn's.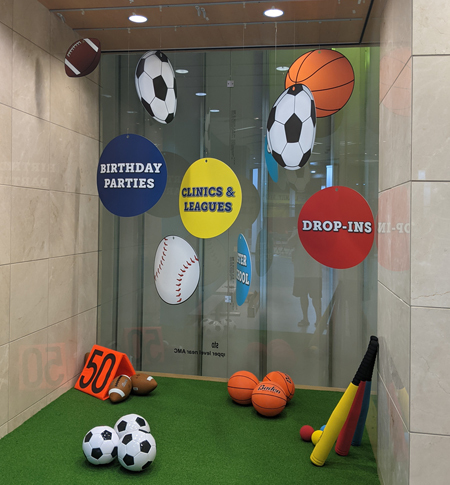 Adding to the cool-factor of this project is the location. To say that Hi-Five Sports Zone is cool is a remarkable understatement. Hi-Five Sports Zone, a state-of-the-art indoor sports facility located in Eden Prairie, Minnesota, occupies 20,000 square feet of basketball courts, turf fields, a multi-use court, and putting green.
The Hi-Five mission is to foster sports exploration and development specifically for young children. Hi-Five offers an after-school club where children are introduced to a variety of sports, learn lessons of positive sportsmanship, and, above all, can have fun. Hi-Five also organizes leagues in which children can participate in soccer, t-ball, hoops and flag football. To top it off, the Hi-Five facility is available for birthday parties and private rentals. Super cool indeed.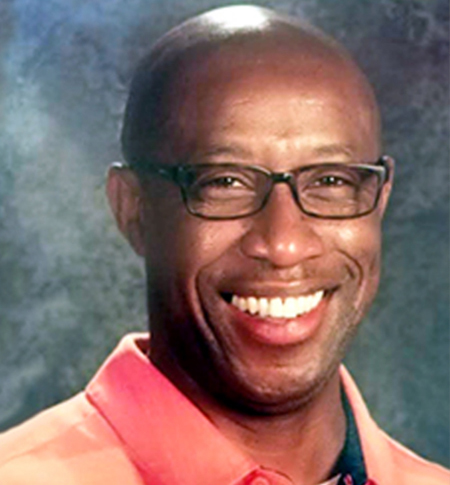 Just when we thought this project could be no cooler, we learned that the owner of Hi-Five is Mr. Reggie Perkins. Reggie Perkins, former St. Cloud University basketball star, who helped SCSU win three consecutive North-Central Conference division II championships and was twice voted NCC MVP!
Reggie Perkins who was once a HARLEM GLOBETROTTER!
In ten-plus years of writing the Popco blog, I can finally say that I'm star struck. As a kid, I spent most Saturday mornings glued to the TV watching the Globetrotters animated cartoon. I'll never forget the positive messages from that show and the jaw-dropping virtuosity of the Globetrotters that I saw when the real team was on TV. It seems, after all these years, that Mr. Perkins is still influencing young people and spreading a gospel of positivity through sports.
On behalf of Popco, a big thank you to Shawn from Whitewood Graphics and to Reggie from Hi-Five. We are thrilled to contribute to your projects and this particular blogger is in fact star struck.
Related Products and Categories
---