Discontinued Popco polygon hubs are at rock-bottom prices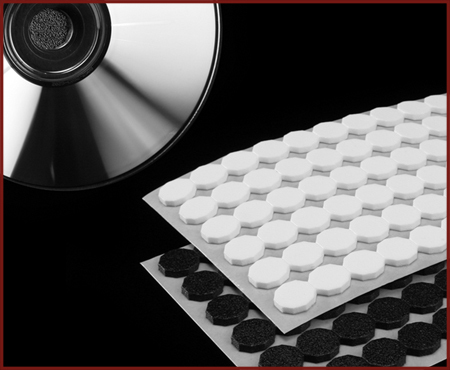 Do you remember 8-track tapes? How about cassettes? Probably not; the list of dead formats is pretty long. Well, for years now, CDs and DVDs have been vying to join the obsolescence club. At one time, a number of Popco customer's used the polygon hubs (shown above) as center spindles for mounting CDs and DVDs to brochures and promo kits. The polygon hubs where (are) a great product but the demand is so sparse now that our remaining hubs are marked down, down, down!
Originally, the polygon hubs sold for over $100 a roll (2500 pieces per roll).
Now, the few remaining rolls we have are selling for $33 each.
The hubs are also used as bumpers and, at this price, they've become a very cost-effective alternative to other types of bumpers. Because of the non-compressible, dense properties of the hubs, they are ideal for projects where there will be significant weight on the hub; they'll hold up when foam hubs compress flat.
If you've got a project requiring the polygon hubs, please check them out now. We won't be restocking these parts.
Related Products and Categories