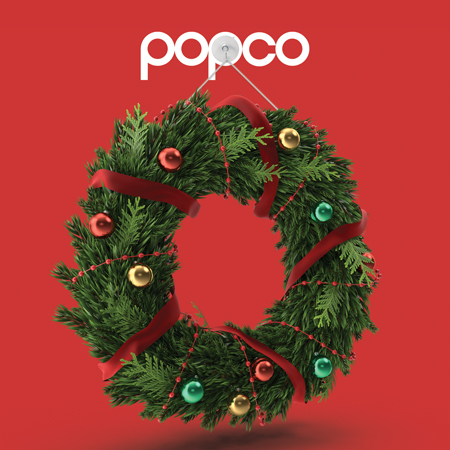 Dear Reader,
There'll be no business, no commerce, no Popco spiel in this post. We just want to wish all of you a merry Christmas and happy New Year. Thanks for a great 2019. Now, it's on to a new decade! We'll see you in 2020.
Related Products and Categories
---
Wednesday November 6, 2019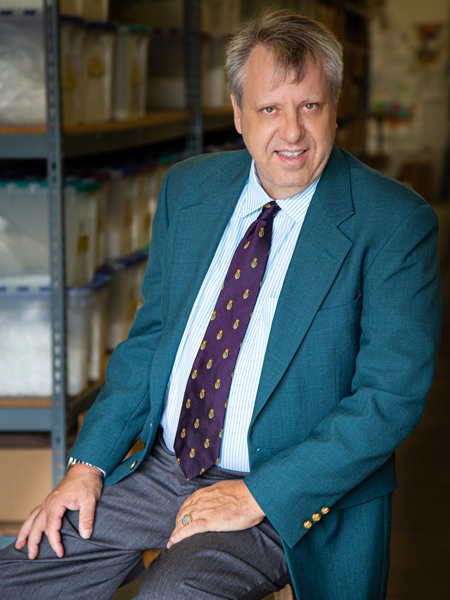 Beginning in November of this year, Elihu (Hugh) Wear has assumed full ownership and the position of President of Popco. Elihu is uniquely qualified for this role since he draws on 25 years of experience working at Popco, and ten years as a co-owner.

Popco was founded by Elihu's father, Phil, in 1979. Initially Popco was a small operation focused on vacuum-formed trays and small-sign holders. In the thirty years that Phil led the company, Popco rose from modest beginnings to a full-fledged P-O-P powerhouse featuring many proprietary products; including an extensive line of suction cups that have sold in the tens of millions and the patented SNAPRAIL™ sign hanging system which became an industry standard.

In 1987, Elihu graduated from UW Stout in Menomonie, Wisconsin with a major in Hotel and Restaurant Management. Then, in 1990, he completed his studies at the Academy of Accountancy in St. Louis Park, Minnesota.

His expertise in the hospitality industry, and his stints as a customer service representative with JC Penny's and Fingerhut, inform Hugh in his day-to-day dealings with Popco customers, vendors and staff. And, in his early years at Popco, Elihu's accounting training was invaluable as Popco upgraded the company's billing and records-keeping system.

As president of Popco, Elihu is aggressively expanding Popco's marketing efforts, hiring new staff and committed to growing Popco's presence in the competitive point-of-purchase industry. Now is an exciting time of growth and modernization at Popco, and Elihu and the staff are eager to move forward to better serve existing customers and add new customers to the Popco roster.
Related Products and Categories
---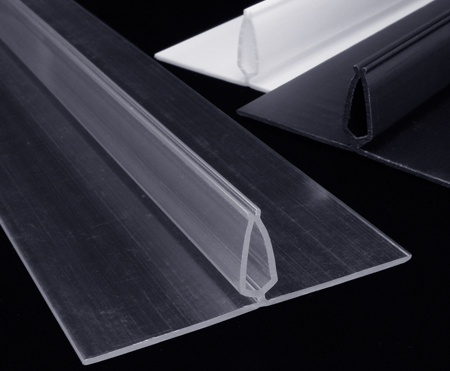 Popco's sign feet are primarily used to support signs on counters, shelf tops and end caps, but that's not the only use for these parts. Sign feet can also be used as dividers in produce and meat coolers.
When plastic parts are used to merchandise food, FDA requirements come into play. On their website, the FDA offers a great deal of information on FCS (food contact substances). You can read about FCS requirements here, but be forewarned, reading this is like studying up on tax complexities, or maybe having a root canal.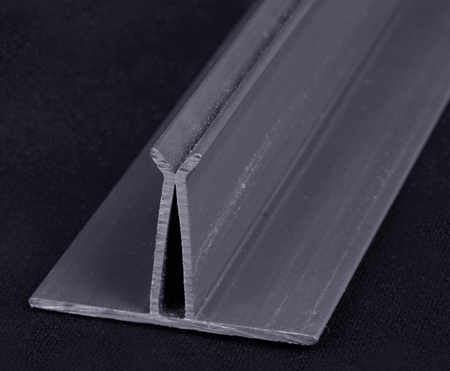 We'll try to make it simple for you: Some plastics are safe and approved for use around food, other plastics not so much. Among the acceptable plastics is HIPS (high-impact polystyrene). Popco uses HIPS to produce extra-wide sign feet in white and black. For clear sign feet used around food, Popco uses a special PVC that is FDA approved. In white, black or clear, our sign feet are terrific products for marketing food or any other type of product.
For more information on using our sign feet in coolers as dividers and supports for signs, click here, or give us a call (800-557-6726).
For several hours of the dullest imaginable reading, check out the FDA requirements.
Please note: FDA approved PVC is offered by Popco only as a special run.
We do not stock sign feet in this material.
Related Products and Categories
---
Monday September 16, 2019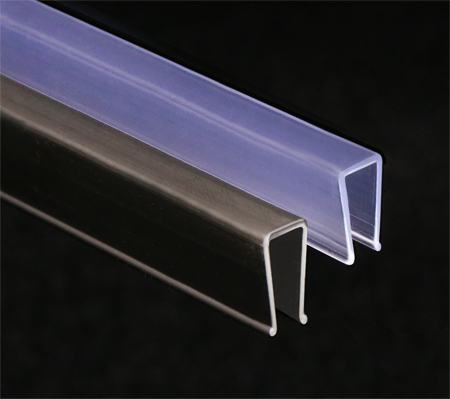 Lately, one of our hottest products has been the foam-board edge protector. This product has been around for years but it is only recently that we began producing it in black as well as clear. It's a pity we didn't do this sooner since the black style is flying off the shelves.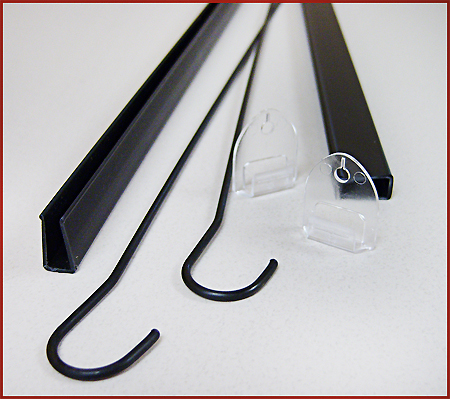 Combining the edge protector with other Popco parts allows users to present their foam-board pieces in a variety of ways. One example would be using our adhesive-backed easels for table-top displays. Another example, and the focus of this post, is the combination of edge-protectors and valance clips.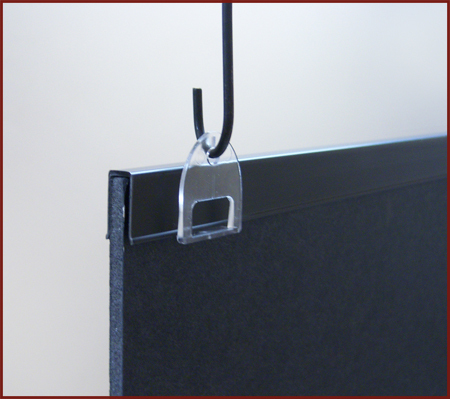 Valance clips are small, clear clips that can slide under the lip of the edge protector. When using standard 3/16" or 1/4" thick foam board, the valance clip will pinch between the foam board and the edge protector tightly enough to create a stable hanging point.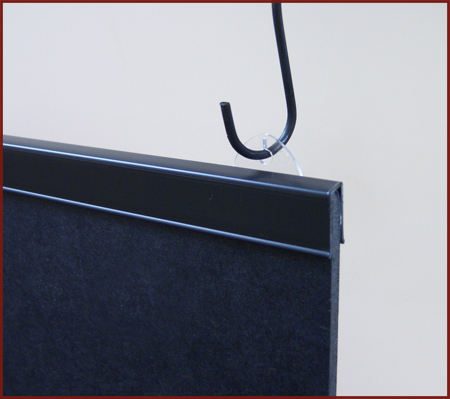 When viewed from the front, the valance clip is nearly invisible. The top hole in the valance clip is compatible with many of Popco's hanging hardware products such as our barbed string, jet wires or wire hooks (shown).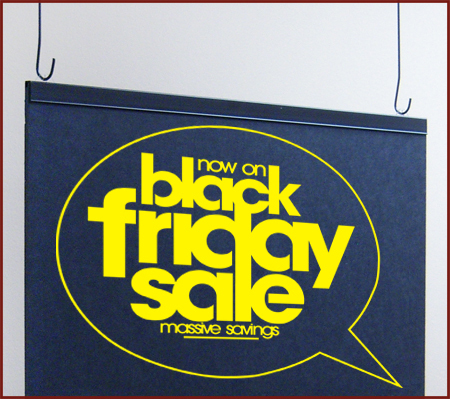 With these simple, straight-forward and economical parts we've made it easy to hang light-weight foam-board signs. More details on these parts can be found on these web pages:
∙ foam-board edge protector
∙ valance clip
∙ wire hooks
Related Products and Categories
---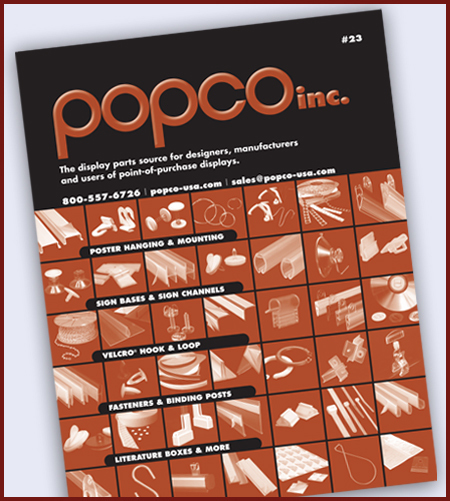 We've just completed our new catalog and it is a huge departure from all of the previous versions.
Since our first catalog, released in 1988, we've produced 23 issues. 22 of them included retail pricing. In the new catalog, we've removed pricing in order to give distributors and resellers flexibility when determining their own prices. In place of pricing, we've expanded specifications to help distributors assess our products, and to help them better communicate product details to their customers.
For small purchases, end-users can still shop and find retail prices online. And, as always, our sales staff is a phone call away, ready to help distributors and end-users with product questions and quotes for large-quantity orders.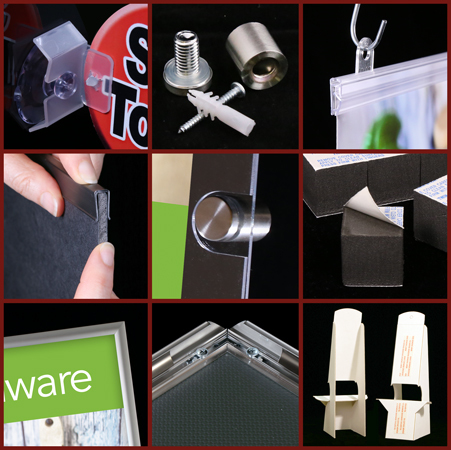 The new catalog is loaded with great new products and more information than ever before. All you have to do to get one is give us a call, or reach out to us by email. We'll pop your copy in the mail right away and we'll follow up to see how we can help you with your next project.
800-557-6726 | sales@popco-usa.com
Related Products and Categories
---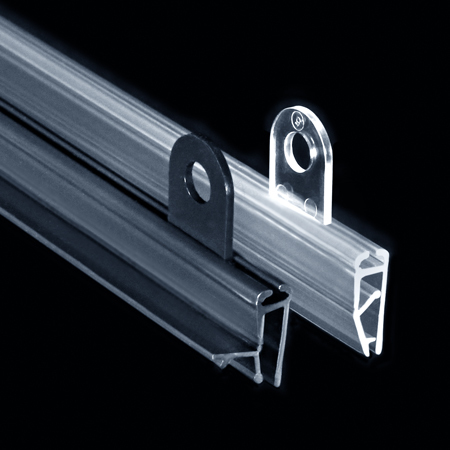 Popco's Mini SNAPRAIL™ is a new variation on our patented, classic SNAPRAIL.™ Classic SPR and SPZ styles of SNAPRAIL™ (sometimes referred to as gotcha strips) have been used to hang large and small posters by our customers for more than 20 years. Now, we've taken this proven design and miniaturized it for use with small, lightweight signs.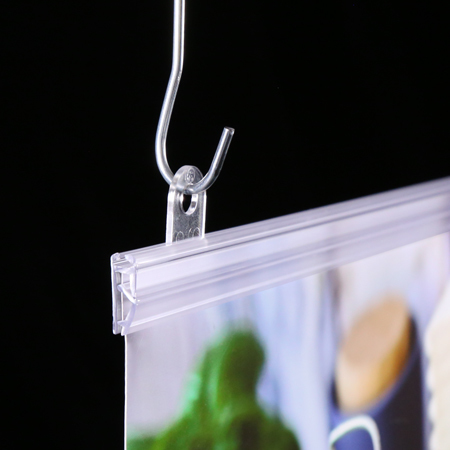 The Mini SNAPRAIL™ features a discrete profile, covering less of the printed surface of posters and light banners. Mini SNAPRAIL™ in clear allows poster graphics to show through. In black, the Mini SNAPRAIL™ serves as an attractive border at the top and bottom of posters. Just like our classic SNAPRAIL,™ the Mini SNAPRAIL™ accepts banner clips which create hanging points on the top rail.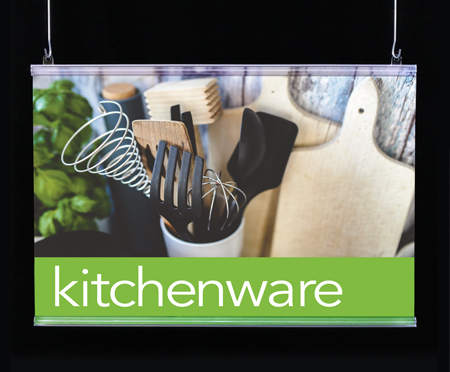 Mini SNAPRAIL™ is also a cost-effective alternative to poster tinning (a binding technique often used for calendars). However, unlike tinning, the Mini SNAPRAIL™ is reusable making it more versitile and adding to its value. The Mini SNAPRAIL™ is available in six stock lengths in either clear or black PVC. Custom lengths are also available, as are custom colors in large-quantity runs. For details on this great new product, click here.
Related Products and Categories
---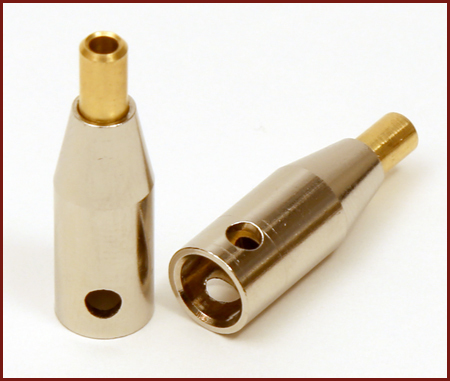 Adjustable mono "bullets" are the latest addition to our new collection of upscale point-of-purchase hardware. As you can see, these parts, beautifully finished in nickel-plated steel and brass, are pretty snazzy.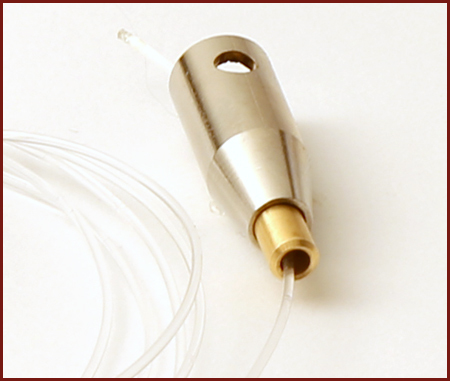 This clever little part makes sign hanging with monofilament or light cable fast, easy and remarkably adjustable. To make it work, simply depress the spring-loaded brass tip to insert the monofilament. Releasing the tip will lock the monofilament in place. Then, play out the desired amount of monofilament and connect the other end of the monofilament to a second mono bullet.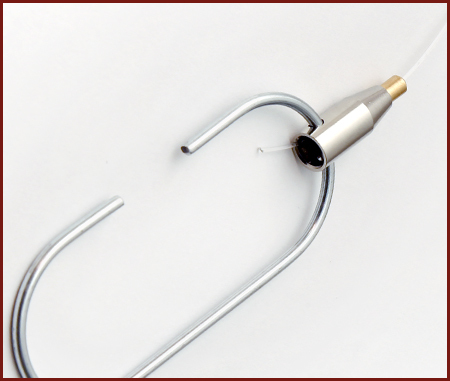 Couple the monofilament bullets with our thin-diameter c-hooks and you're ready to connect to the hanging points on your poster or banner, and also to grid ceilings.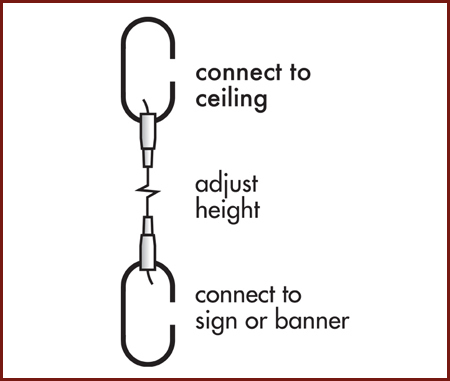 The arrangement looks something like this (above). Use two mono bullets with c-hooks at the ceiling connection point and two mono bullets with c-hooks at the top of your poster or banner. We think you'll be amazed at how easy it is to adjust height with the mono bullets and, this arrangement is about as snazzy as it gets when it comes to POP hanging hardware.
For more information, check out the mono bullets webpage.
Related Products and Categories
---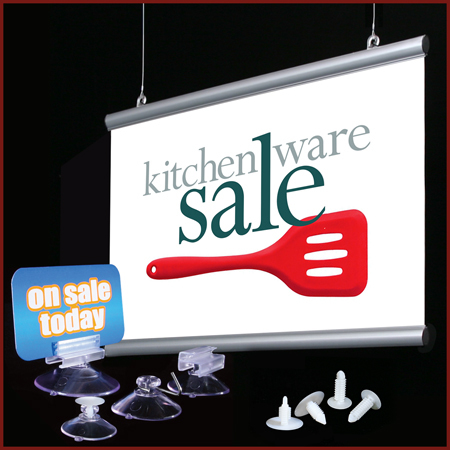 We are very proud of our products, particularly our staples such as the poster hanging SNAPRAILS™, suction cups and fasteners. These are practical, useful products and over the years we've sold millions of them. That said, we'd be hard pressed to call these products snazzy. We know, suction cups just aren't very glamorous.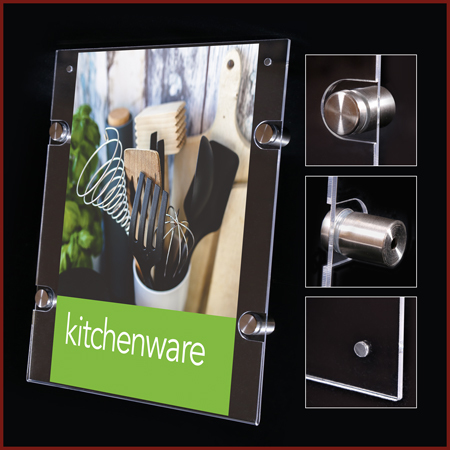 Now, it pleases us greatly to introduce some new products that do have a bit of an ooh-ahh factor. One example is our metal stand-offs. These lovely, brushed stainless steel stand-offs are combined with crystal-clear literature pockets that, when fastened to walls, display your inserted materials beautifully and simply. The level of finish on this combination of products is such that they are often used in architectural settings or galleries as well as in retail settings.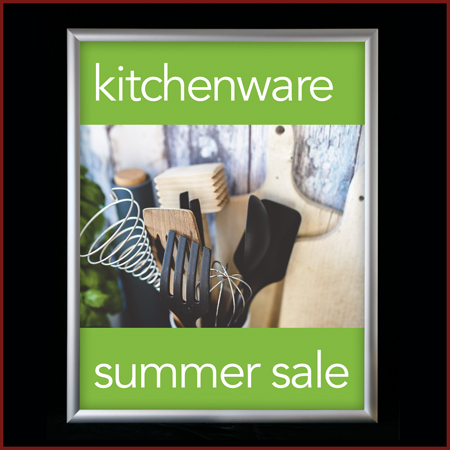 Other slick, new products are our aluminum snap frames. Available in three sizes, the snap frames are all-in-one products. They include a non-skid backer, a non-glare front sheet protector and an aluminum frame that snaps open to accept your inserted material and snaps closed for display. Wall-mounting hardware is included with the frames and they are as rugged as they are beautiful. They are ideal for long-term use and sign change-outs are easy due to the snap-open/snap-closed design.
We'll spotlight more new products in future posts but, for the moment, we just want to say that we've injected some pizazz into our product line and we hope you'll look to Popco for these parts as well as for our more utilitarian parts.
Related Products and Categories
---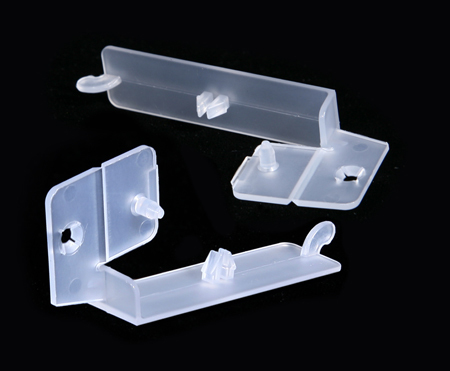 When you're in the widget business, a common problem is that your products are not always self-explanatory. Useful items, shown out of context, can be truly baffling. Take for example the part shown above. Who could be blamed for not having a clue about this thing?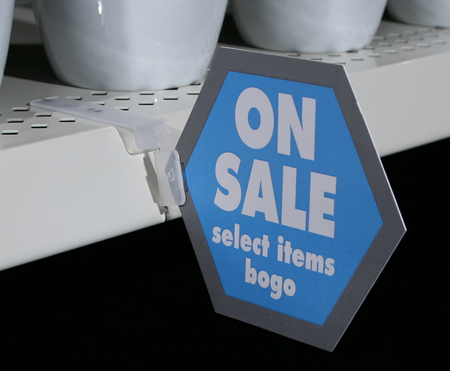 When shown in context, it's clear that this small sign holder is really handy. It snaps into the standardized holes of store shelves and supports signs. It is easily repositioned, it allows for easy change-out of signs and it can be used over and over. In short, it's a great product.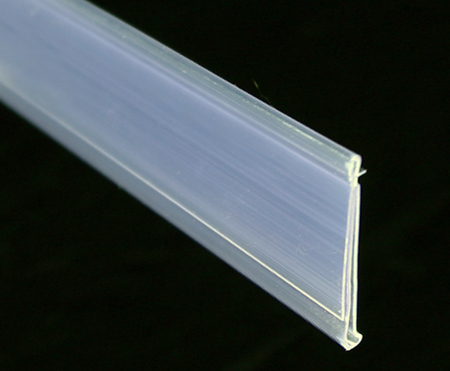 Other products that we offer just aren't photogenic. For example, the UPC data rail shown above. Unless this product is shown in use, it seems to be nothing more than a rectangular hunk of plastic.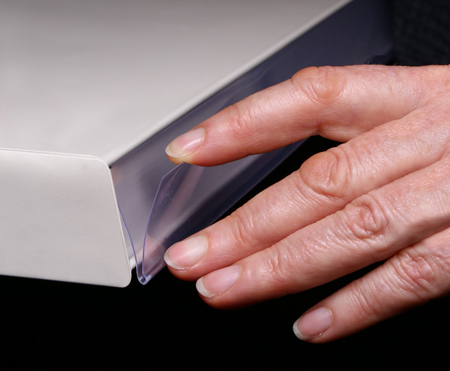 When shown snapping into a standard store shelf, the usefulness of this product starts to become clear.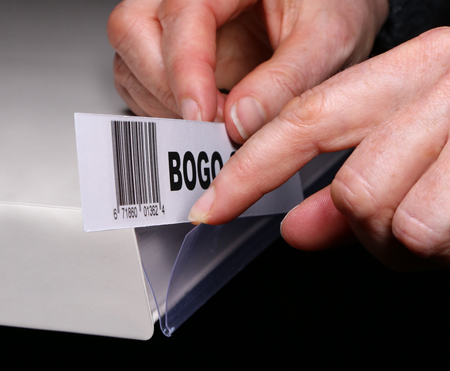 Shown with an insert in place, it's obvious that the rectangular hunk of plastic is incredibly useful, in fact, it is ubiquitous in retail settings.
We're always trying to better communicate our product's features and uses on our website and in our printed materials. Still, if you find that we haven't done our job, please call Popco. You'll reach a Popco representative right away who will tell you everything you need to know about our products, both obvious and mysterious.
Related Products and Categories
---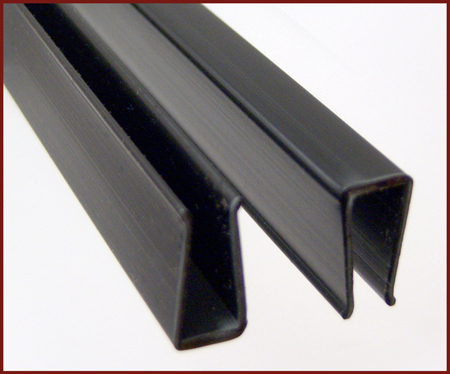 Several years ago, when we first introduced our foam-core edge protector, most of our customer's preferred the product in clear PVC. Since then we've watched that trend change and now demand is greater for black edge protector. For our customers who previously ordered black as a custom run, black is now available as a stock item. For new customers, black is now an option along with the clear which we'll continue to offer. For more information, or to order the edge protector, click here.
Related Products and Categories
---