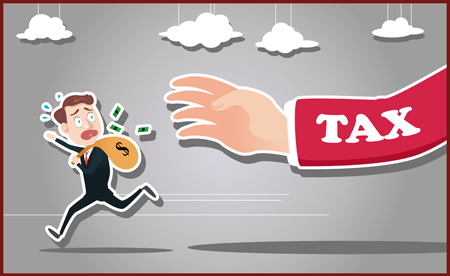 In June of last year, the US Supreme Court decided in favor of South Dakota in the case of South Dakota v. Wayfair. South Dakota's argument was that the state should be allowed to charge tax on orders even when the seller does not have a physical presence in the state. Prior to this ruling, it could be said that online sellers had an unfair advantage over brick-and-mortar sellers who were subject to taxes. Additionally, states missed out on significant tax revenue as online sales became more commonplace.
As a result of this ruling, Popco is now required to add tax to orders that ship to Illinois, Michigan, Minnesota and Wisconsin.
Exceptions to this are businesses that have a sales-tax exemption certificate. If your business has this status, please supply Popco with your sales-tax exemption certificate. With that certificate on file, Popco can waive taxes on your orders.
All businesses that have not supplied the certificate, in the states of Illinois, Michigan, Wisconsin and Minnesota, will have tax apply to their Popco orders.
Related Products and Categories
---
Wednesday December 12, 2018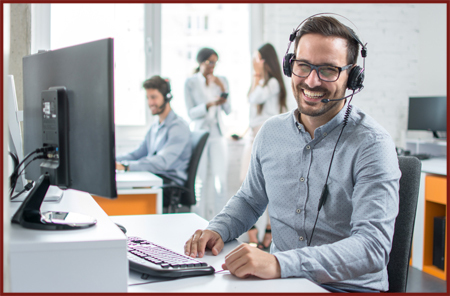 Popco customers, new and old, have often told us that our customer service is exemplary and is a big reason why they choose to work with us. These customers believe, as do we, that good business is more than just offering the right product at the right price; good business is about developing relationships. Don't take our word for it. Read what our customers have to say in their own words.
"Popco hasn't failed me once; actually they exceed my expectations every time I work with them. It's rare to find the kind of friendly and exceptional service that these folks offer on a daily basis."
Daniel Zinger | General Manager
Prolifiq Sign Studio, Edmeston, New York

"I've been super-pleased with Popco's service and their ability to work with us on super-hot projects. They usually meet our deadlines or will do their very best to get us what we need ASAP! They have a friendly staff and I enjoy our working relationship. Popco rocks!"
Elden Paczkowski | Purchasing Agent
Imagine! Print Solutions, Minneapolis, Minnesota
"For over 10 years we have worked with the Popco Team. They are one of our most nimble and pleasant vendors to deal with. On several occasions we have been able to call Popco with an "emergency" and they always come through with flying colors – saving the day. Popco is a valued partner or ours."
Mark Nazzaro | Account Executive
Quad Graphics, Woburn, Massachusetts
"I rely on Popco to prepare kits for our projects that have many specifically bagged components. Popco provides great products, turns tricky jobs quickly and always provides top-notch service."
Terry Berg | Purchasing Agent
Ambassador Press, Minneapolis, Minnesota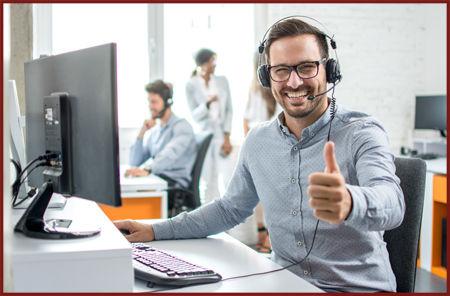 We couldn't be more grateful for this high praise and it is our mission to continue to live up to what our customers have said about us. Thanks a million to all of the customers who submitted their thoughts in writing and all the customers that we speak to each day on the phone. We want you all to know that we've got your back and we're here to help
Related Products and Categories
---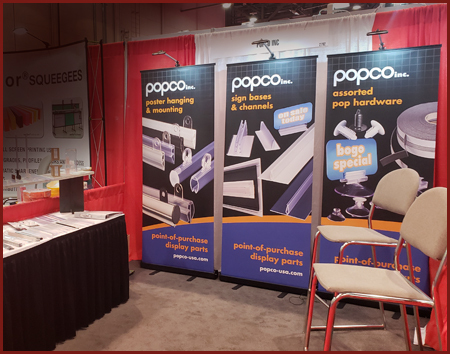 Thanks to everyone who stopped by our booth at the SGIA Expo in Las Vegas. We had a great time showcasing our products to new visitors and a few old, familiar customers.
We're very pleased that our sample kits were well received. For those of you who stopped by to see us and didn't pick up sample kits, or for those of you who couldn't attend the expo, please give us a call. We've got plenty of kits ready to mail and lots to tell you about new products we're on the cusp of introducing.
Related Products and Categories
---

The Specialty Graphics Imaging Association (SGIA) Expo is right around the corner and we're geared up for a great show and a great time in Las Vegas.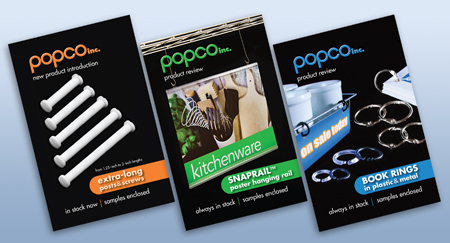 Among the things that we'll have at the show are our new product sample kits. Printed booklets with product details and pricing accompany the sample pieces and we've chosen some of our new products and some of our big sellers for distribution at the show. Stop by booth #2792, and find out what's new with Popco. We're eager to show you our offerings and set you up with some sample kits.
SGIA is happening between October 18 – 20 in Las Vegas. For details, click here.
Related Products and Categories
---
Wednesday September 12, 2018

The Specialty Graphics Imaging Association (SGIA) hosts the largest print-industry trade show in North America. This year's event in Las Vegas takes place On October 18 – 20. Over 550 exhibitors will be present and tens of thousands of attendees will walk the show.
Popco can be found at booth 2792. Here's a link to our listing on the SGIA website: click here
See you at SGIA.
Related Products and Categories
---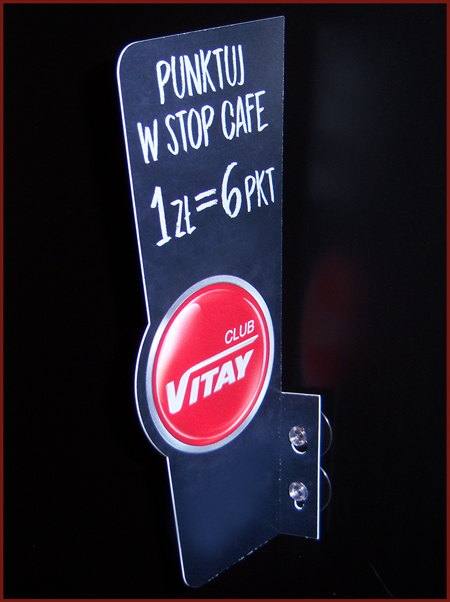 Recently a Popco customer in Poland shared with us their design of an aisle-violator type sign. The sign is a model of simplicity. It's nothing more than a heat-bent and die-cut piece of styrene. When we saw this we were struck by its elegance and, quite frankly, we wondered why we hadn't thought of this first.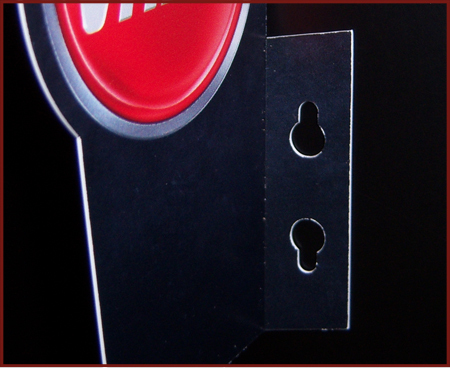 The die-cutting included two key-hole openings, sized to correspond with Popco's SCM-81 suction cup. This is our smallest suction cup and using it for this application was wise for a number of reasons:
1) It is the least expensive cup we offer.
2) The small size and light weight of this suction cup make shipping it cost-effective.
3) Given the light weight of the styrene sign, the small suction cup is more than strong enough.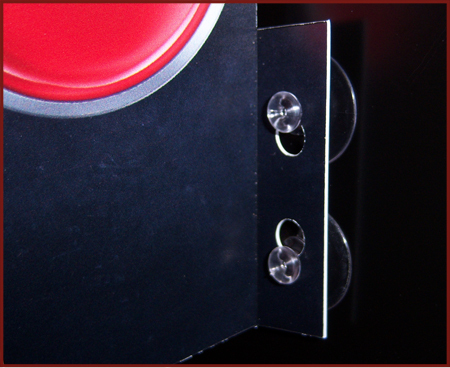 Another benefit to using the SCM-81 is that the small suction cups do not compete visually with the sign. As shown, the heat-bent flange of the sign almost entirely covers the bases of the suction cups.
Our Polish customer really knocked it out of the park on this project and we plan to follow their lead and suggest this technique to our other customers.

Related Products and Categories
---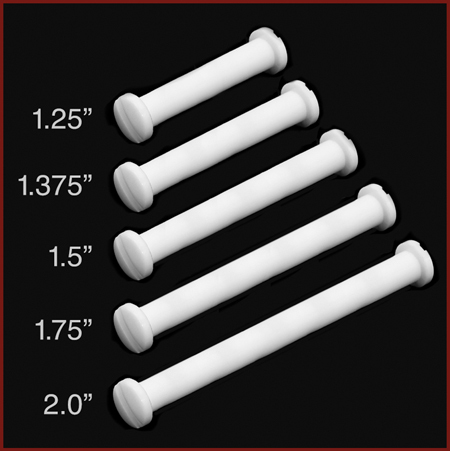 x
In January we introduced new extra-long posts and screws along with new extra-long Viking-Hat and Flat-Cap Screws. These new posts and screws, ranging from 1.25" to 2" in length are unique. We manufactured them based on customer's order requests that, in the past, required super long lead times. Now that we've prepared tooling for these parts we've dramatically reduced lead time on large orders and we have stock for typical orders. Also, as the manufacturer of these parts, we are now able to offer competitive pricing.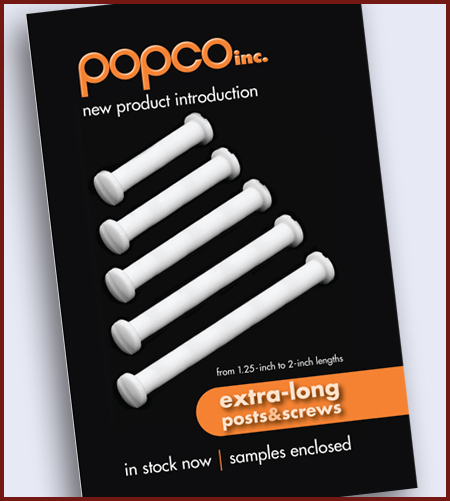 To properly launch these new products, we've prepared a nice sample kit full of information and five sets of each new size of posts and screws. We have plans to produce a number of other sample kits as well. If these binders are right for your projects, please reach out to Popco. We'll gladly send you samples and get you started with our new extra-long posts and screws. Click here for more details.
Related Products and Categories
---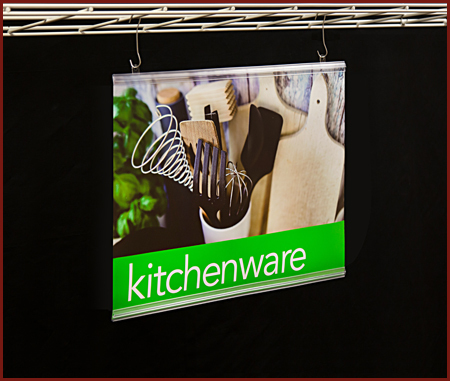 Typically, Popco's SNAPRAILS™ are used at the top of a poster—to grip the poster stock and create a hanging point—and at the bottom of a poster to add weight and stiffness so that the poster doesn't bow or curl. There is however another, little known, configuration that allows for stacking posters one above another.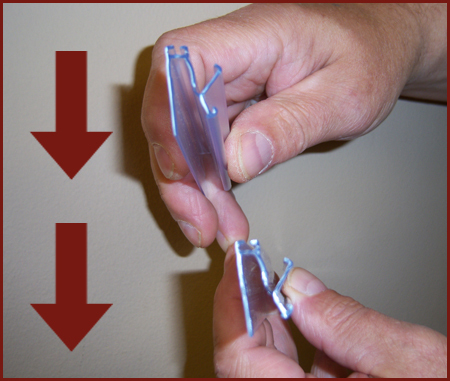 Shown above are SNAPRAILS™ positioned with the openings facing down. In this position the SNAPRAILS™ can attach to the top of a poster, creating the top spine for hanging.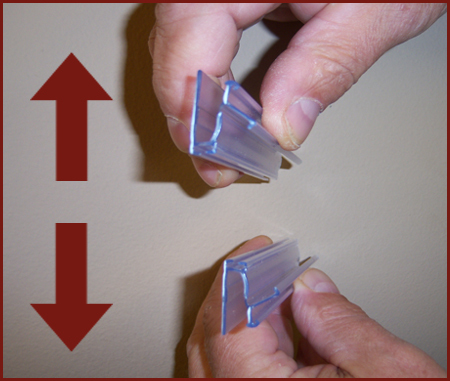 Here the SNAPRAILS™ are shown flipped so that the opening of one rail faces up and the other rail faces down. This is the position that will create a center joining-point for stacked posters.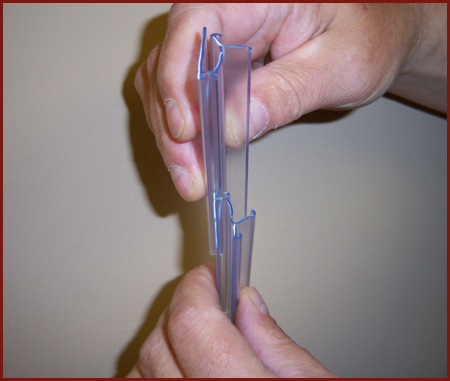 In the flipped position, the SNAPRAILS™ can be joined by interlocking the top T-shaped track. This is the track into which banner-hanging clips are inserted. For details on using the banner clips, see these SNAPRAIL™ instructions.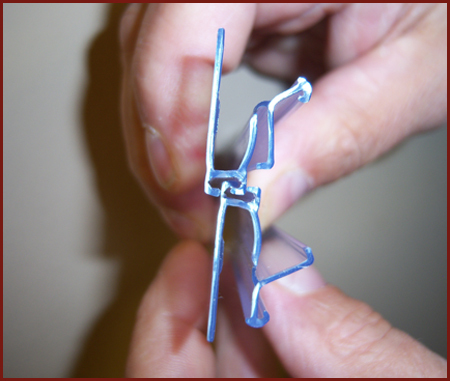 Once interlocked as shown, posters can be inserted into both top and bottom SNAPRAILS™. The rails will snap snap shut just as they would if they were not interlocked. In this way, two or more posters can be stacked vertically.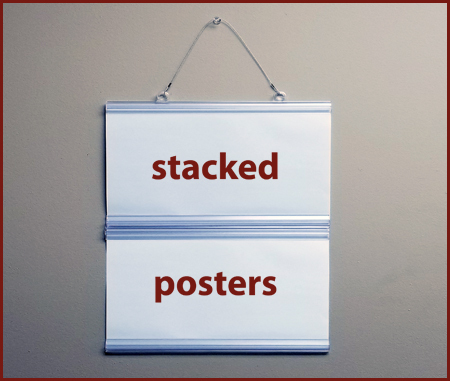 More SNAPRAILS™ can be used as they normally would be—at the top and bottom of the poster stack. The whole arrangement will look something like the photo above. For more details on Popco's SNAPRAILS™, check out last month's blog post and view our SNAPRAIL™ tutorial video. For pricing and product specs, visit this SNAPRAIL™ page.
Related Products and Categories
---
One of Popco's flagship products is the SNAPRAIL™ poster hanging rail. This robust, reusable product is easy to use; now all the more so since we've created a short tutorial video. View the video above and see for yourself, using Popco's SNAPRAIL™ is as easy as pie!
For more details, or to purchase this product, visit our web page devoted to the SNAPRAIL™.
You may also be interested in our variations on the standard SNAPRAIL™.
Visit these web pages for details:
• EZ SNAPRAIL™
• NX series SNAPRAIL™
Related Products and Categories
---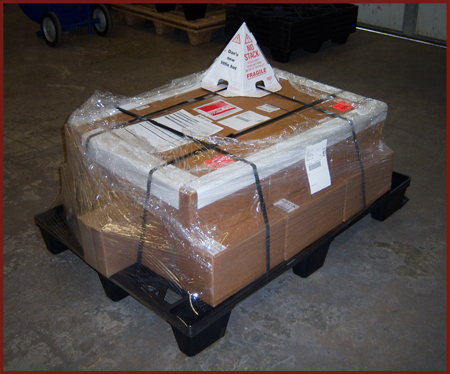 Each day at Popco, we design and manufacture products. We discuss POP solutions with customers on the phone and by email. We prepare quotes and orders, source products that we don't make, kit projects and pack shipments.
It's a busy pace and we always focus on accuracy, quality and speed.
Throughout it all, we know that we do a better job and our customers have a better experience if we inject positivity, or even a little silliness, into our efforts.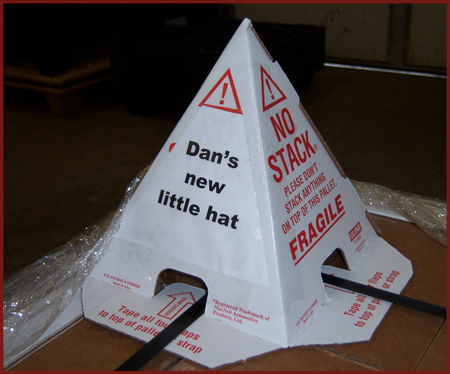 As an example, shown above are photos of a skid packed and ready to ship. The skid includes a pyramid topper meant to keep other shipments from being stacked on top.
This shipment, like others before it, was sent to Dan Zinger. Dan is a really great customer who represents Prolifiq Sign Studio in Edmeston, New York. Previously, Dan had sent us a photo of himself wearing a skid pyramid as a hat. After this, we decided to personalize Dan's "hat" on a new shipment.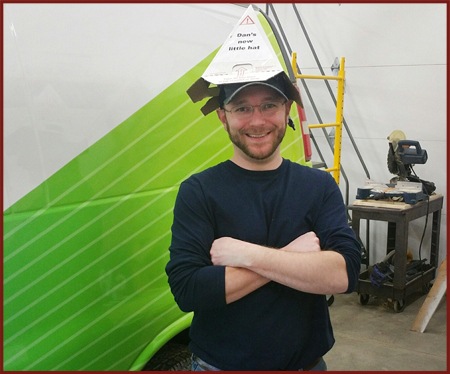 Dan loved it, he donned it, and he had his photo taken wearing it (might we add, he rocks the look)! Dan, and all of us here at Popco, had a good chuckle.

What does this mean?

It means that a rapport has developed between Popco and Prolifiq Sign Studio that surpasses the simple matters of placing and fulfilling orders. It means that we care, not just about maintaining Popco's reputation as a reliable vendor, but we care about our customer as a person as well. It means we will always go to bat for Dan and his company and it means that this is the way we like to do business… with a smile!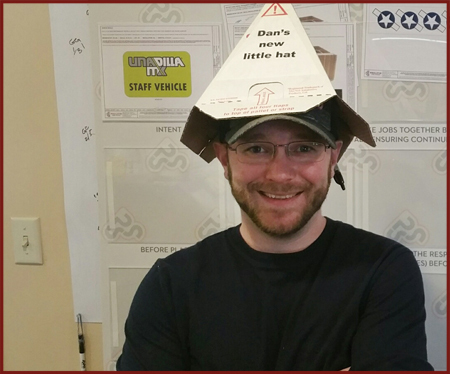 Keep those orders coming Dan and before you know it, you'll be the Imelda of pyramid hats.
Related Products and Categories
---