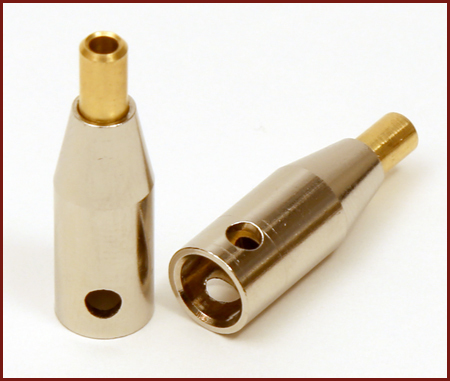 Adjustable mono "bullets" are the latest addition to our new collection of upscale point-of-purchase hardware. As you can see, these parts, beautifully finished in nickel-plated steel and brass, are pretty snazzy.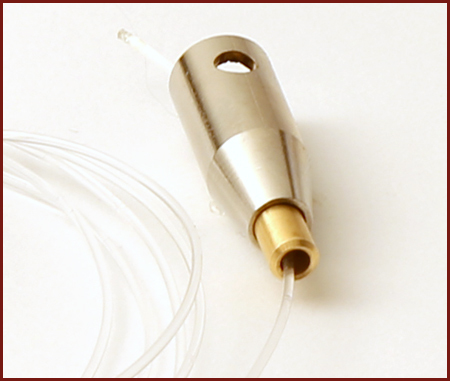 This clever little part makes sign hanging with monofilament or light cable fast, easy and remarkably adjustable. To make it work, simply depress the spring-loaded brass tip to insert the monofilament. Releasing the tip will lock the monofilament in place. Then, play out the desired amount of monofilament and connect the other end of the monofilament to a second mono bullet.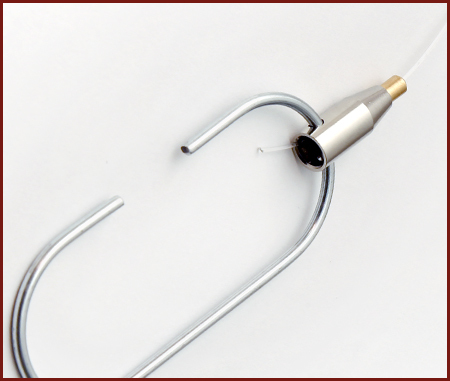 Couple the monofilament bullets with our thin-diameter c-hooks and you're ready to connect to the hanging points on your poster or banner, and also to grid ceilings.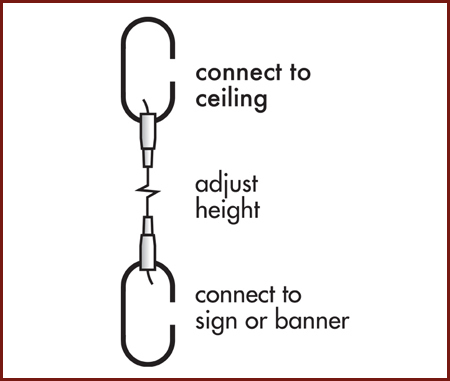 The arrangement looks something like this (above). Use two mono bullets with c-hooks at the ceiling connection point and two mono bullets with c-hooks at the top of your poster or banner. We think you'll be amazed at how easy it is to adjust height with the mono bullets and, this arrangement is about as snazzy as it gets when it comes to POP hanging hardware.
For more information, check out the mono bullets webpage.
Related Products and Categories
---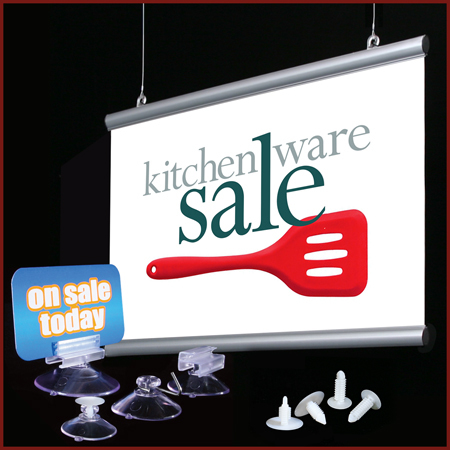 We are very proud of our products, particularly our staples such as the poster hanging SNAPRAILS™, suction cups and fasteners. These are practical, useful products and over the years we've sold millions of them. That said, we'd be hard pressed to call these products snazzy. We know, suction cups just aren't very glamorous.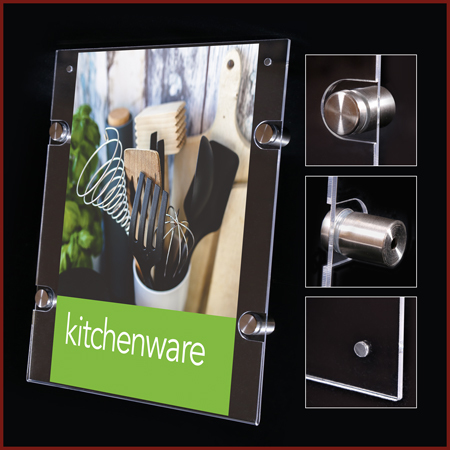 Now, it pleases us greatly to introduce some new products that do have a bit of an ooh-ahh factor. One example is our metal stand-offs. These lovely, brushed stainless steel stand-offs are combined with crystal-clear literature pockets that, when fastened to walls, display your inserted materials beautifully and simply. The level of finish on this combination of products is such that they are often used in architectural settings or galleries as well as in retail settings.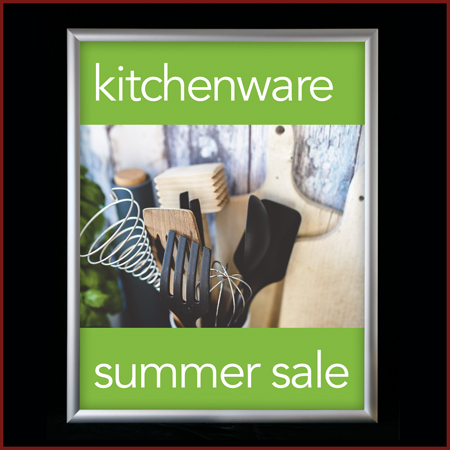 Other slick, new products are our aluminum snap frames. Available in three sizes, the snap frames are all-in-one products. They include a non-skid backer, a non-glare front sheet protector and an aluminum frame that snaps open to accept your inserted material and snaps closed for display. Wall-mounting hardware is included with the frames and they are as rugged as they are beautiful. They are ideal for long-term use and sign change-outs are easy due to the snap-open/snap-closed design.
We'll spotlight more new products in future posts but, for the moment, we just want to say that we've injected some pizazz into our product line and we hope you'll look to Popco for these parts as well as for our more utilitarian parts.
Related Products and Categories
---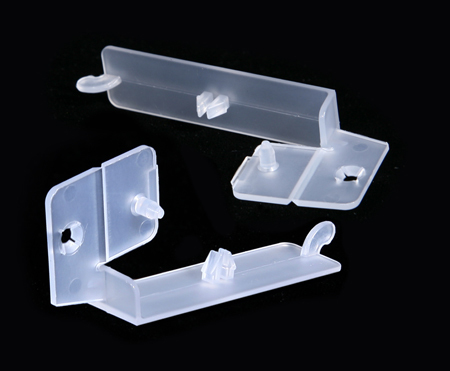 When you're in the widget business, a common problem is that your products are not always self-explanatory. Useful items, shown out of context, can be truly baffling. Take for example the part shown above. Who could be blamed for not having a clue about this thing?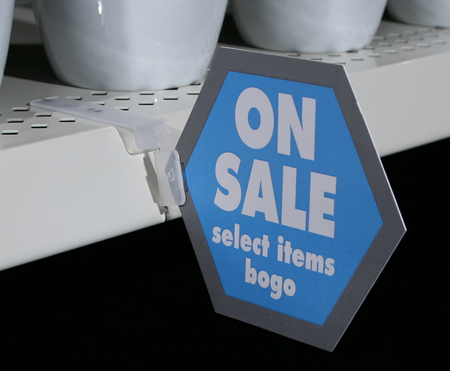 When shown in context, it's clear that this small sign holder is really handy. It snaps into the standardized holes of store shelves and supports signs. It is easily repositioned, it allows for easy change-out of signs and it can be used over and over. In short, it's a great product.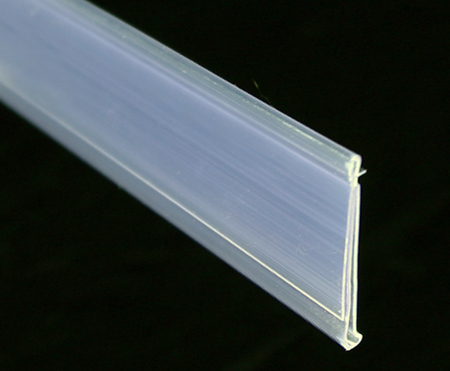 Other products that we offer just aren't photogenic. For example, the UPC data rail shown above. Unless this product is shown in use, it seems to be nothing more than a rectangular hunk of plastic.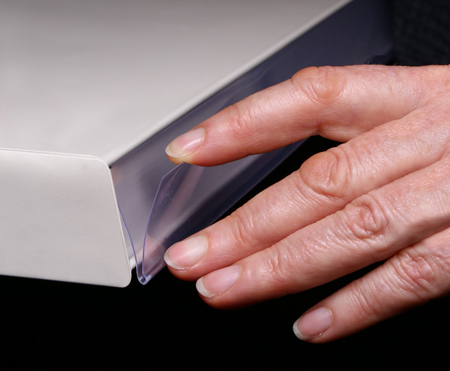 When shown snapping into a standard store shelf, the usefulness of this product starts to become clear.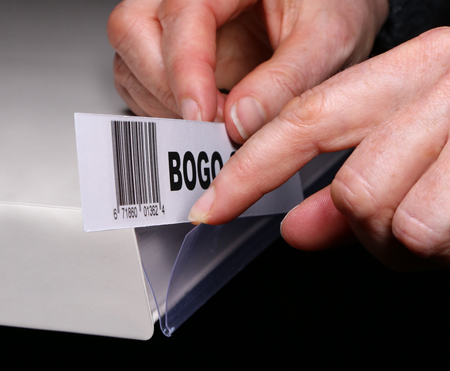 Shown with an insert in place, it's obvious that the rectangular hunk of plastic is incredibly useful, in fact, it is ubiquitous in retail settings.
We're always trying to better communicate our product's features and uses on our website and in our printed materials. Still, if you find that we haven't done our job, please call Popco. You'll reach a Popco representative right away who will tell you everything you need to know about our products, both obvious and mysterious.
Related Products and Categories
---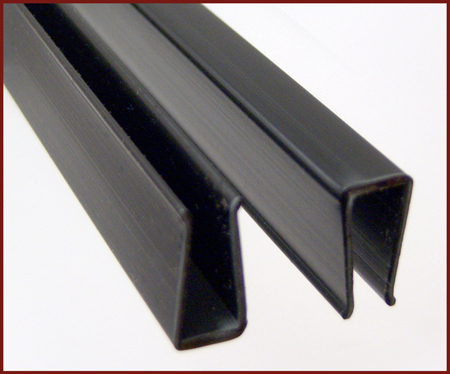 Several years ago, when we first introduced our foam-core edge protector, most of our customer's preferred the product in clear PVC. Since then we've watched that trend change and now demand is greater for black edge protector. For our customers who previously ordered black as a custom run, black is now available as a stock item. For new customers, black is now an option along with the clear which we'll continue to offer. For more information, or to order the edge protector, click here.
Related Products and Categories
---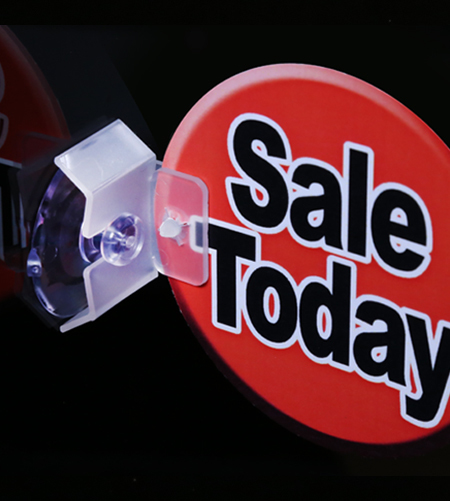 Building of the success of our suction cups with mirror clips and suction cups with flag clips, Popco is introducing a new combination of suction cups with slide-on flag clips.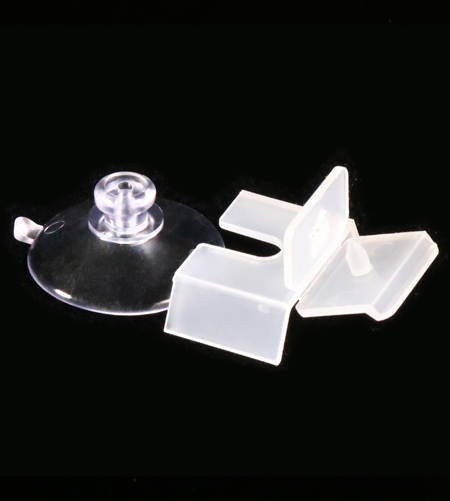 These parts are sold pre-bagged in batches of 100 suction cups and 100 flag clips. The two parts simply slide together and the "flex-hinged" flag clip closes to hold small signs.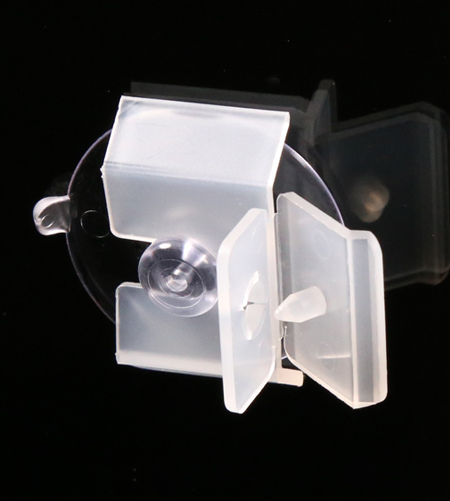 A small tab on the flag clip "pierces" light-weight sign stock, then locks into place against the flag clip's "back board." Once affixed in the flag clip, a sign can be stuck to non-porous surfaces using Popco's 1-3/16" suction cup.
Click here for information of this simple, cost-effective combination of parts.
Related Products and Categories
---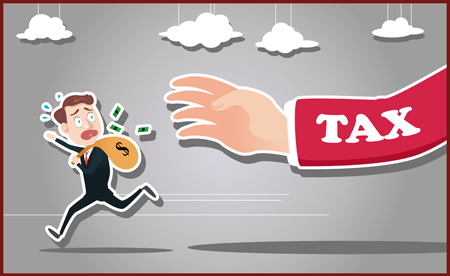 In June of last year, the US Supreme Court decided in favor of South Dakota in the case of South Dakota v. Wayfair. South Dakota's argument was that the state should be allowed to charge tax on orders even when the seller does not have a physical presence in the state. Prior to this ruling, it could be said that online sellers had an unfair advantage over brick-and-mortar sellers who were subject to taxes. Additionally, states missed out on significant tax revenue as online sales became more commonplace.
As a result of this ruling, Popco is now required to add tax to orders that ship to Illinois, Michigan, Minnesota and Wisconsin.
Exceptions to this are businesses that have a sales-tax exemption certificate. If your business has this status, please supply Popco with your sales-tax exemption certificate. With that certificate on file, Popco can waive taxes on your orders.
All businesses that have not supplied the certificate, in the states of Illinois, Michigan, Wisconsin and Minnesota, will have tax apply to their Popco orders.
Related Products and Categories
---
Wednesday December 12, 2018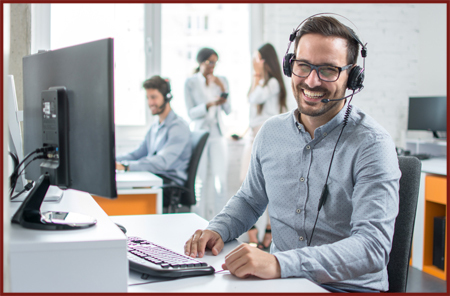 Popco customers, new and old, have often told us that our customer service is exemplary and is a big reason why they choose to work with us. These customers believe, as do we, that good business is more than just offering the right product at the right price; good business is about developing relationships. Don't take our word for it. Read what our customers have to say in their own words.
"Popco hasn't failed me once; actually they exceed my expectations every time I work with them. It's rare to find the kind of friendly and exceptional service that these folks offer on a daily basis."
Daniel Zinger | General Manager
Prolifiq Sign Studio, Edmeston, New York

"I've been super-pleased with Popco's service and their ability to work with us on super-hot projects. They usually meet our deadlines or will do their very best to get us what we need ASAP! They have a friendly staff and I enjoy our working relationship. Popco rocks!"
Elden Paczkowski | Purchasing Agent
Imagine! Print Solutions, Minneapolis, Minnesota
"For over 10 years we have worked with the Popco Team. They are one of our most nimble and pleasant vendors to deal with. On several occasions we have been able to call Popco with an "emergency" and they always come through with flying colors – saving the day. Popco is a valued partner or ours."
Mark Nazzaro | Account Executive
Quad Graphics, Woburn, Massachusetts
"I rely on Popco to prepare kits for our projects that have many specifically bagged components. Popco provides great products, turns tricky jobs quickly and always provides top-notch service."
Terry Berg | Purchasing Agent
Ambassador Press, Minneapolis, Minnesota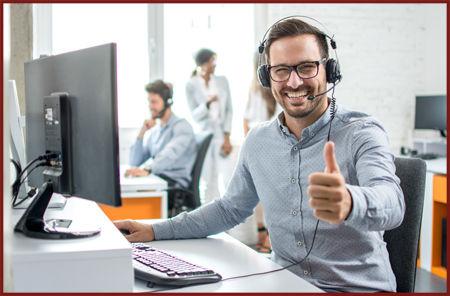 We couldn't be more grateful for this high praise and it is our mission to continue to live up to what our customers have said about us. Thanks a million to all of the customers who submitted their thoughts in writing and all the customers that we speak to each day on the phone. We want you all to know that we've got your back and we're here to help
Related Products and Categories
---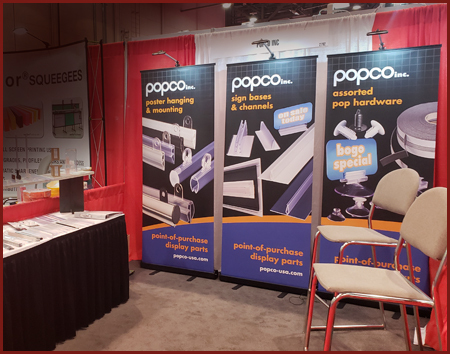 Thanks to everyone who stopped by our booth at the SGIA Expo in Las Vegas. We had a great time showcasing our products to new visitors and a few old, familiar customers.
We're very pleased that our sample kits were well received. For those of you who stopped by to see us and didn't pick up sample kits, or for those of you who couldn't attend the expo, please give us a call. We've got plenty of kits ready to mail and lots to tell you about new products we're on the cusp of introducing.
Related Products and Categories
---

The Specialty Graphics Imaging Association (SGIA) Expo is right around the corner and we're geared up for a great show and a great time in Las Vegas.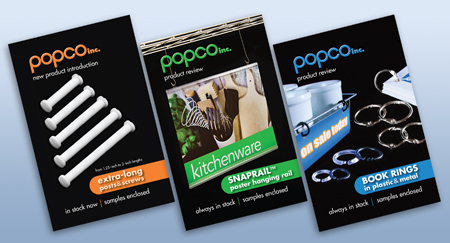 Among the things that we'll have at the show are our new product sample kits. Printed booklets with product details and pricing accompany the sample pieces and we've chosen some of our new products and some of our big sellers for distribution at the show. Stop by booth #2792, and find out what's new with Popco. We're eager to show you our offerings and set you up with some sample kits.
SGIA is happening between October 18 – 20 in Las Vegas. For details, click here.
Related Products and Categories
---
Wednesday September 12, 2018

The Specialty Graphics Imaging Association (SGIA) hosts the largest print-industry trade show in North America. This year's event in Las Vegas takes place On October 18 – 20. Over 550 exhibitors will be present and tens of thousands of attendees will walk the show.
Popco can be found at booth 2792. Here's a link to our listing on the SGIA website: click here
See you at SGIA.
Related Products and Categories
---