Thursday September 8, 2016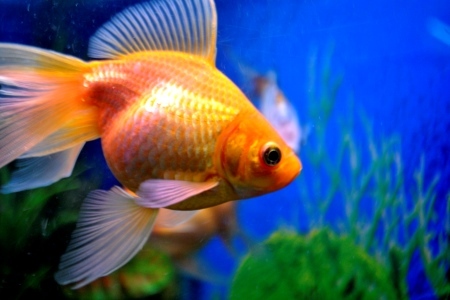 Recently, a customer asked if Popco's suction cups included BPA. This customer intended to use the suction cups in an aquarium and they wanted to be certain that the suction cups would not contaminate the tank and affect the fish.
BPA (bisphenol A) is an industrial chemical found in polycarbonate plastics. Studies have indicated that polycarbonate food containers that contain BPA can affect the food or beverages stored in those containers and result in a variety of negative health effects.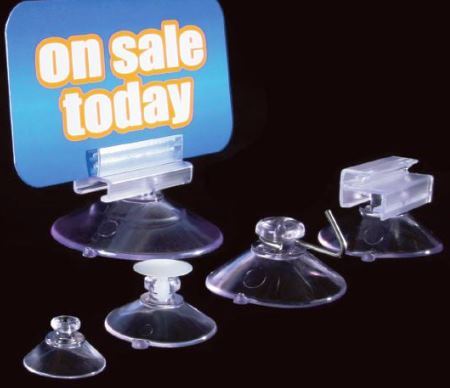 Popco's suction cups are made from PVC and include no BPA. As such, our suction cups are compliant with the European Directive, RoHS (Restriction of Hazardous Substances). However, Popco's suction cups do contain phthalates, chemical substances used to soften plastics. The European Union's REACH agreement identifies phthalates as substances of concern due to potential health risks. In California, proposition 65 listed DINP (di isononyl phthalate) as a chemical known to the State to cause cancer.
There are a number of categories into which phthalates fall. Some phthalates, including those used in Popco's suction cups, have FDA approval. These phthalates are not considered harmful, in fact, they are found in products such as cosmetics, toys, food packaging and even medical blood bags and tubing.
What does this all mean: Popco's suction cups do not rely on materials known to be harmful. Still, our suction cups are designed for, and primarily used for, the point-of-purchase display industry. We do not market our products to the food industry and we suggest that the suction cups be used in POP settings, not food settings. As for aquariums: We think the fish will like our suction cups just fine.
goldfish photo courtesy of depositphotos

Related Products and Categories
---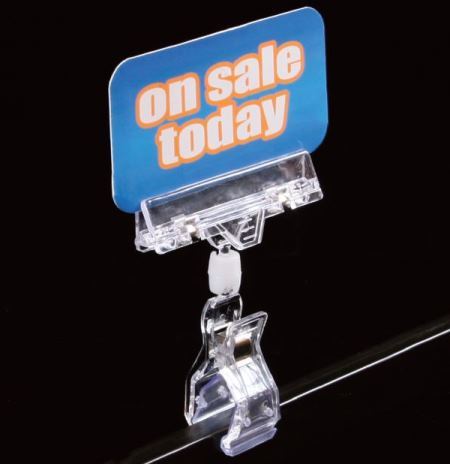 Simple, sensible, versatile, reusable; these are some of the descriptions that apply to the new clip-on sign holders that Popco has added to our product lineup. The clip-on sign holders are available in small and large sizes, and with either clips on both sides or a combination of clip and sign-holding channel.
For more information on these new parts, click here.
Related Products and Categories
---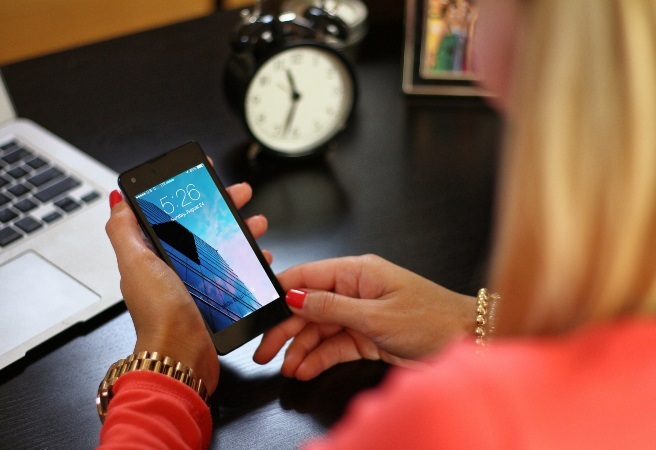 There are a variety of ways that customers place orders with Popco. Typically, customers submit purchase orders or order online. These are our preferred methods since orders in writing help both Popco and our customers to be perfectly clear on an order's details. Still, there are many times when ordering by phone is most convenient for our customers and we are glad to accommodate them.
After preparing all orders, Popco's sales reps email an order confirmation to the customer. This gives the customer an opportunity to review the order before it ships and confirm that the verbal instructions given to the sales rep are accurately entered on the order.
To ensure the accuracy of the orders taken over the phone,
Popco has developed a new policy:
For phone orders that exceed $500.00, we now require customers to review and approve the order confirmation before the order ships. This extra step benefits customers and Popco by decreasing the chance that an order ships incorrectly; the order confirmation becomes, in effect, a purchase order.
Though this policy requires some added effort on the part of the customer, we've done all that we can to streamline the process and, at the same time, provide the paper trail that helps us increase the accuracy of the orders we ship
Related Products and Categories
---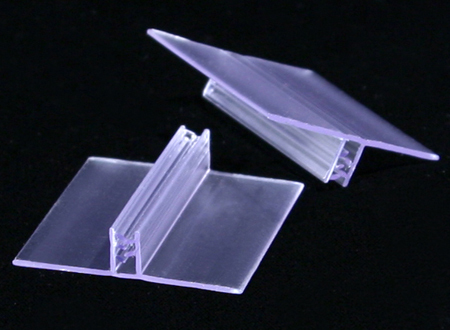 Popco has added a new product to our sign base category: the FWF-111-2 (finned wide foot). This part features a finned sign grip atop a 2-inch square base. In its standard configuration, the FWF-111-2 is available in clear PVC without adhesive on the base. At large quantities, the part can be run with permanent or removable adhesive on the base and also offered in black or white PVC.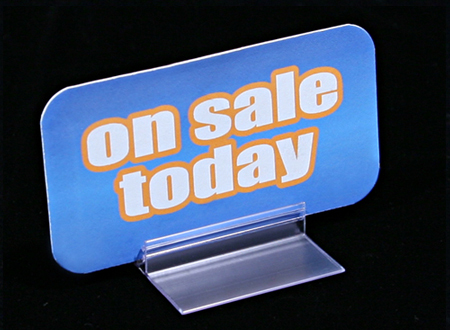 The FWF-111-2 was produced in response to a request from one of our customers. To meet our customer's tight deadline, Popco completed the design process, tooling, customer approval process and initial run of this part in roughly five weeks. Now, we can offer this customer, and others, fast lead time on the new part just as we do with all of our sign bases and other extruded or injection-molded parts. For more details on this new part, click here.
Related Products and Categories
---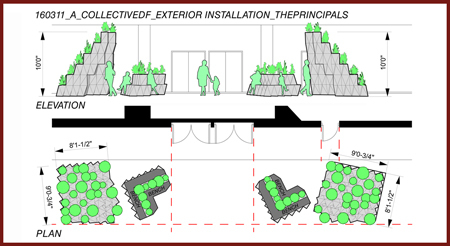 Popco is excited to be a part of another project by The Principals. The Brooklyn-based Principals are an experimental design studio, focused on the connections between architecture, fabrication and industrial design. In 2014, Popco's products played a small role in a Principal's project entitled Ancient Chaos. Details on that project can be found in our blog post from December of 2014.
Now, The Principals are participating in Collective DF, a prestigious design fair held annually in New York City. For this year's event, The Principals are submitting a coroplast structure, the panels of which are bound together using Popco's push-lock screws. The structure, a site-specific installation entitled Glacial Drift, is part green wall and part gathering space.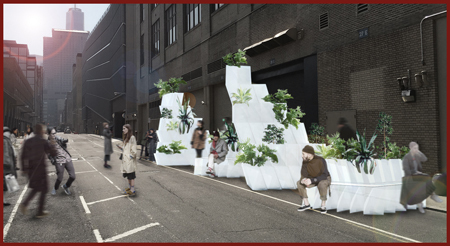 A digital rendering created by The Principals shows how the structure can serve as a place of respite from the bustling city and double as a beautiful and surprising piece of modern sculpture in what is normally a utilitarian area.
We'd like to congratulate The Principals for their involvement in Collective DF 2016 and thank them for trusting, once again, that Popco's products are right for their projects.
For more information on The Principals, click here.
Related Products and Categories
---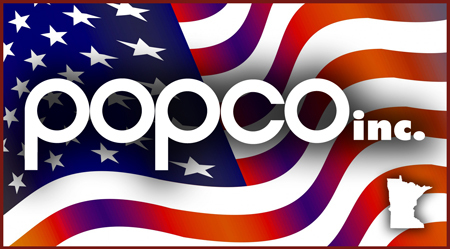 At Popco, we are proud of our family-business roots and the fact that many of our products are made in USA. Though we do import some of our products, our biggest sellers (the SNAPRAIL™ poster rails, sign channels and bases, small fasteners and suction cups) are all of Popco's design and are US made. In fact, we keep it local; our extrusion and injection molding facilities are either in the Minneapolis/St. Paul area or just across the border in Wisconsin. Manufacturing our products locally gives us a high level of quality control and allows us to offer fast turn-times and very competitive pricing. Source your POP parts through Popco and you'll benefit from these things while supporting American workers and manufacturing.
Related Products and Categories
---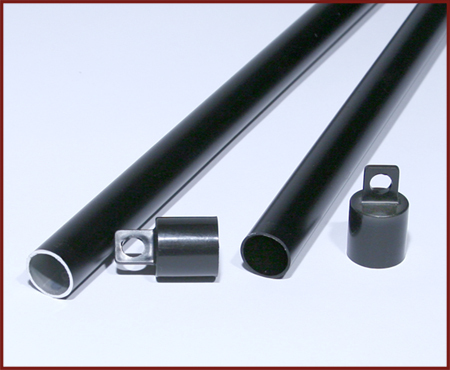 While stock lasts, Popco is offering a very high-quality banner hanging system. Consisting of a beautifully finished black aluminum dowel and matching black end caps, this system is meant to be used with fabric or vinyl banners that have sleeves for inserting the dowel.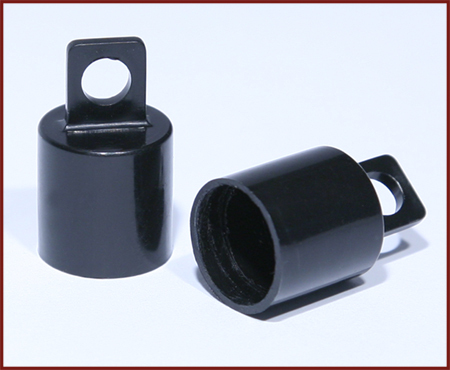 The endcaps include an opening into which hanging hardware can be inserted. Together, these parts are great for long-term installations or for use where banners will be repeatedly changed out.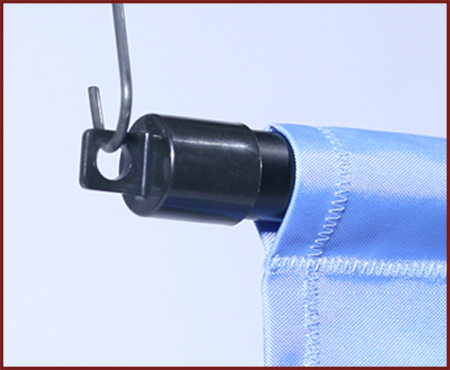 Durable and attractive, these parts are popular in retail settings and also in houses of worship and schools. Stock on these parts is limited and, once sold out, we will not be restocking. These new parts have now been added to our product pages. For more information, click here.
Related Products and Categories
---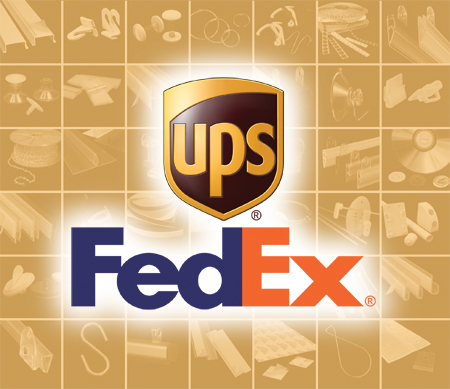 Popco ships orders in variety of ways including:
• UPS small package
• FedEx small package
• FedEx LTL truck freight
• our customer's freight carriers
• courier for local orders
The majority of orders shipped from Popco are sent via UPS. For ground shipments, UPS is a great deal for our customers. This is because the volume of packages we ship entitles us to an attractive rate and we pass those savings on to our customers.
For expedited shipments, FedEx offers us the best rate. When helping customer's on the phone, Popco sales reps make customers aware of their best options for expedited shipping. For online orders, on which a customer has asked for UPS expedited shipping, we will change the shipping method to FedEx when shipping on Popco's account. This results in a significant savings.
Customers can also choose to ship on their UPS or Fed Ex accounts, or with their freight carrier.
However it works best for our customer's, Popco is happy to accommodate nearly any shipping
Related Products and Categories
---
Thursday January 14, 2016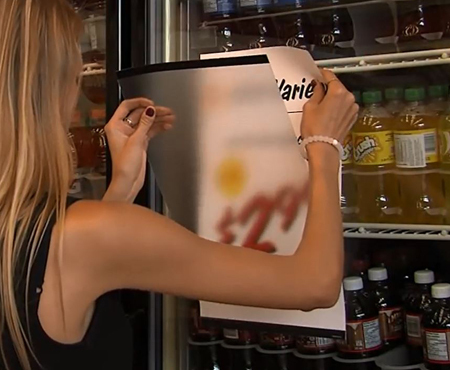 Popco is kicking off the New Year with introductions of a number of new products including the Magik Frame reusable sign holder. This deceptively simple product is truly new and revolutionary. It relies on a proprietary adhesive system that is unlike anything else on the market and it performs in ways that no other product can.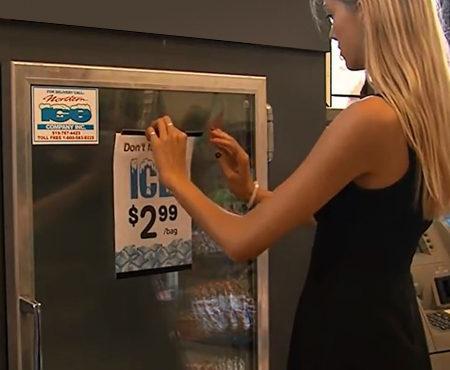 The Magik Frame is simply a piece on non-glare material that protects signage. At the top and bottom of the Magik Frame is an adhesive strip that can adhere to nearly any surface. Glass, metal, wood, sheetrock; all of these surfaces are compatible with the Magik Frame.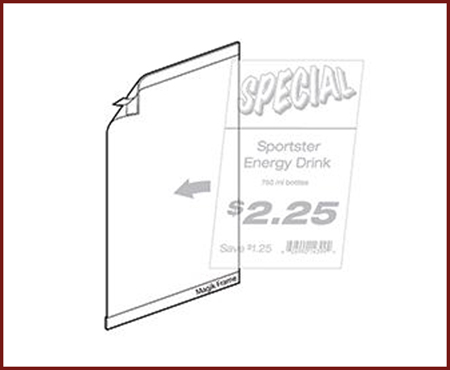 The proprietary, removable adhesive can be reused many times. It can even be cleaned and reapplied if repeated use has dirtied it up. Also, the adhesive leaves no residue on any of surfaces to which it can be applied.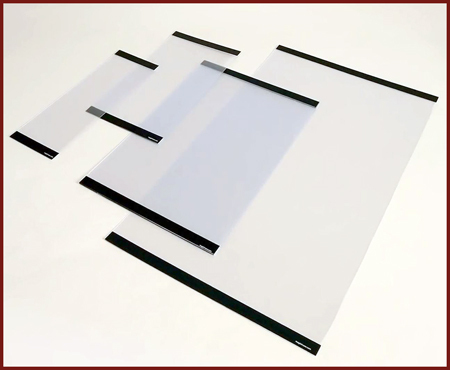 Popco will stock the Magik Frame in two sizes and custom sizes will be available. More details on the product, including pricing, will be available online soon. Please, check back in later this month to learn more about the Majik Frame.
Related Products and Categories
---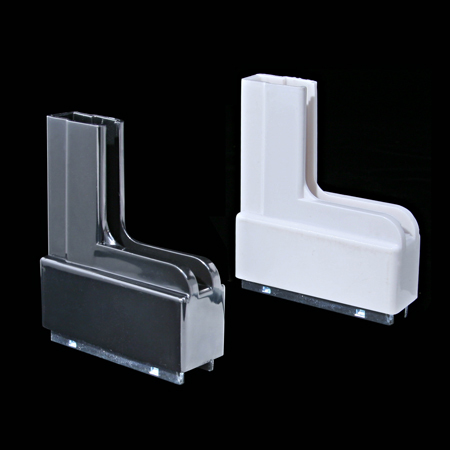 In the coming new year, Popco will introduce a number of new and exciting products. One of these products, which will be available online in January, is a sign holding system that employs magnetic bases, or boots as we call them, and corresponding sign-gripping rails.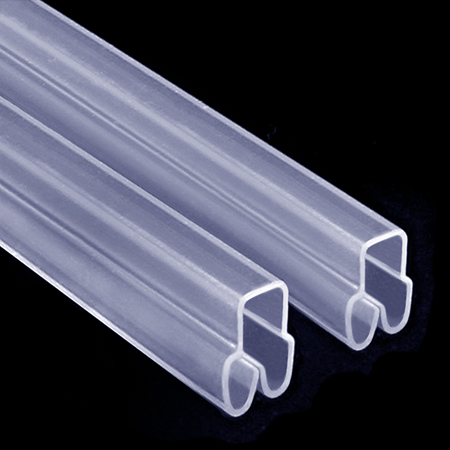 The profile of the rails matches the opening on the magnetic boots and the rails silde easily and securely into the boots. A flared opening on the rails makes it easy to insert printed material and the rails will accept stock from .01 to .05 inches thick. Two lengths, 12-inch and 18-inch, will be standard for the rails and other rail lengths will be available as a custom order.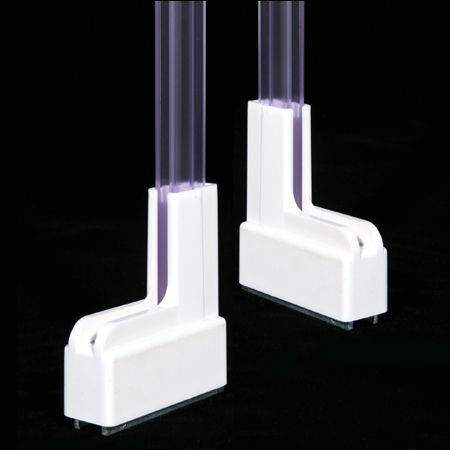 Here, the boots and rails are shown combined and ready to accept signage. The width of the signs displayed in the magnetic boot/rail system is completely flexible. It's just a matter of placing the boots closer to, or further away from each other.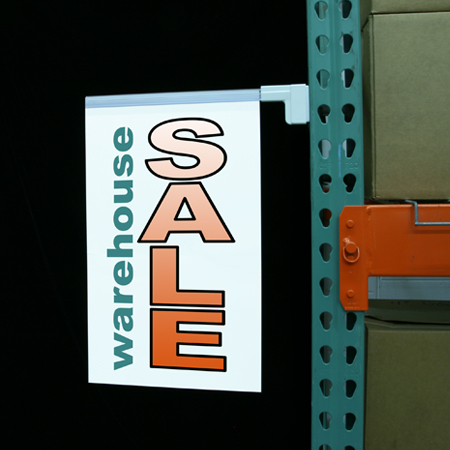 Signs can be displayed in vertical or horizontal positions and it is possible to display signs vertically using just one boot and one rail. The power of the boot's magnet is strong enough to support heavy signs and the grip of the rail is also very strong and will prevent heavy signs from sliding out of a vertical position.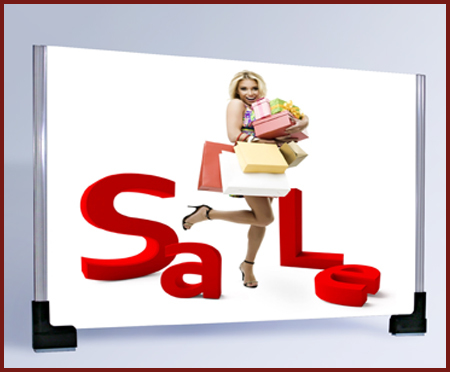 Versatile, reusable, strong, attractive... these are some adjectives that come to mind when we speak of our new magnetic boot and rail sign-display system. Please visit our website in January for more information on this great new product, or call us now for details. Among our new items for 2016, none are more powerful in a POP setting that this and we're pleased and excited to offer the boot and rail sign-display system to our customers.
Related Products and Categories
---