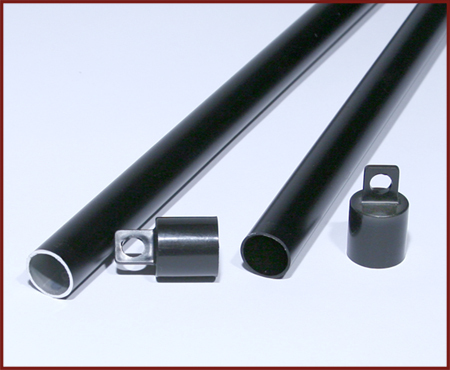 While stock lasts, Popco is offering a very high-quality banner hanging system. Consisting of a beautifully finished black aluminum dowel and matching black end caps, this system is meant to be used with fabric or vinyl banners that have sleeves for inserting the dowel.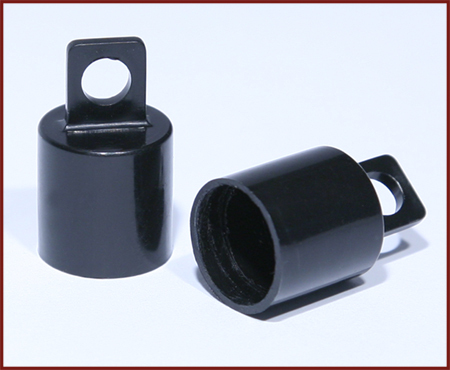 The endcaps include an opening into which hanging hardware can be inserted. Together, these parts are great for long-term installations or for use where banners will be repeatedly changed out.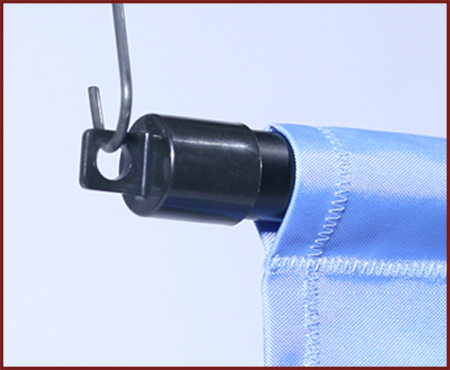 Durable and attractive, these parts are popular in retail settings and also in houses of worship and schools. Stock on these parts is limited and, once sold out, we will not be restocking. These new parts have now been added to our product pages. For more information, click here.
---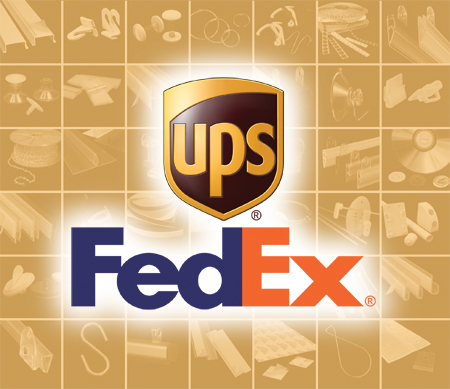 Popco ships orders in variety of ways including:
• UPS small package
• FedEx small package
• FedEx LTL truck freight
• our customer's freight carriers
• courier for local orders
The majority of orders shipped from Popco are sent via UPS. For ground shipments, UPS is a great deal for our customers. This is because the volume of packages we ship entitles us to an attractive rate and we pass those savings on to our customers.
For expedited shipments, FedEx offers us the best rate. When helping customer's on the phone, Popco sales reps make customers aware of their best options for expedited shipping. For online orders, on which a customer has asked for UPS expedited shipping, we will change the shipping method to FedEx when shipping on Popco's account. This results in a significant savings.
Customers can also choose to ship on their UPS or Fed Ex accounts, or with their freight carrier.
However it works best for our customer's, Popco is happy to accommodate nearly any shipping
---
Thursday January 14, 2016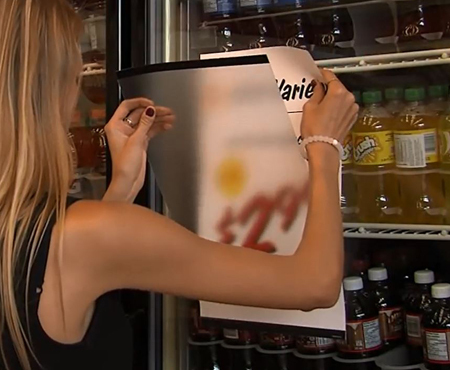 Popco is kicking off the New Year with introductions of a number of new products including the Magik Frame reusable sign holder. This deceptively simple product is truly new and revolutionary. It relies on a proprietary adhesive system that is unlike anything else on the market and it performs in ways that no other product can.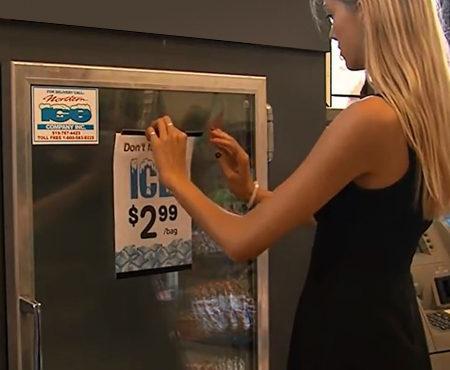 The Magik Frame is simply a piece on non-glare material that protects signage. At the top and bottom of the Magik Frame is an adhesive strip that can adhere to nearly any surface. Glass, metal, wood, sheetrock; all of these surfaces are compatible with the Magik Frame.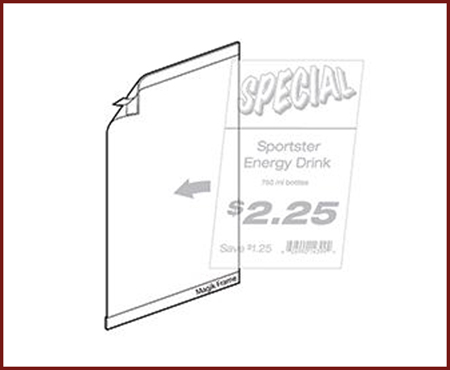 The proprietary, removable adhesive can be reused many times. It can even be cleaned and reapplied if repeated use has dirtied it up. Also, the adhesive leaves no residue on any of surfaces to which it can be applied.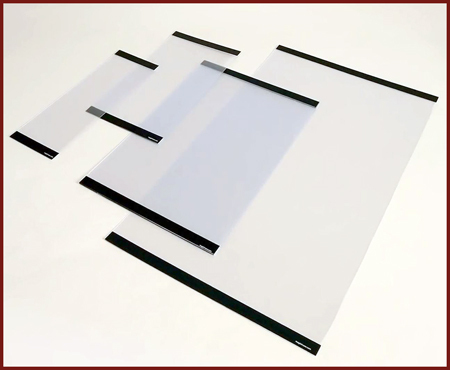 Popco will stock the Magik Frame in two sizes and custom sizes will be available. More details on the product, including pricing, will be available online soon. Please, check back in later this month to learn more about the Majik Frame.
---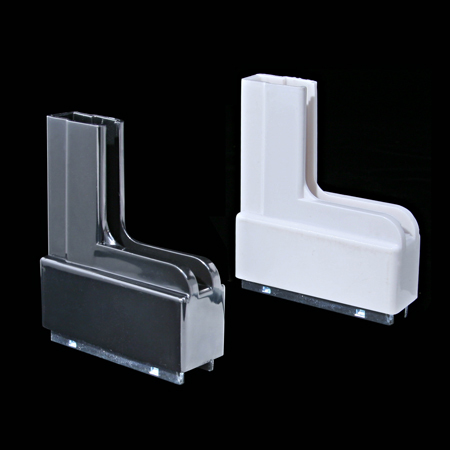 In the coming new year, Popco will introduce a number of new and exciting products. One of these products, which will be available online in January, is a sign holding system that employs magnetic bases, or boots as we call them, and corresponding sign-gripping rails.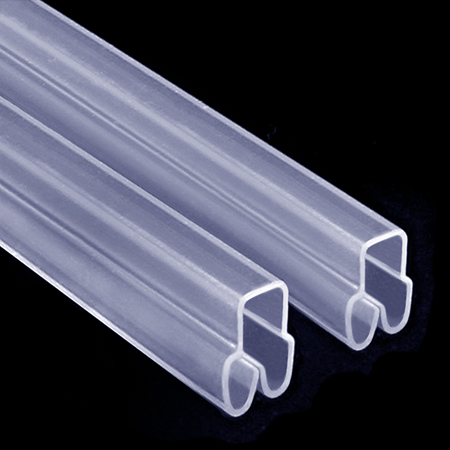 The profile of the rails matches the opening on the magnetic boots and the rails silde easily and securely into the boots. A flared opening on the rails makes it easy to insert printed material and the rails will accept stock from .01 to .05 inches thick. Two lengths, 12-inch and 18-inch, will be standard for the rails and other rail lengths will be available as a custom order.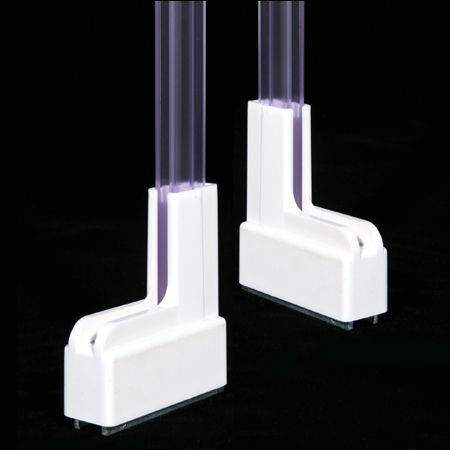 Here, the boots and rails are shown combined and ready to accept signage. The width of the signs displayed in the magnetic boot/rail system is completely flexible. It's just a matter of placing the boots closer to, or further away from each other.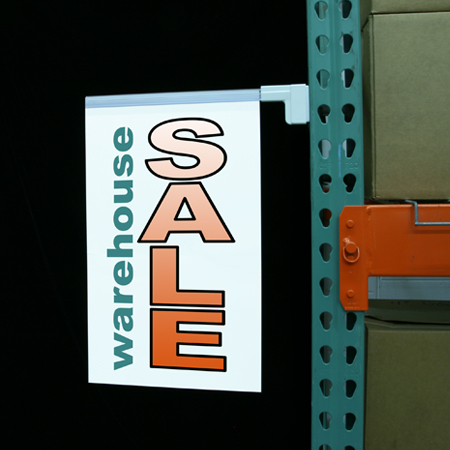 Signs can be displayed in vertical or horizontal positions and it is possible to display signs vertically using just one boot and one rail. The power of the boot's magnet is strong enough to support heavy signs and the grip of the rail is also very strong and will prevent heavy signs from sliding out of a vertical position.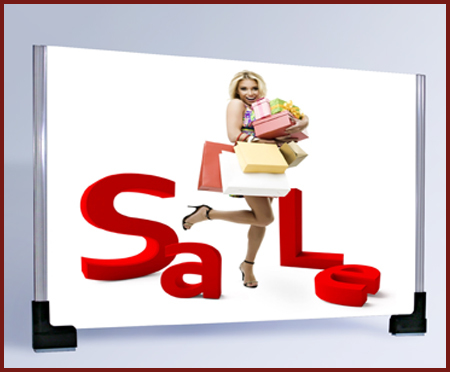 Versatile, reusable, strong, attractive... these are some adjectives that come to mind when we speak of our new magnetic boot and rail sign-display system. Please visit our website in January for more information on this great new product, or call us now for details. Among our new items for 2016, none are more powerful in a POP setting that this and we're pleased and excited to offer the boot and rail sign-display system to our customers.
---
Thursday November 12, 2015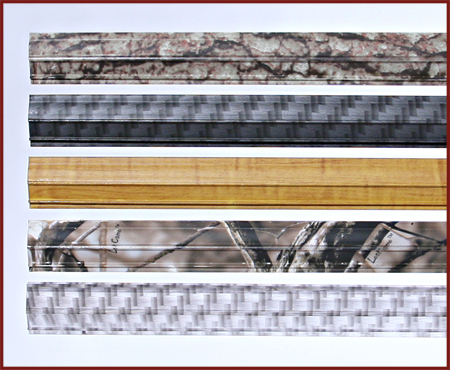 Now, as a custom order, Popco can add patterns to the SNAPRAIL™ poster hanging rails. Our first versions of this new technique have included camo patterns, carbon fiber and wood grain. Virtually any other pattern, or even branded designs are possible.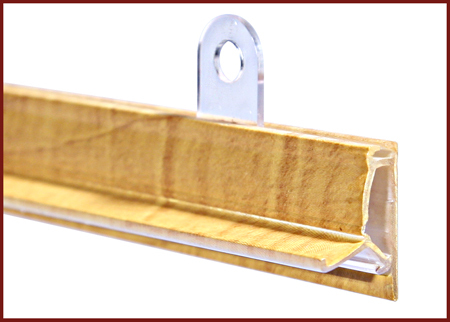 This customization is only available as a special order. To find out out what cost and lead time is, and to to discuss pattern options for your project, please contact Popco, click here.
---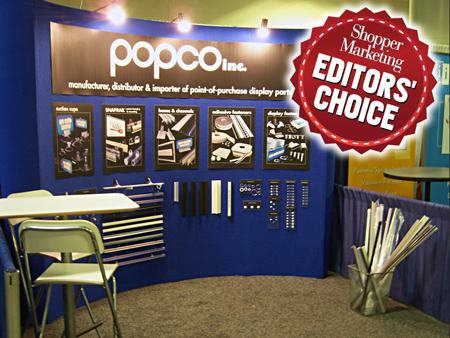 The 2015 Shopper Marketing Expo has come and gone and it turned out to be another great year for Popco. We are pleased and honored to have been chosen one of the Editors' Choice exhibitors for the second year running.
As featured in the Show guide, the Editors' Choice is described as follows:
"Pay special attention to the companies that have been designated as 'Editors' Choice.' These firms have been selected by the editors of Shopper Marketing magazine as 'must see' exhibits because of their fresh approach or a unique innovation worthy of special attention."
We couldn't have said it better ourselves! Revisit our blog in the coming months for posts that follow up on these fresh approaches and unique innovations that so impressed the Shopper Marketing editors.
---
Thursday September 10, 2015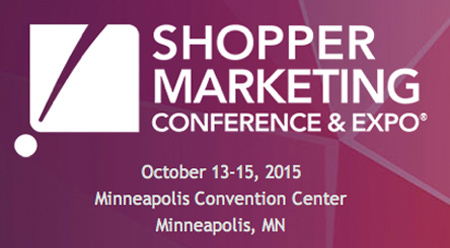 Popco is gearing up for a second year to exhibit at the Shopper Marketing Conference & Expo. This event is billed as the world's largest gathering of shopper and retail marketing professionals and is once again held in our own backyard: Minneapolis, Minnesota.
Our booth number 336 is located close to Shelfbucks Cafe. Click here for show details and look for the exhibit hall floorplan under the EXHIBIT HALL tab.
This year we have some really exciting new products to showcase including wood-finish variations on our SNAPRAIL™ poster-hanging rails. We hope the reception to these products will rival last year's response when Popco was chosen as one of the Editor's Choice exhibitors! See you at the show on Wednesday and Thursday, October 14 and 15.
---
Popco is very excited to announce the launch of our new website. If you've visited us online before, you'll see that the look of the site is much the same as it was. Most of the new site's changes are under the hood. In other words, new features have been added that increase functionality without requiring repeat visitors to relearn the site's layout.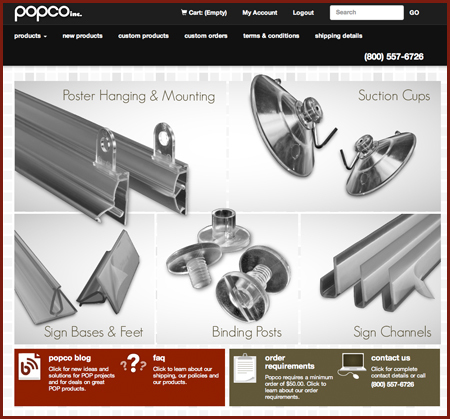 The greatest visual change to the new site is its ability to cascade to fit the smaller screens on mobile devices like tablets and cell phones. The image above shows the site as it appears on a large monitor with the browser window opened up to reveal the original design. Below you'll see an example of how the site design cascades for easier viewing on smaller screens.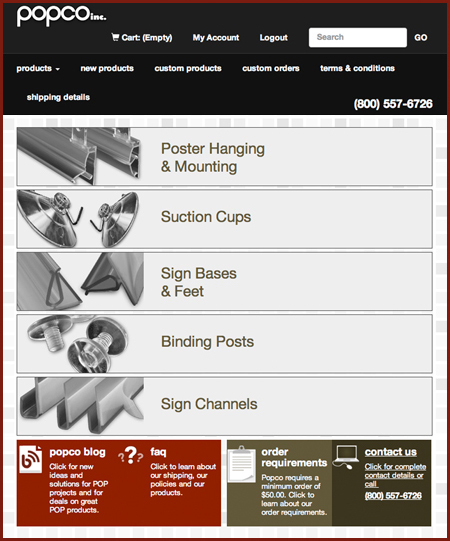 A powerful new functional change to the site is a feature that allows customers to create an account. Now, with an account, customers can login and review their Popco order history.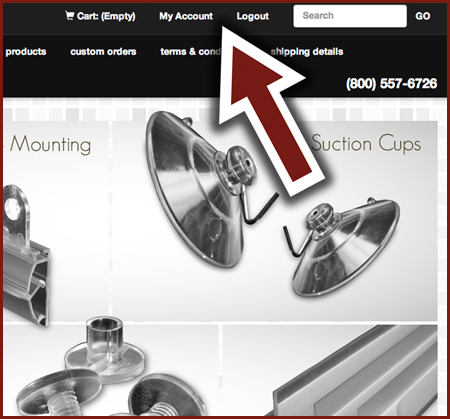 Also, simple shortcuts such as retaining billing and shipping information in the shopping cart are possible with an account. The image below shows how easily a customer can enable this new feature.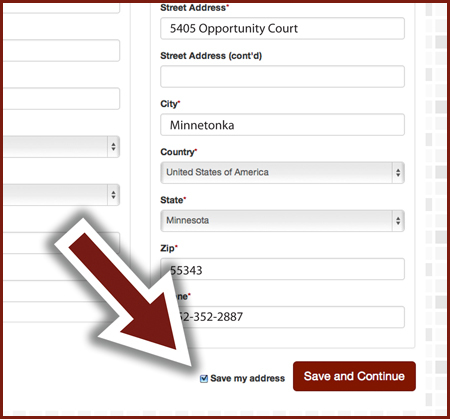 There are many other additions to the new site and we'll speak more about them in future posts. In the meantime, we hope you find our new site easy to use, full of items you need and helpful in every way!
---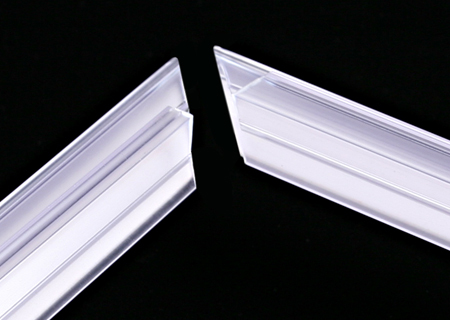 Recently, one of our customers had us heavily modify our SNAPRAIL™ sign hangers. Rather than use the SNAPRAIL™ hung from above, the customer required the rail configured to create a wall-mounted frame. This involved miter-cutting the rail to the customer's specifications and hand-applying removable tape to the back of the rail.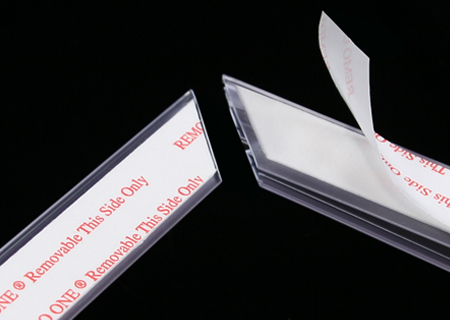 Two cuts per miter were required to create the frame's 45⁰ corner joints and still allow the SNAPRAIL™ to open and close for change-outs of signage. This process turned out to be rather tricky but, in the end, the SNAPRAIL™ functioned perfectly, met our customer's needs.
Please note: As of May, 2016, miter cutting of SNAPRAILS™ is no longer offered by Popco.
---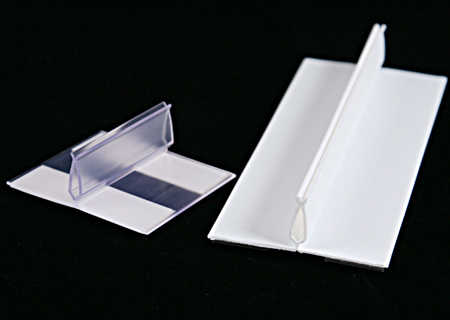 Popco's narrow and medium sign feet include permanent foam tape applied to the base, however our wide sign feet do not include tape. For extra-stable sign support, our customers occasionally require tape on the wide sign feet as well. As a custom order, the wide sign feet can have tape or even magnet applied to the base.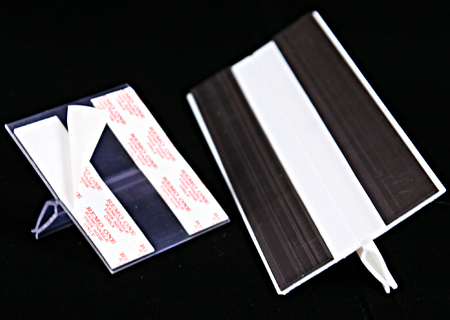 In large quantities the wide sign feet can be run with permanent foam tape, removable foam tape, permanent film tape or magnet. For these runs, the tape or magnet is applied "in-line," meaning the tape or magnet in positioned down the length of the sign foot as shown on the right in the photo above. In small quantities, the tape or magnet is hand-applied. This means that the tape or magnet can be positioned either in-line or at a right angle to the sign foot as shown on the left in the photo above.
These modifications make Popco's wide sign feet ideal for extra-stable support of free-standing signs, or for installations where the use of permanent tape is not an option. For more information on the options available, or to have your project quoted, contact Popco.
---