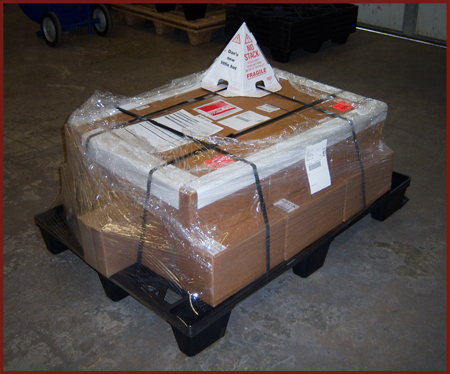 Each day at Popco, we design and manufacture products. We discuss POP solutions with customers on the phone and by email. We prepare quotes and orders, source products that we don't make, kit projects and pack shipments.
It's a busy pace and we always focus on accuracy, quality and speed.
Throughout it all, we know that we do a better job and our customers have a better experience if we inject positivity, or even a little silliness, into our efforts.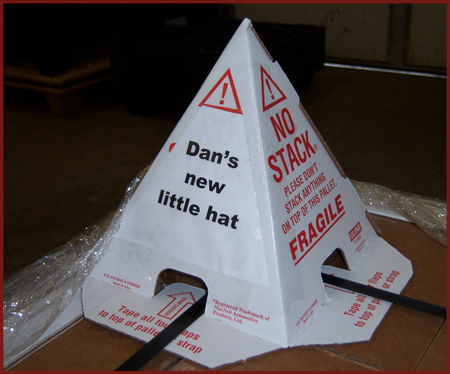 As an example, shown above are photos of a skid packed and ready to ship. The skid includes a pyramid topper meant to keep other shipments from being stacked on top.
This shipment, like others before it, was sent to Dan Zinger. Dan is a really great customer who represents Prolifiq Sign Studio in Edmeston, New York. Previously, Dan had sent us a photo of himself wearing a skid pyramid as a hat. After this, we decided to personalize Dan's "hat" on a new shipment.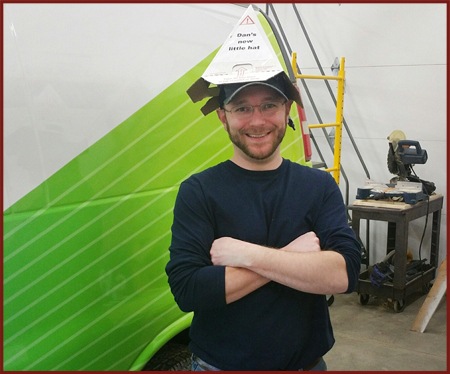 Dan loved it, he donned it, and he had his photo taken wearing it (might we add, he rocks the look)! Dan, and all of us here at Popco, had a good chuckle.

What does this mean?

It means that a rapport has developed between Popco and Prolifiq Sign Studio that surpasses the simple matters of placing and fulfilling orders. It means that we care, not just about maintaining Popco's reputation as a reliable vendor, but we care about our customer as a person as well. It means we will always go to bat for Dan and his company and it means that this is the way we like to do business… with a smile!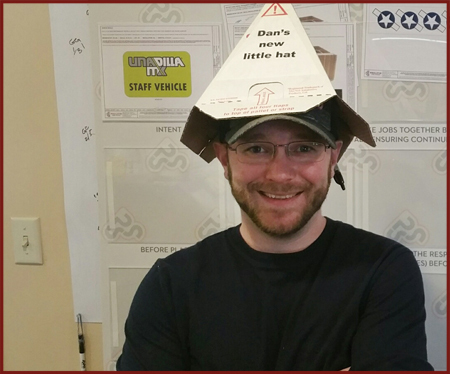 Keep those orders coming Dan and before you know it, you'll be the Imelda of pyramid hats.
Related Products and Categories
---
By a long shot, the most frequently asked question about Popco's suction cups is: How much weight can they support? It's tougher to answer than you might think.
Many factors affect the weight-bearing capacity of the cups. For example:
Are the cups adhered to a clean surface?
A little grit or grime will weaken the cup's bond.
Will the cups be subjected to movement, such as a swinging cooler door?
Weight in motion is far different than stationary weight.
Will the cups be exposed to temperature extremes, like inside a hot car in summer, or inside a cooler or freezer?
Weight bearing capacity will be diminished under these conditions.
Is the mounting surface uneven or textured?
Such surfaces are far from ideal.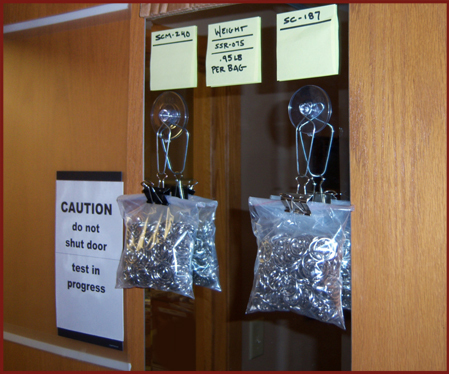 We can't test for every scenario, so we decided to test the suction cups as we hope they'll be used: under ideal conditions.
For our tests, we clamped a glass mirror to an office door and we made sure that the mirror and our test cups were clean. We then started hanging bags of metal rings, each weighing .95 lbs., from the cups.
To test for both weight and duration, bags were added one at a time. Each bag remained in place for 24 hours before an additional bag was added.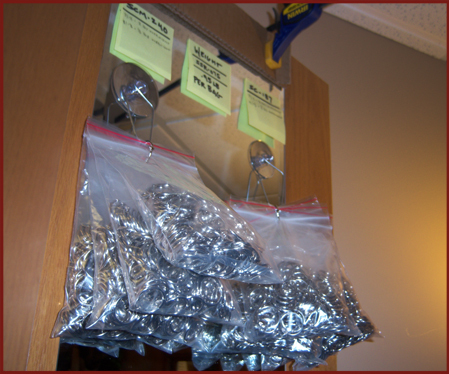 This process continued for weeks and the results of our tests were remarkable. Each style of Popco suction cup was tested and our largest suction cup supported over ten pounds before failing. Our smallest cup supported nearly three pounds.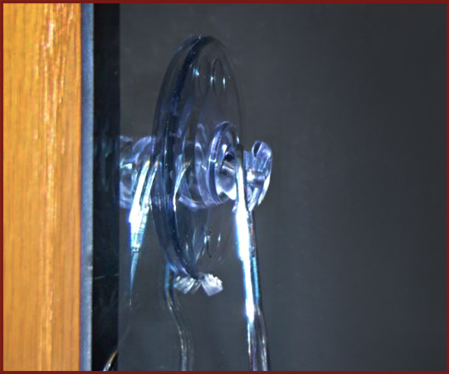 Another thing our tests revealed was that, in most cases, bending of the cup's stems led to failure before the cups themselves sheared off. Shown above is an SCM-177 suction cup and you can see the stem starting to bend as it supports roughly five pounds.
We've compiled our test results and created a reference sheet that will help you determine which of our suction cups is right for your project. Check it out and give us a call if you have questions or if we can help you with an order.
Disclaimer: Our tests were not independently conducted. We recommend that customers conduct their own tests specific to their usage.
Related Products and Categories
---
Wednesday February 14, 2018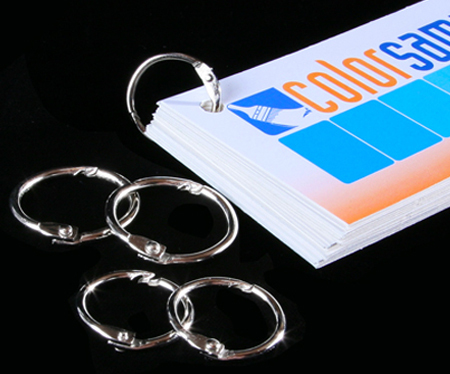 Popco's steel snap rings are straight-forward practical parts that are always in demand. They are often referred to as book rings since binding swatch books is one of the main uses for these parts, but they can be used for a variety of projects, such as a creating connection points for hanging signs.
The only real drawback of the snap rings is that they are sold in a closed position and opening them, especially when working with the smaller sizes, is somewhat difficult. Couple this reality with the fact that assembly projects often require opening thousands, or tens of thousands of the rings, and a slight drawback becomes a real problem.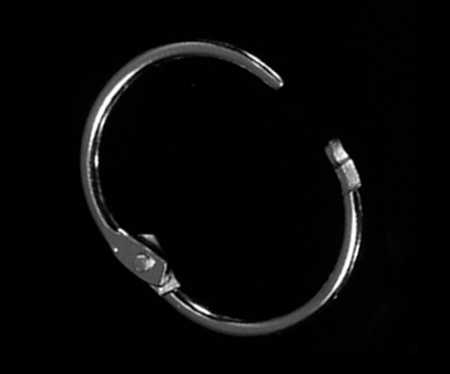 Now, based on requests from our customers, Popco is offering our most popular 1-inch steel snap ring in an open position. These open rings greatly reduce assembly time, helping our customers meet tight deadlines and reducing their assembly costs. In the future, we may offer other sizes of the snap rings in an open position as well. To purchase the 1-inch, open-style rings, visit this web page.
Related Products and Categories
---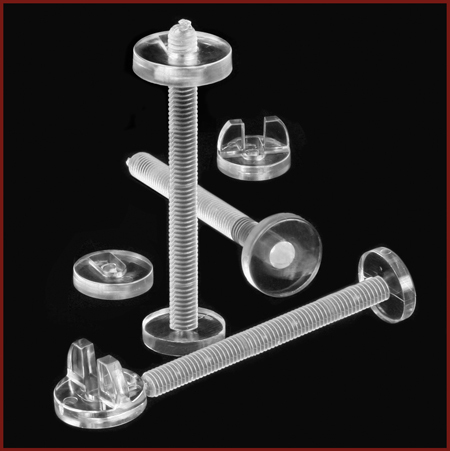 Two popular Popco fasteners, the Viking-hat screws and the flat-cap screws are now available in lengths as great as 2-inches. Previously these parts topped out at 1.5-inch lengths, but, encouraged by customer's requests, we've modified our tooling and produced longer parts.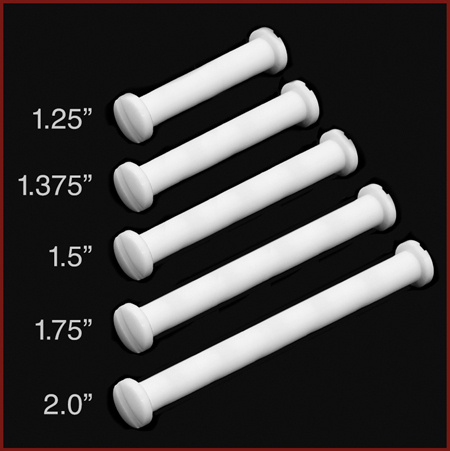 We're continuing this trend and extending the lengths of our push-lock screws as well. Soon, we'll offer the small-slotted-head push-lock screws in five new sizes; from 1.25 to 2-inch lengths. To learn more about these parts and their use, visit these web pages: Viking-Hat Screws, Flat-Cap Screws, Push-Lock Screws.
Related Products and Categories
---
Tuesday December 12, 2017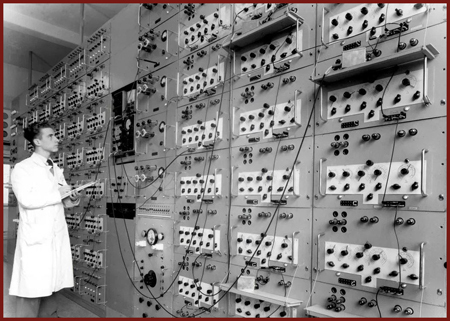 In our computer-reliant world, where the pace of change is dizzying, Popco tries to balance old-school practicality with new-school reality. In an old-school sense, we'd rather not thrust change on our web visitors. Instead, we'd like our website to soldier on in a predictable, stable manner so that our customers don't have to spend any more time than is necessary to find what they need and complete a purchase.
In the new-school reality, we must occasionally upgrade our site to comply with current standards and we've recently done so with a few under-the-hood changes. For most web visitors – 98% of visitors to be precise – our latest upgrade will have no impact. For the remaining 2% of visitors, our site may not work properly or not be visible at all! This is due to outdated operating systems being used by a small number of our visitors.
We're sorry, but if you use old Android software or old Internet Explorer or Safari browsers, now is the time for you to upgrade. Likely, you're encountering issues with other websites and we're not the only ones making your life miserable. We apologize to you, the inconvenienced 2%, and we hope that you'll upgrade and return to our site.
Related Products and Categories
---
Wednesday November 15, 2017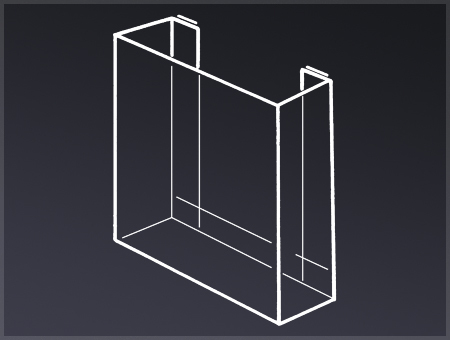 Popco's TOB series literature boxes are cost-effective boxes made from 15 mil rigid PVC. These boxes ship flat, fold into shape along die-impressed fold lines and adhere to flat surfaces with permanent white foam tape.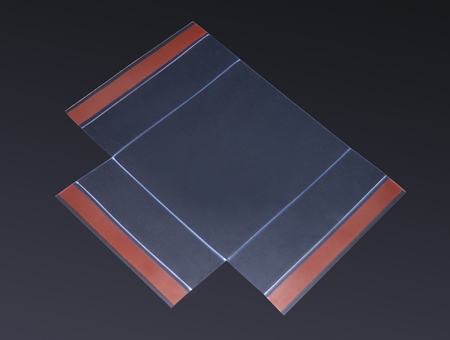 Occasionally, customers have requested clear film tape in place of the standard white foam tape. As part of such a project, Popco produced a number of film-taped TOB 4-5 boxes. The TOB 4-5 measure 4-1/8" wide x 5" high x 1-1/4" deep, and the high-quality, clear film tape features a red liner.
Now, we are selling off the remaining custom-taped boxes at a discount. Approximately 800 of these boxes are available at the reduced price of $0.58 per box.
For more information on the TOB literature boxes, visit this web page.
To inquire about purchasing these limited-quantity, customized boxes give us a call:
1-800-557-6726
Related Products and Categories
---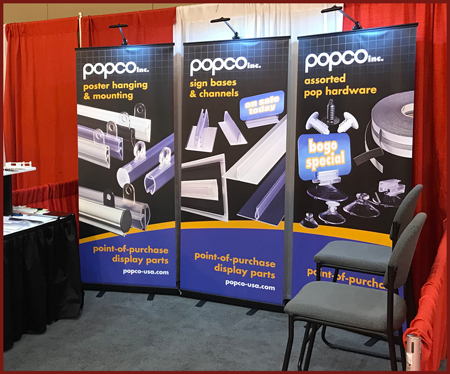 As hurricane Nate set sights on New Orleans, the Popco crew added umbrellas to the items packed for the SGIA show. Fortunately, Nate took a turn away from the Crescent City and SGIA went off without a hitch.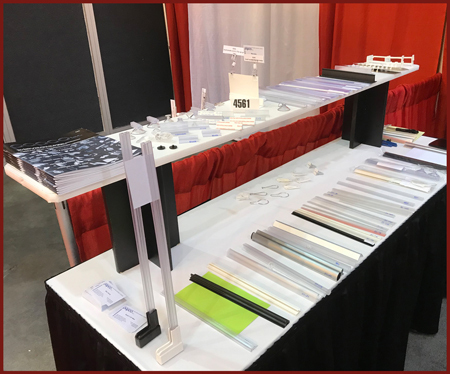 At the show, Popco showcased classic products such as the SNAPRAIL™ and sign feet, and new products such as the Magik Frame™ and the magnetic sign-bases and rails. We were particularly pleased to meet many representatives from large-format printing houses who enthusiastically embraced the SNAPRAIL™ as a product perfectly suited to displaying their large prints.

Thanks to everyone who came by our booth; both new and old, familiar faces. For those of you who requested more information, your samples and product details are on the way. We'll see you again next year at SGIA.
Related Products and Categories
---
Thursday September 14, 2017

Popco is off to New Orleans for the SGIA trade show on October 10-12, 2017.
The SGIA (Specialty Graphic Imaging Association) hosts the largest printing trade show in North America with 570 exhibitors in 2017 and attendance of over 24,000 at last year's show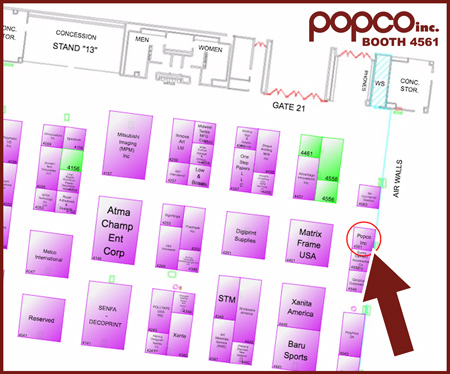 Our booth number is 4561 and we're located against the wall just to the left of gate 21 in the Ernest N. Morial Convention Center.

Use this link for more information on our booth location: SGIA MAP
Additional details on our presence at the show can be found on the SGIA website: POPCO DETAILS
See you at the show!
Related Products and Categories
---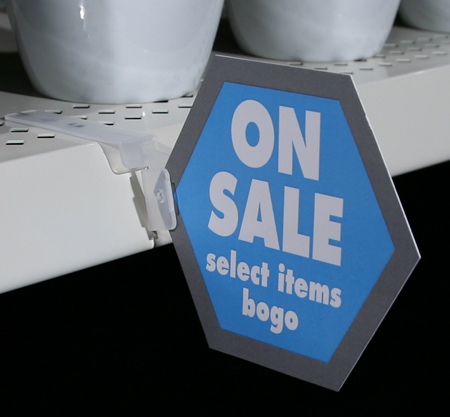 Among the new products that Popco is offering in 2017 are the self-piercing sign holders.
Two styles of these parts are now available: One style snaps into the holes on the top of standard store shelving (above). The other style inserts into the 1.25-inch channel of standard store shelving.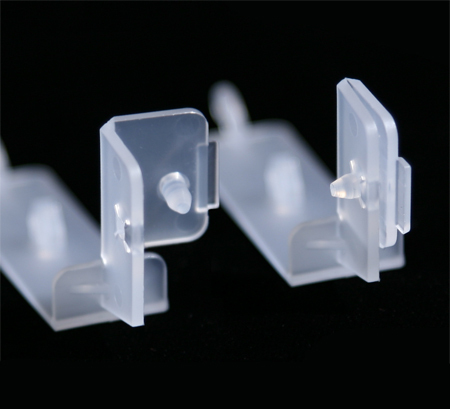 To connect small signs to these parts, all you have to do is position the sign into the open, hinged front of the sign holder (above left). Then, close the hinge and the piercing pin will pass through your sign stock and lock into place (above right).

The hinged piercing mechanism can be opened and closed repeatedly, making changeout of signs easy and extending the life of the part.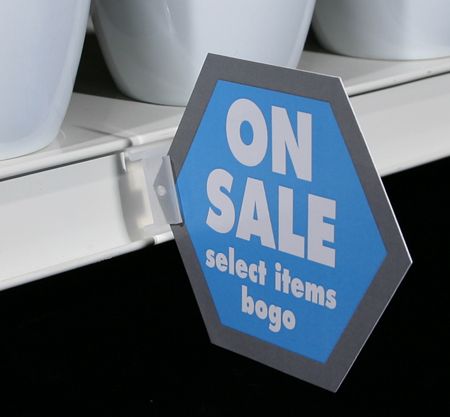 For more details, or to purchase these parts, visit these web pages:
The self-piercing flag sign-holder, for attaching to the top holes of store shelving.
The self-piercing channel flag-holder (above), for inserting into 1.25 inch channels on store shelving.

Related Products and Categories
---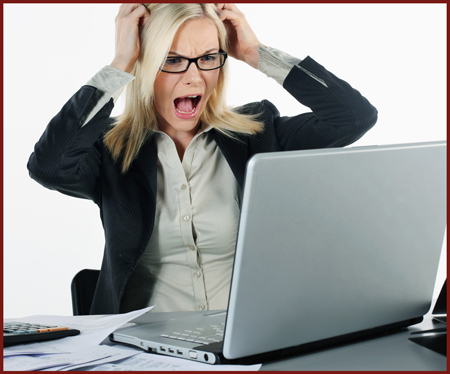 Since it rolled off the presses, our new catalog has been scrutinized by the entire Popco crew. Because we always strive to dot-the-(I)s and cross-the-(T)s on our projects, imagine our frustration when we spotted a few inaccuracies in the catalog. Here's what we've found:
page 15 • SNAPRAIL™ glass-mounting kit
the correct price for the 24-inch kit, at a quantity of 1-249, is: $3.21
page 24 • upc shelf data rail with tape
in the price chart, the correct item number for the 3" data rail is: UPC-300
page 38 • push-lock loop-screws
the correct price for the MPLH-250, at a quantity of 1000-2499, is: $63.00 per 1000,
not $6300 per 1000!
page 46 • nylon security loop & button
the correct price for the adhesive button, at a quantity of 2500-4500 is: $0.081 each
and the correct price for the adhesive button, at a quantity of 5000+ is: $0.075 each
page 46 • nylon cable ties
no mistake, just a heads-up
Since the release of the catalog, we've marked down prices on the 36" & 48" cable ties.
These parts will be discontinued when supplies run out and prices on our remaining stock are now drastically reduced online.
In the big scheme of things, we realize that these errors are not the end of the world and that nobody's perfect. Still, perfect is what we aim for; in our catalog, in our customer service, and on your orders and quotations. Please accept our apologies for these misprints and please give us a call if you have any questions about the catalog or our products.
Related Products and Categories
---