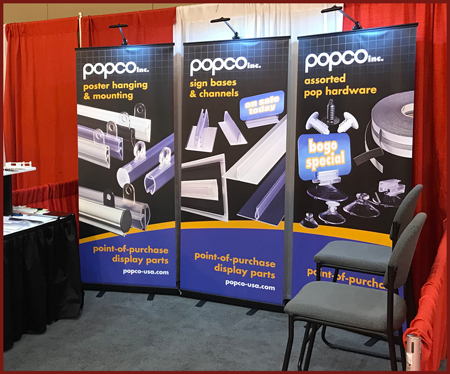 As hurricane Nate set sights on New Orleans, the Popco crew added umbrellas to the items packed for the SGIA show. Fortunately, Nate took a turn away from the Crescent City and SGIA went off without a hitch.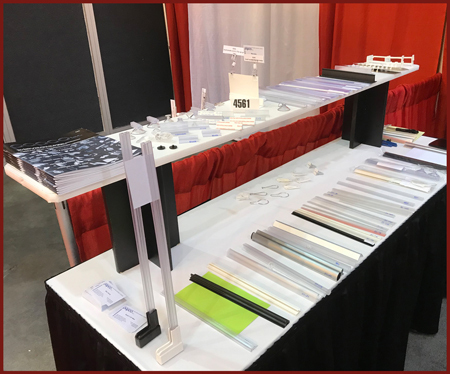 At the show, Popco showcased classic products such as the SNAPRAIL™ and sign feet, and new products such as the Magik Frame™ and the magnetic sign-bases and rails. We were particularly pleased to meet many representatives from large-format printing houses who enthusiastically embraced the SNAPRAIL™ as a product perfectly suited to displaying their large prints.

Thanks to everyone who came by our booth; both new and old, familiar faces. For those of you who requested more information, your samples and product details are on the way. We'll see you again next year at SGIA.
Related Products and Categories
---
Thursday September 14, 2017

Popco is off to New Orleans for the SGIA trade show on October 10-12, 2017.
The SGIA (Specialty Graphic Imaging Association) hosts the largest printing trade show in North America with 570 exhibitors in 2017 and attendance of over 24,000 at last year's show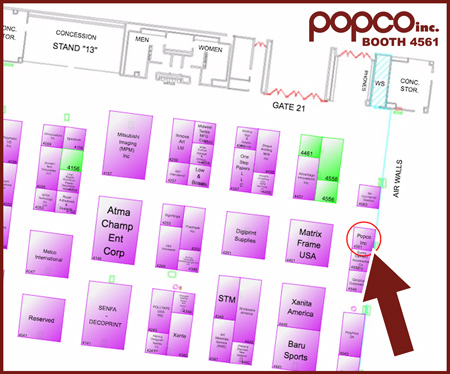 Our booth number is 4561 and we're located against the wall just to the left of gate 21 in the Ernest N. Morial Convention Center.

Use this link for more information on our booth location: SGIA MAP
Additional details on our presence at the show can be found on the SGIA website: POPCO DETAILS
See you at the show!
Related Products and Categories
---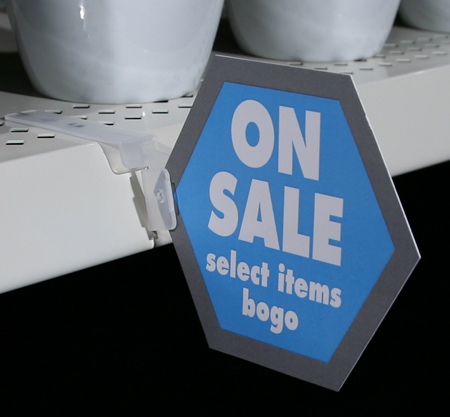 Among the new products that Popco is offering in 2017 are the self-piercing sign holders.
Two styles of these parts are now available: One style snaps into the holes on the top of standard store shelving (above). The other style inserts into the 1.25-inch channel of standard store shelving.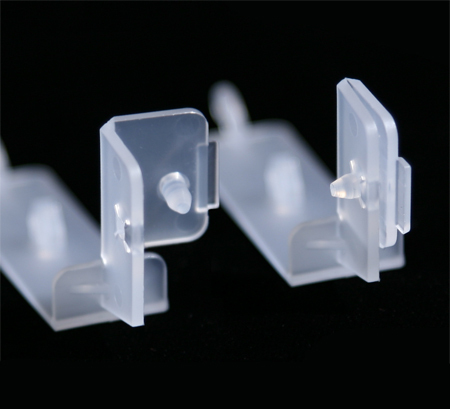 To connect small signs to these parts, all you have to do is position the sign into the open, hinged front of the sign holder (above left). Then, close the hinge and the piercing pin will pass through your sign stock and lock into place (above right).

The hinged piercing mechanism can be opened and closed repeatedly, making changeout of signs easy and extending the life of the part.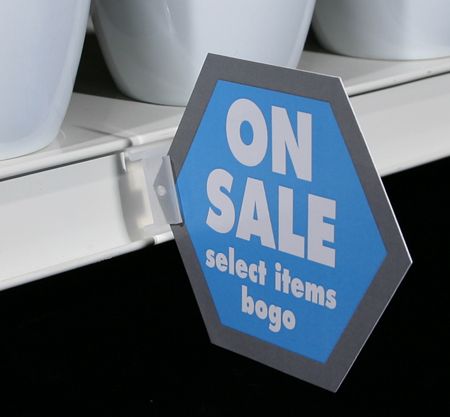 For more details, or to purchase these parts, visit these web pages:
The self-piercing flag sign-holder, for attaching to the top holes of store shelving.
The self-piercing channel flag-holder (above), for inserting into 1.25 inch channels on store shelving.

Related Products and Categories
---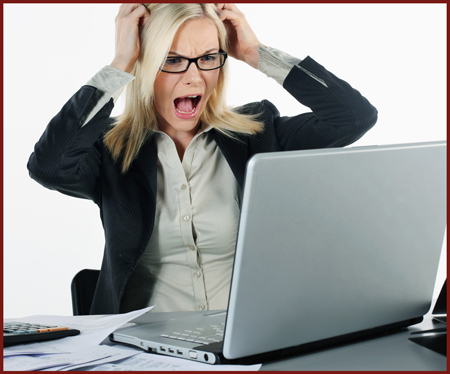 Since it rolled off the presses, our new catalog has been scrutinized by the entire Popco crew. Because we always strive to dot-the-(I)s and cross-the-(T)s on our projects, imagine our frustration when we spotted a few inaccuracies in the catalog. Here's what we've found:
page 15 • SNAPRAIL™ glass-mounting kit
the correct price for the 24-inch kit, at a quantity of 1-249, is: $3.21
page 24 • upc shelf data rail with tape
in the price chart, the correct item number for the 3" data rail is: UPC-300
page 38 • push-lock loop-screws
the correct price for the MPLH-250, at a quantity of 1000-2499, is: $63.00 per 1000,
not $6300 per 1000!
page 46 • nylon security loop & button
the correct price for the adhesive button, at a quantity of 2500-4500 is: $0.081 each
and the correct price for the adhesive button, at a quantity of 5000+ is: $0.075 each
page 46 • nylon cable ties
no mistake, just a heads-up
Since the release of the catalog, we've marked down prices on the 36" & 48" cable ties.
These parts will be discontinued when supplies run out and prices on our remaining stock are now drastically reduced online.
In the big scheme of things, we realize that these errors are not the end of the world and that nobody's perfect. Still, perfect is what we aim for; in our catalog, in our customer service, and on your orders and quotations. Please accept our apologies for these misprints and please give us a call if you have any questions about the catalog or our products.
Related Products and Categories
---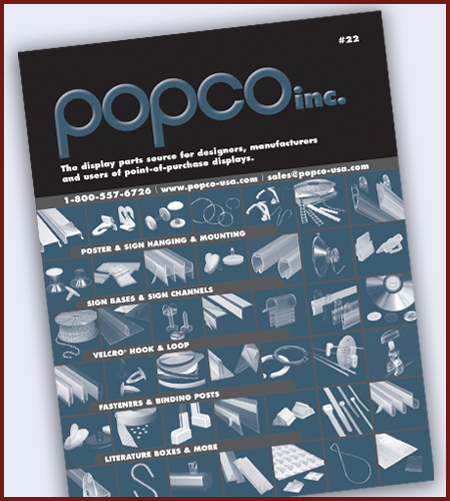 The new Popco catalog, issue #22, is hot off the press and ready for immediate mailing.
To see our current pricing and learn about our new products, give us a call or reach out to us by email. We'll send you a copy right away.
1-800-557-6726 / sales@popco-usa.com
Related Products and Categories
---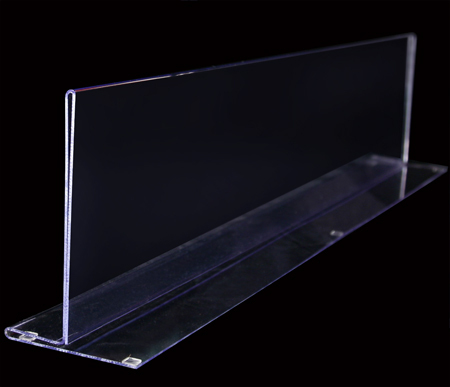 Though we've tackled heat-bending projects in the past, those projects have been rather few and far between. Now, due to increased customer demand, we've stepped up our production of these products. Among our most recent heat-bending projects was the beast shown above. What made this piece so beastly is its size. It measures roughly 8-inches tall and a whopping 36-inches long. If you don't know much about heat bending, trust us, 36-inches is a boundary-pushing dimension.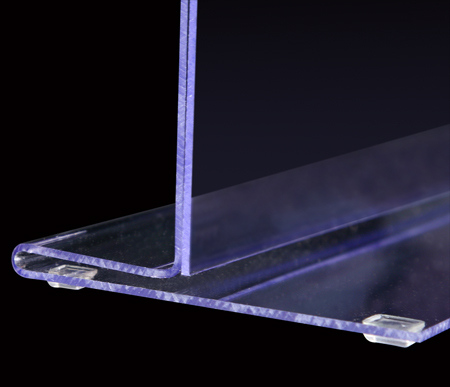 We designed the bottom of the display to open easily and accommodate a printed insert. The insert slides down the length of the display, then, closing the bottom pinches down on the insert, holding it in place.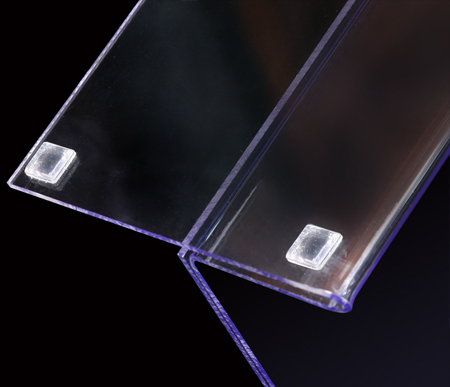 The underside of the display features six rubber bumpers that keep the display from sliding around and make it less tippy. Initially, we produced the display from .080" thick acrylic. Then, to reduce weight and cost, we switched to .060" thick material. In the end we learned a great deal about producing a piece this large and we can apply those lessons to smaller, more typical displays.
Our heat-bent displays are custom-order only. If you have a project that calls for this type of product, please contact Popco. One of our sales representative will discuss your project with you and provide a quote.
Related Products and Categories
---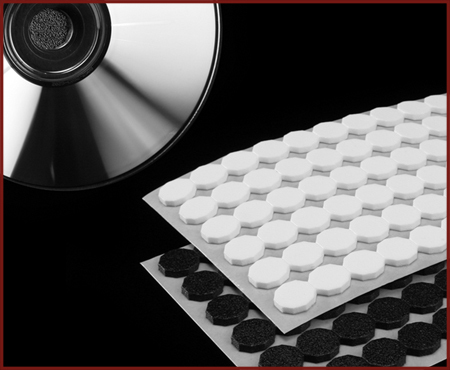 Do you remember 8-track tapes? How about cassettes? Probably not; the list of dead formats is pretty long. Well, for years now, CDs and DVDs have been vying to join the obsolescence club. At one time, a number of Popco customer's used the polygon hubs (shown above) as center spindles for mounting CDs and DVDs to brochures and promo kits. The polygon hubs where (are) a great product but the demand is so sparse now that our remaining hubs are marked down, down, down!
Originally, the polygon hubs sold for over $100 a roll (2500 pieces per roll).
Now, the few remaining rolls we have are selling for $33 each.
The hubs are also used as bumpers and, at this price, they've become a very cost-effective alternative to other types of bumpers. Because of the non-compressible, dense properties of the hubs, they are ideal for projects where there will be significant weight on the hub; they'll hold up when foam hubs compress flat.
If you've got a project requiring the polygon hubs, please check them out now. We won't be restocking these parts.
Related Products and Categories
---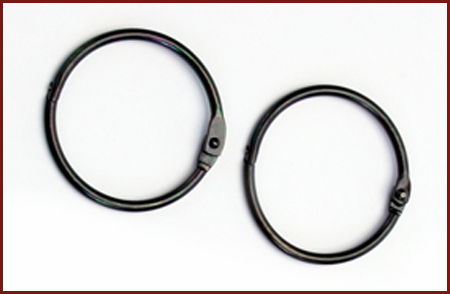 Here's an addition to an ancient post (August, 2012) in which we spoke about colorizing metal parts such as our steel snap rings and wire hooks:
Recently, a customer asked if these parts can be used outdoors; something we hadn't addressed in the original post. The answer is, yes and no. In the case of the steel snap rings, the answer is yes. This is because the rings, in their silver-colored state, are nickel plated which makes them rust resistant. When we coat the rings to make them black, we increase the part's resistance to rust.
For the wire hooks, the answer is no.They are not nickel plated and are more vulnerable to rusting. Black-coating the hooks does reduce rusting, but we still recommend that the hooks be used indoors only. In fact, that is our recommendation for the rings as well.
All said and done, the customer did use the black rings outdoors and has been perfectly satisfied with the results. Now we know, our coating process works a bit like a nickel finish and increases rust resistance.
Related Products and Categories
---
Tuesday February 14, 2017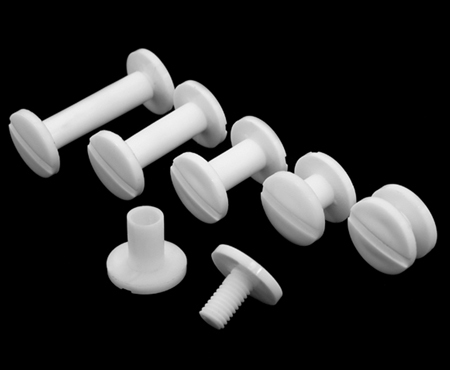 Among our most popular products are the push-lock post and screws. These two-piece parts are meant for rapid hand-assembly of displays and swatch books and are available in a variety of lengths, head sizes and colors.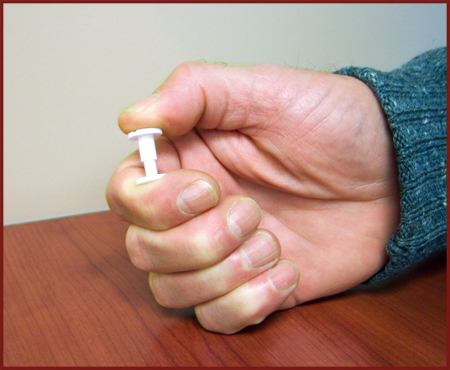 A primary feature of these parts is that they require no tools or threading to join together. Assembly is as simple as pressing the male and female parts together as shown above.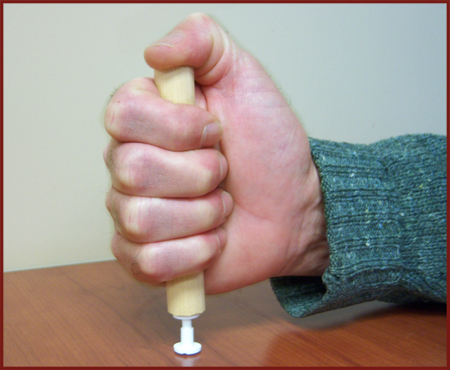 Some of our customers who have used large quantities of these parts have asked us if a tool is available for assembly. Assembling hundreds or thousands of pieces by hand is, to say the least, an uncomfortable, blister-producing proposition.
We've found a perfectly effective, low-tech and low-cost solution: a simple wooden dowel. The wood surface will not damage the screw or post heads and using the dowel, as shown above, eliminates the strain on the thumb and fore finger.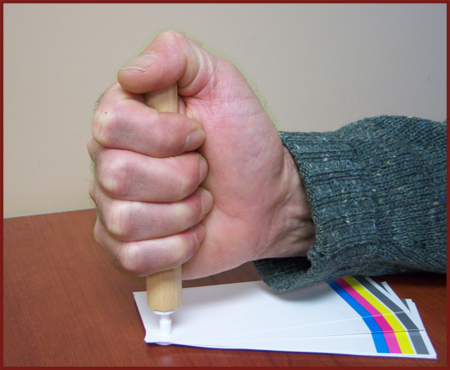 Popco does not sell the dowels that we recommend using, but nearly any hardware store will have dowels that will work. If your project requires assembly of displays or swatch books using push-lock posts and screws, spare yourself the discomfort and try this practical assembly technique.
To view our selection of posts and screws, click here.
Related Products and Categories
---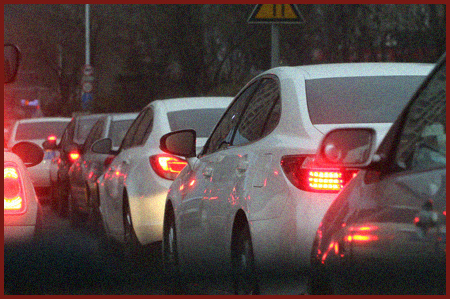 Here's a special blog post dedicated to hardy Twin-Citians who live with this reality: In Minnesota there are two seasons, winter and road-construction. This year, we're experiencing both at the same time since the main drag to Popco, Highway 169, is shut down for repair and will remain closed until October!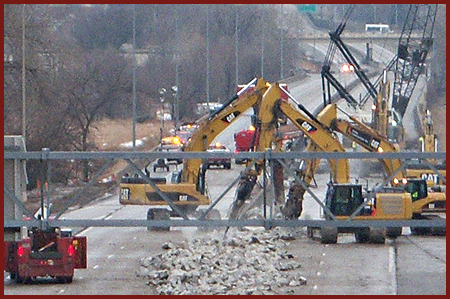 If you've driven on Highway 169 during rush hours, you know that the experience is like something from Dante's Inferno. Now, during construction, the suffering will be ratcheted up a couple of circles. Still, there's hope and there are alternative routes leading to Popco that are not too terribly inconvenient.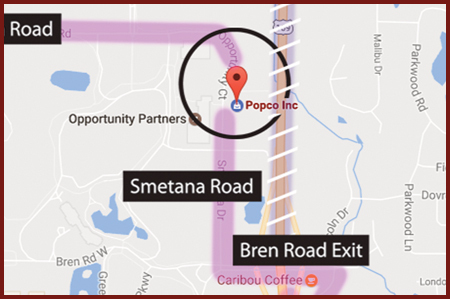 We've prepared a few suggested routes that reach our location from well known streets and highways such as Shady Oak Road, Excelsior Blvd and Highways 100 and 62. For a printable map, CLICK HERE. More details on this project and others in the twin cities are available online, click: MNDOT.
The second photo in this post was shot on the morning of January 23, the first day of demolition. The view is to the north from the Bren Avenue bridge.
Related Products and Categories
---