Thursday November 12, 2015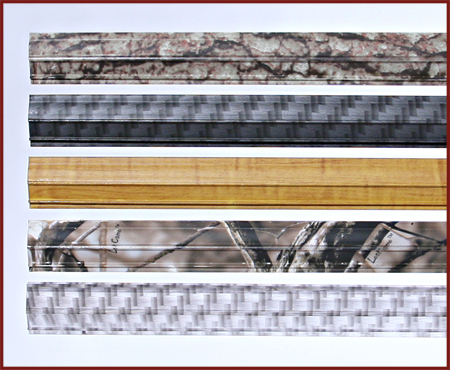 Now, as a custom order, Popco can add patterns to the SNAPRAIL™ poster hanging rails. Our first versions of this new technique have included camo patterns, carbon fiber and wood grain. Virtually any other pattern, or even branded designs are possible.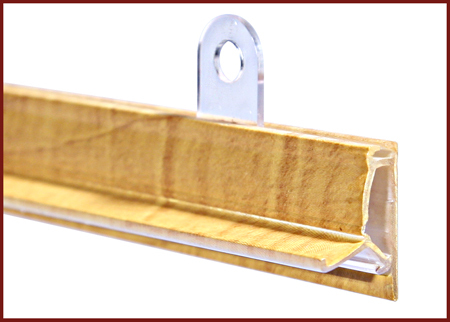 This customization is only available as a special order. To find out out what cost and lead time is, and to to discuss pattern options for your project, please contact Popco, click here.
Related Products and Categories
---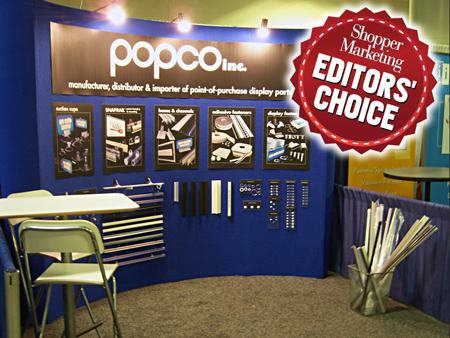 The 2015 Shopper Marketing Expo has come and gone and it turned out to be another great year for Popco. We are pleased and honored to have been chosen one of the Editors' Choice exhibitors for the second year running.
As featured in the Show guide, the Editors' Choice is described as follows:
"Pay special attention to the companies that have been designated as 'Editors' Choice.' These firms have been selected by the editors of Shopper Marketing magazine as 'must see' exhibits because of their fresh approach or a unique innovation worthy of special attention."
We couldn't have said it better ourselves! Revisit our blog in the coming months for posts that follow up on these fresh approaches and unique innovations that so impressed the Shopper Marketing editors.
Related Products and Categories
---
Thursday September 10, 2015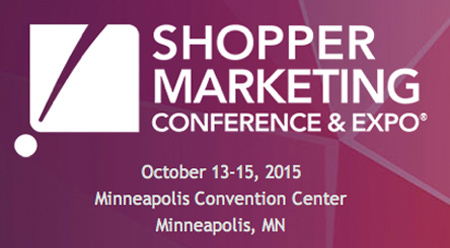 Popco is gearing up for a second year to exhibit at the Shopper Marketing Conference & Expo. This event is billed as the world's largest gathering of shopper and retail marketing professionals and is once again held in our own backyard: Minneapolis, Minnesota.
Our booth number 336 is located close to Shelfbucks Cafe. Click here for show details and look for the exhibit hall floorplan under the EXHIBIT HALL tab.
This year we have some really exciting new products to showcase including wood-finish variations on our SNAPRAIL™ poster-hanging rails. We hope the reception to these products will rival last year's response when Popco was chosen as one of the Editor's Choice exhibitors! See you at the show on Wednesday and Thursday, October 14 and 15.
Related Products and Categories
---
Popco is very excited to announce the launch of our new website. If you've visited us online before, you'll see that the look of the site is much the same as it was. Most of the new site's changes are under the hood. In other words, new features have been added that increase functionality without requiring repeat visitors to relearn the site's layout.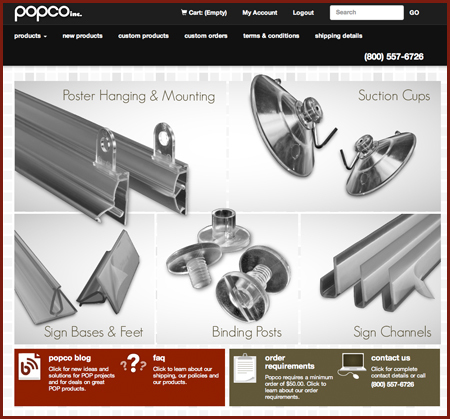 The greatest visual change to the new site is its ability to cascade to fit the smaller screens on mobile devices like tablets and cell phones. The image above shows the site as it appears on a large monitor with the browser window opened up to reveal the original design. Below you'll see an example of how the site design cascades for easier viewing on smaller screens.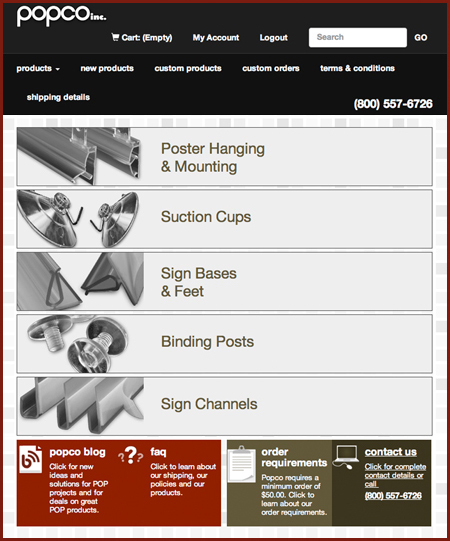 A powerful new functional change to the site is a feature that allows customers to create an account. Now, with an account, customers can login and review their Popco order history.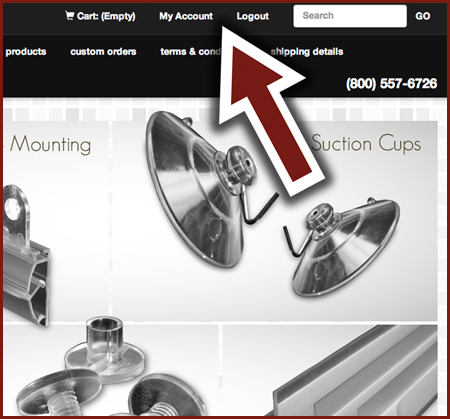 Also, simple shortcuts such as retaining billing and shipping information in the shopping cart are possible with an account. The image below shows how easily a customer can enable this new feature.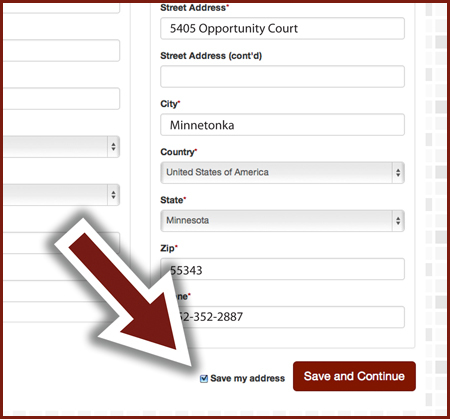 There are many other additions to the new site and we'll speak more about them in future posts. In the meantime, we hope you find our new site easy to use, full of items you need and helpful in every way!
Related Products and Categories
---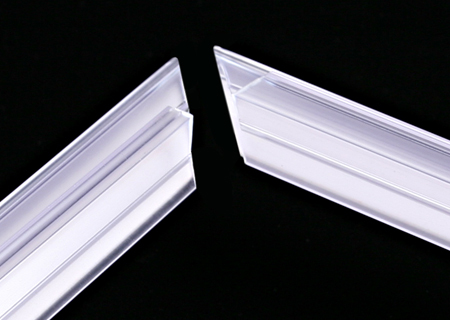 Recently, one of our customers had us heavily modify our SNAPRAIL™ sign hangers. Rather than use the SNAPRAIL™ hung from above, the customer required the rail configured to create a wall-mounted frame. This involved miter-cutting the rail to the customer's specifications and hand-applying removable tape to the back of the rail.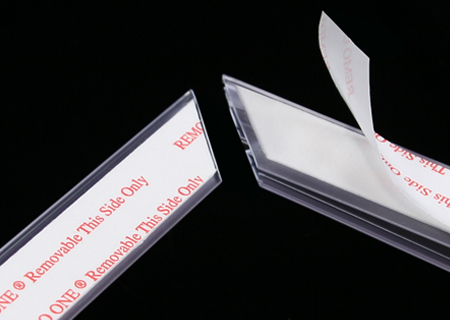 Two cuts per miter were required to create the frame's 45⁰ corner joints and still allow the SNAPRAIL™ to open and close for change-outs of signage. This process turned out to be rather tricky but, in the end, the SNAPRAIL™ functioned perfectly, met our customer's needs.
Please note: As of May, 2016, miter cutting of SNAPRAILS™ is no longer offered by Popco.
Related Products and Categories
---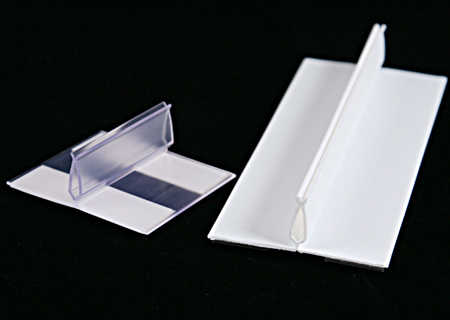 Popco's narrow and medium sign feet include permanent foam tape applied to the base, however our wide sign feet do not include tape. For extra-stable sign support, our customers occasionally require tape on the wide sign feet as well. As a custom order, the wide sign feet can have tape or even magnet applied to the base.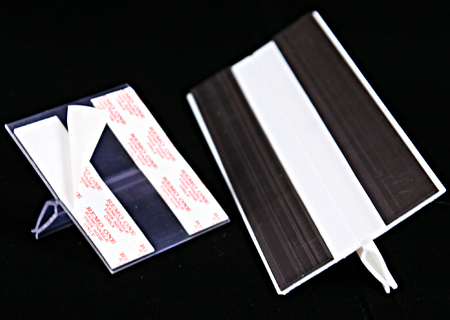 In large quantities the wide sign feet can be run with permanent foam tape, removable foam tape, permanent film tape or magnet. For these runs, the tape or magnet is applied "in-line," meaning the tape or magnet in positioned down the length of the sign foot as shown on the right in the photo above. In small quantities, the tape or magnet is hand-applied. This means that the tape or magnet can be positioned either in-line or at a right angle to the sign foot as shown on the left in the photo above.
These modifications make Popco's wide sign feet ideal for extra-stable support of free-standing signs, or for installations where the use of permanent tape is not an option. For more information on the options available, or to have your project quoted, contact Popco.
Related Products and Categories
---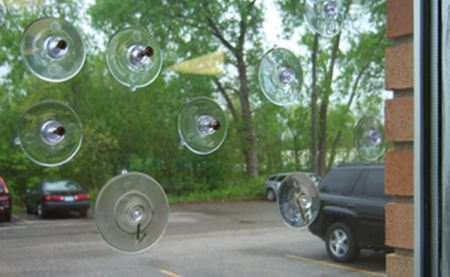 Stuck to the inside of the windows at Popco's offices are a number of suction cups, some of which have been in place for years. These suction cups are our test subjects and they demonstrate that the cups work beautifully and retain their clarity, even when exposed to direct sunlight and the temperature shifts which are so extreme in Minnesota.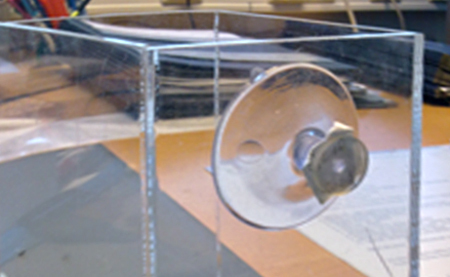 We thought our tests were pretty impressive and then came this: Photos from a customer in Finland (above & below) that show a suction cup that has held fast since October of 2008!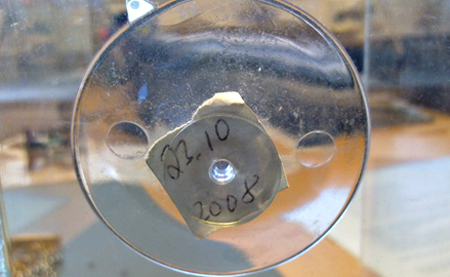 We believe that having passed the six year mark is cause for bragging rights and we're now rooting for this little cup to make it to its seventh anniversary and beyond. To view our line of suction cups, click here.
Related Products and Categories
---
Popco's push-lock loop-screw, also known as a book-screw, is now available online. Though this part is just a simple variation of our standard push-lock screw, the functional change is gigantic.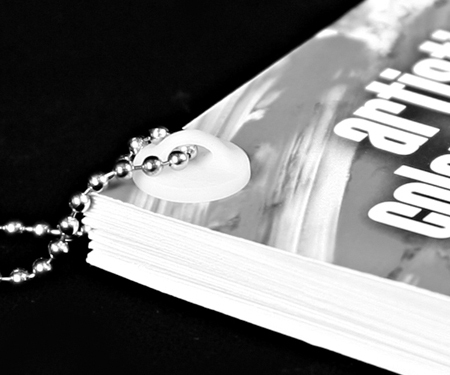 The loop allows for the attachment of beaded chain and is ideal for binding and hanging swatch books.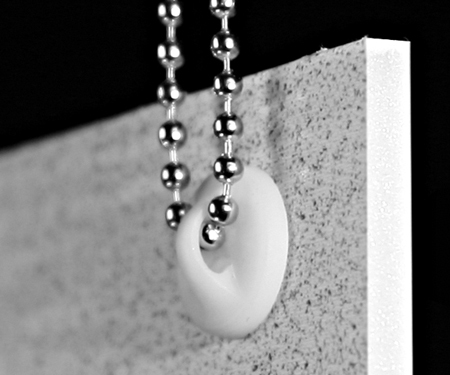 Loop-screws can also work as grommets to create hanging points on foam board and coroplast signs.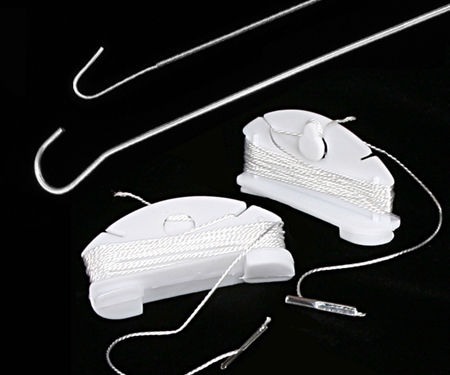 With loop screws, signs can be hung using jet wires, wire hooks, ceiling twist-clips and a number of other Popco hanging hardware parts.
Like our standard screws and posts, loop-screws and posts can be rapidly hand assembled; no tools or threading required.
For more information on this great new product, click here.
Related Products and Categories
---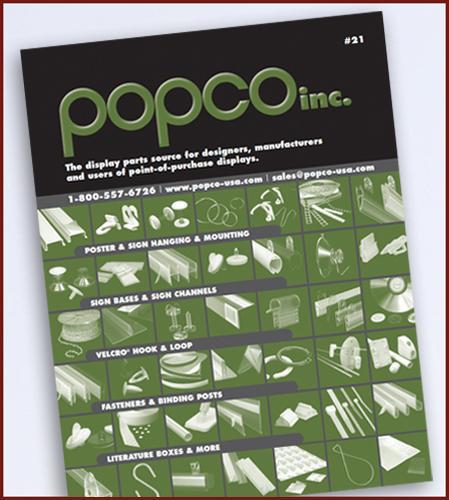 Popco's new catalog is printed and ready for immediate mailing.
The new issue, number 21, features a number of new products and some new variations on our old standard products. The new issue also includes price updates and, in some cases, we've actually reduced prices.
Since our last catalog printing, we've expanded our warehouse and increased our stock levels. This allow us to produce and inventory product in greater quantity and pass the resulting savings on to our customers.
To get your copy of the new catalog, call us at 800-557-6726 or reach out to us by email. Here's a link to our contact us page: click here
Related Products and Categories
---
Thursday February 12, 2015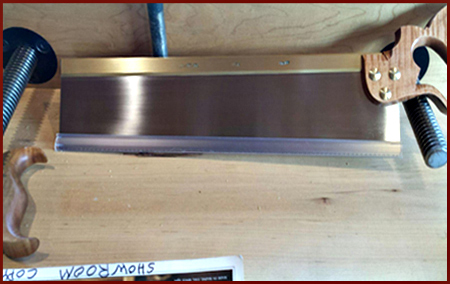 A Popco customer recently sent us a photo that, when circulated around our offices, brought forth a chorus of oohs and aahs. This is because many of us at Popco are old enough to appreciate a classic craftsmanship that predates the digital age. Shown in the photo is a gorgeous hand saw made by Lie-Nielsen Toolworks® and protecting its blade is a strip of Popco's PT-3 poster rail.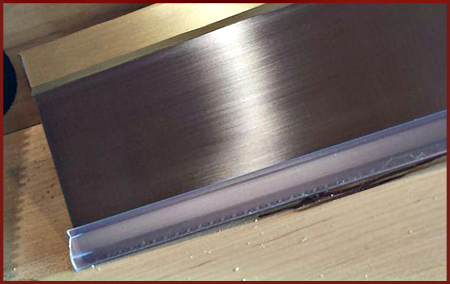 The PT-3 was designed as cost-effective rail for hanging lightweight signs, not as a tool guard. That said, the PT-3 seems perfect for Lie-Nielsen's use. We are very pleased that our humble PT-3 has been used in this way and we're flattered to be associated, even if just in a very small way, with a beautiful product like the Lie-Nielsen Toolworks® saw.
For details on the PT-3 poster rail, click here, and for a dose of oohs and ahhs, visit Lie-Nielsen's web site.
Related Products and Categories
---