Wednesday January 14, 2015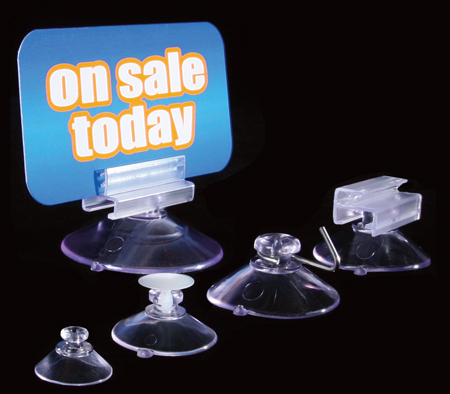 At Popco, we are frequently asked how much weight our suction cups will hold. This question is a bit difficult to answer since a number of factors affect the suction cup's performance.
We've determined that our SCH-177, a 1.75-inch diameter suction cup, will support three pounds and our SCH-240, a 2.4-inch diameter suction cup, will support five pounds. These figures are conservative estimates and our testing was done under ideal conditions.
What are ideal conditions? Ideally, the suction cups are stuck to glass or other non-porous surfaces. Any surface with a soft finish, or a textured finish such as sheet rock, will not work with the suction cups. Also, suitable surfaces such as glass or smooth metal must be clean and the suction cup itself must also be clean. Dust and debris will lessen the suction cup's ability to hold fast.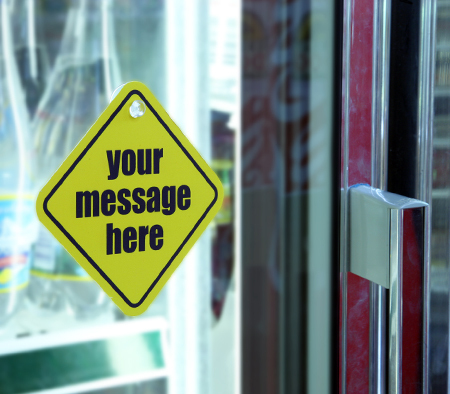 Temperature is another factor than can affect the suction cup's performance. Extremely low temperatures can stiffen the cup's plastic and break the seal; an example of this would be using the cup inside a freezer case. However, the suction cups have been used successfully on the outside of freezer case doors and both the inside and outside of cooler doors.
Very high temperatures will also affect the suction cups by softening the plastic and diminishing cup's hold. Think of a car with the windows rolled up in the desert; this scenario can cause the cups to release their hold. In general, the suction cups will function in temperatures ranging from 29 to 115 F.
Though Popco's suction cups are made specifically for holding light-weight signs in a retail setting, they are used in many other ways by our customers. Because of this, and the factors detailed above, it is up to the purchaser to access the suitability of our suction cups for their particular use. We will provide samples for testing so that you can determine if the suction cups are right for your project.
Related Products and Categories
---
Wednesday December 10, 2014
Since Popco specializes in point-of-purchase display parts, our products are typically used in retail settings. However, much to our delight, our customers occasionally have less commercial and more purely artistic uses for our products. There is no better example of this than a recent project undertaken by The Principals.
The Brooklyn-based Principals is a creative team that includes an architect, and industrial designer and a master craftsman. Their product designs, architectural environments and sensor-driven robotic installations have been featured in architectural and design journals around the world.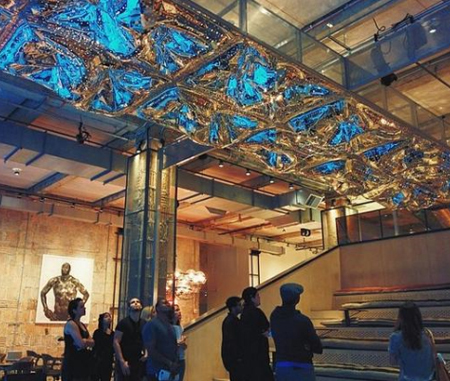 Popco's products played a small role in a recent project by the Principals entitled Ancient Chaos. Ancient Chaos, a site-specific installation in lower Manhattan, included a series of articulating, ceiling-mounted panels made of Mylar squares affixed together using Popco's push-lock screws. The squares formed a shimmering quilt, shown above, which was mechanically controlled to interact with an original piece of music composed and performed by Devonte Hynes.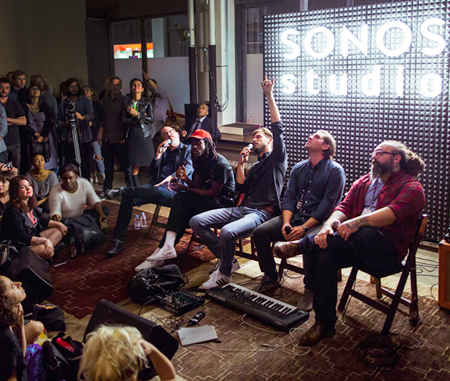 Devonte, a London-based musician who is also known as Blood Orange, is pictured above wearing the red cap. Seated to his right are members of the Principals, and below is a shot of Devonte performing Ancient Chaos.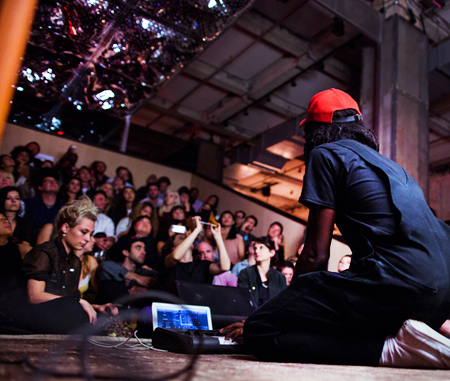 Though Popco's contribution was slight, we are proud and excited to have been a part of this project. Below is a link to an Ancient Chaos video and roughly 36 seconds into the video, you'll see Popco's push-lock screws being used to assemble the Mylar squares.
Related Products and Categories
---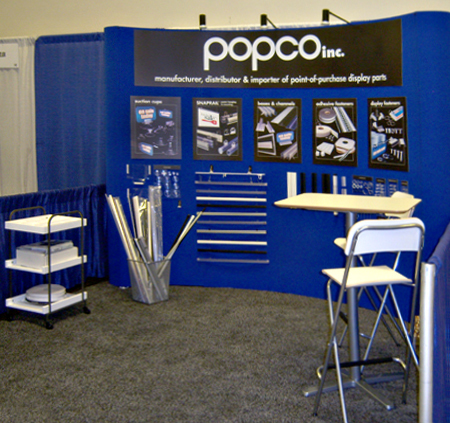 Now that the 2014 Shopper Marketing Conference & Expo is behind us, and we've had a chance to assess the show, we are very pleased that the show was a success and we are honored to have been chosen one of the Editor's Choice exhibitors.
It was great having this event in Minneapolis and hearing from out-of-towners that the twin cities delivered the goods, both at the show and beyond the show where dining, sporting and cultural offerings were plentiful.
The 2015 Shopper Marketing Conference & Expo returns to Minneapolis next year and we've signed up to exhibit once again. In fact, we are already working on some of the new items that we'll feature then. Thanks to everyone who stopped by to check us out. See you next year.
Related Products and Categories
---
Wednesday October 15, 2014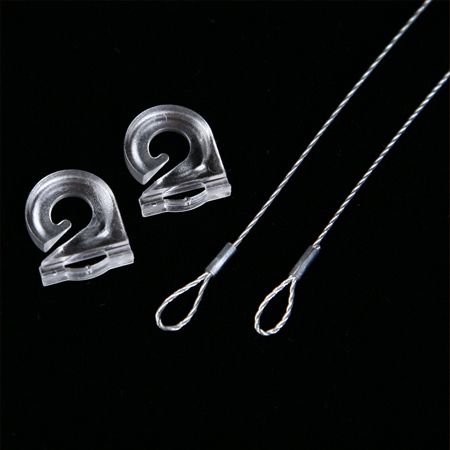 Popco's steel looped-end cables are ideal for hanging signs at fixed heights. The cables are very strong; comparable to our wire hooks, but the cables are less visible than the hooks and this is a big selling point for some of our customers. Unfortunately, the steel looped-end cables are not compatible with our standard banner clips; the parts that create hanging points on our SNAPRAIL™.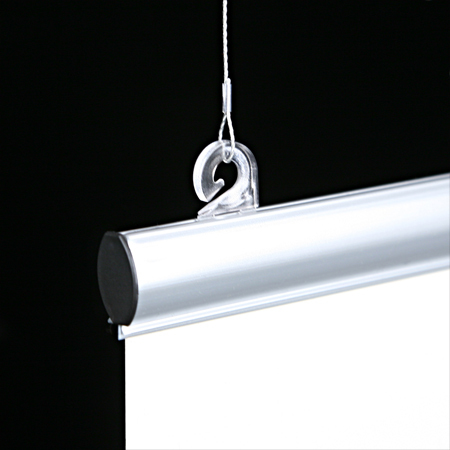 That problem is now solved with the introduction of Popco's universal banner clip. This clip is open-ended and accommodates our steel cable's looped end. The universal banner clip works with all styles of our SNAPRAIL™ and also with our new SR2 series super rail. For more information on the universal banner clip, click here, and for more information on our steel looped-end cables, click here.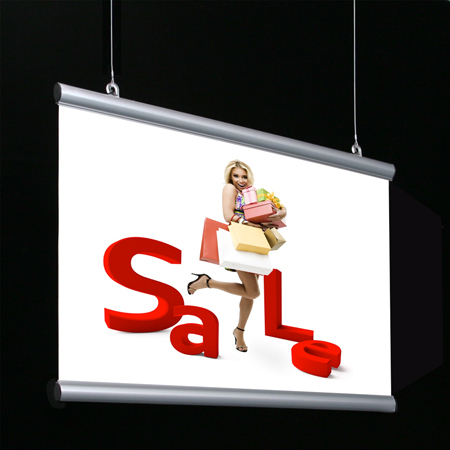 Shown here is the universal banner clip and steel cable used with our NX series SNAPRAIL™. These parts and many more will be featured at the Shopper Marketing Conference and Expo. The Expo is right around the corner, beginning next Wednesday, Oct. 22. Come see us at booth #140. For more info, click here.
Related Products and Categories
---
Wednesday September 10, 2014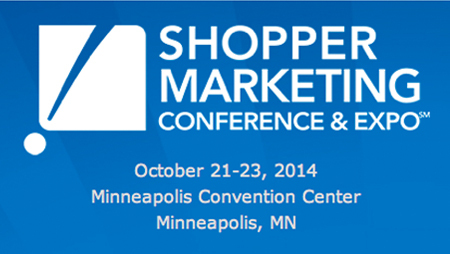 This year, the Shopper Marketing Expo, the world's largest gathering of shopper and retail marketing professionals, is taking place at the Minneapolis Convention Center. Popco will be among the 125 exhibitors at the show and we will be unveiling a number of new products.
Some of the items featured at the show will be Popco's new stock lengths of SNAPRAIL™, our poster and banner hanging system. Several new styles of suction cups and new sign-hanging hardware will be featured as well.
Stop by and see us at booth #140 on Wednesday, Oct. 22 and Thursday, Oct. 23. Our booth is located in the upper right side of hall A, near Shelfbucks Café.
To view a map of the show floor, visit the official show website. Under the EXPO menu, choose EXHIBIT HALL FLOORPLAN for a printable PDF. Here's a link to the show's website: click here.
Related Products and Categories
---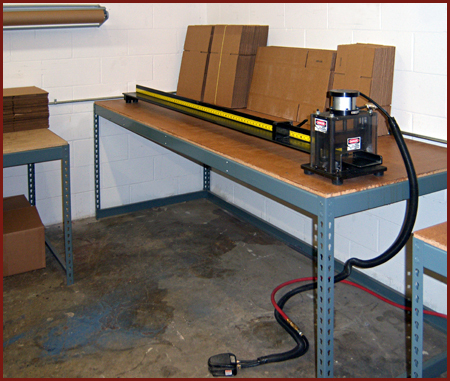 Recently, a customer asked what the difference is between Popco's two cutting options: drop cutting and saw cutting. The primary differences are: The type of material being cut, and the machine required for the cut.
Our poster hanging and mounting products, such as the SNAPRAILS™, Superail 2, Banner Rail and PT series Poster Rails are all cut on our custom-built drop-cutter. So too are our J and H-profile sign channels and our sign grips.
The drop-cutting machine was designed specifically for this task. A long cutting platform supports the material being cut and provides an adjustable stop-point which we set to the dimension of the cut. Once set up, an air-pressure-powered, guillotine-like blade cuts the rails cleanly, leaving no saw marks or burrs.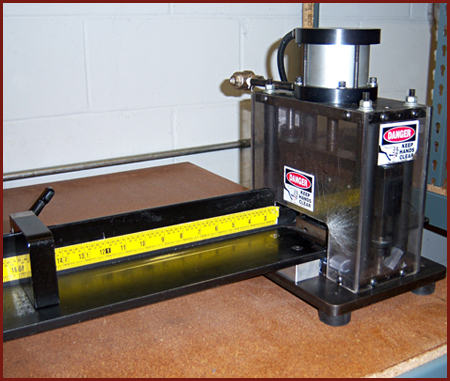 Pictured above is a detail of the drop-cutter machine showing both the dimension-stop and the cutting-head assembly. To the right of the cutting head is a long work table that allows long pieces of material to be efficiently fed into the cutter. The cutter's blade is engaged by stepping on a foot pedal (shown under the cutting table in the first photo). This one-of-a-kind machine allows Popco to quickly cut material to customer's required dimensions for projects that are too small to justify a custom-run.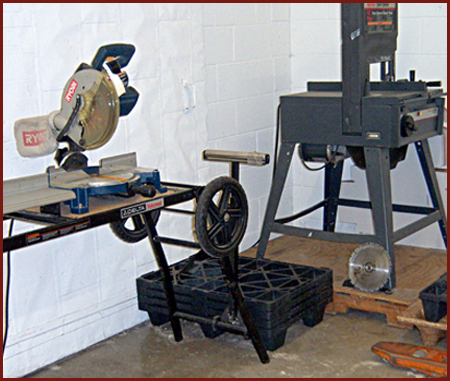 Saw cutting is (surprise, surprise) cutting by saw! Most often this is done on our chop saw, shown above on the left. Occasionally, projects require cutting on our band saw, shown on the right. These machines are used for Popco's parts that are too thick or too large to be cut on the drop cutter (specifically, our sign bases and sign feet). Saw cutting is more labor-intensive than drop-cutting and, as a result, is a bit more expensive. Prices for drop cutting and saw cutting are detailed in the custom-orders section of the website. To see these prices, click here.
Related Products and Categories
---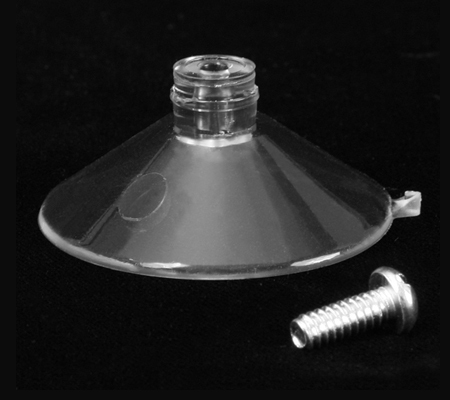 Recently, we've added two styles to our selection of suction cups. The new SCMS-187 is a combination of our 1-7/8-inch diameter suction cup with an enlarged stem hole, and a 1/2-inch long metal screw. The screw fits the suction cup's stem hole and is used to affix signs to the suction cup. This combination of suction cup and screw is ideal for mounting plexi-glass displays.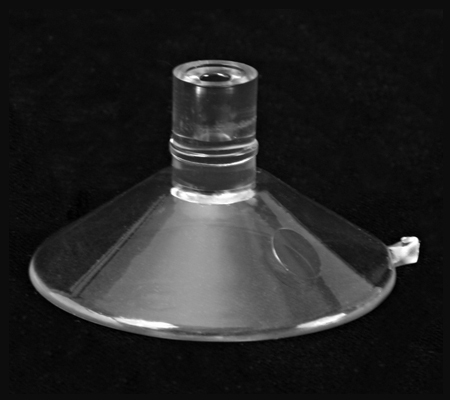 Another new suction cup is the SCLS-187, or long-stem suction cup. This suction cup is also 1-7/8-inches in diameter and it too can be used with metal screws. The long-stem suction cup is designed to produce a "standoff" effect. For more information on the suction cup with metal screw, click here, and for information on the long-neck suction cup, click here.
Related Products and Categories
---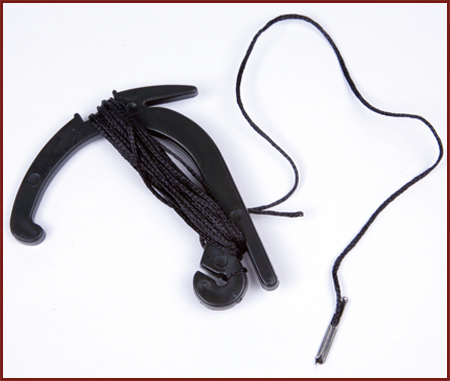 Popco is offering a discounted price on our black c-hook with black string. This part, item number CHBB-8, features eight feet of black barbed string, and is used to hang light weight signs from ceiling grids or metal conduit.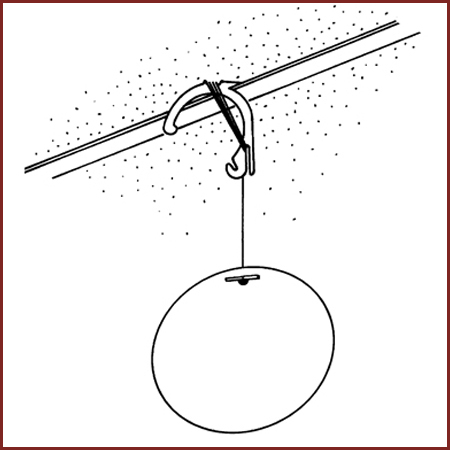 The CHBB-8 is sold in bags of 100 and is now marked down from $0.15 per part to $0.08 per part. This offer is good only while supplies last. The CHBB-8 is a non-standard part for Popco; once our limited stock is sold, we will no longer offer it. For more information on this part, or to place an order, click here.
Related Products and Categories
---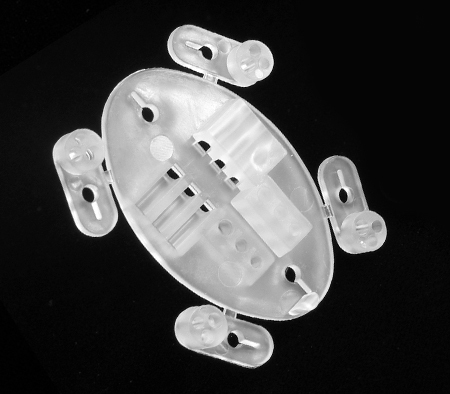 For complex, multi-panel mobiles, Popco has developed the "mobile turtle." The turtle is a molded-plastic center-piece that is used in combination with our mobile wires and barbed string.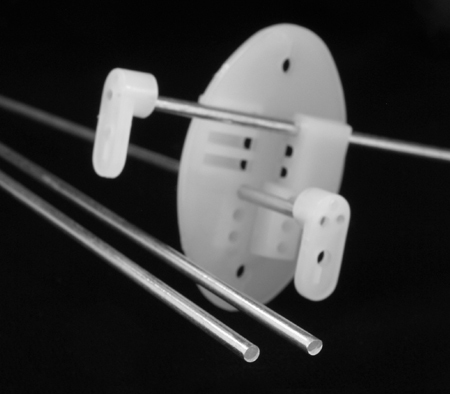 The turtle includes a number of openings through which mobile wires pass. End-cap pieces, which easily snap off of the turtle, are placed over the ends of the wires. When combined with barbed string, the end-cap pieces connect the wires to the mobile's printed panels.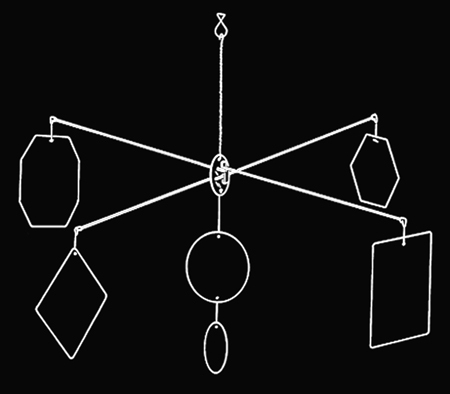 Unlike the 3-sided mobile mount, we have not kitted the mobile turtle with other display parts. This is because customer's choices of barbed string lengths and ceiling connection options are too varied. Instead, we offer the mobile turtle a la carte and advise customers on hanging options such as the c-hook with string, the squeeze-clip with string or the ceiling twist-clip with string. Visit our web section devoted to hanging hardware for details on these parts and to choose your length of barbed string.
Related Products and Categories
---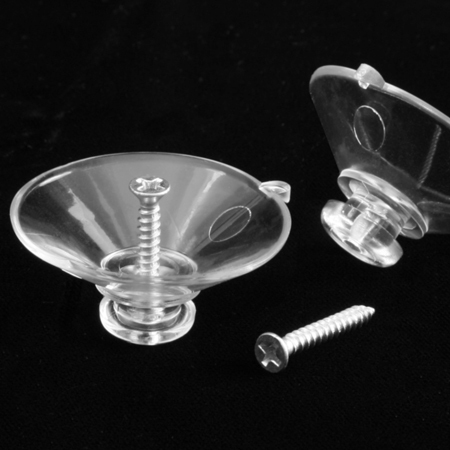 Recently a customer had Popco prepare our suction cups in an unusual and clever way. As shown in the picture above, we inserted a 1-inch wood screw into the suction cups from the bottom up. The customer then used the screw to attach the cup to a wooden surface, with the stem of the cup meeting the wood and bottom of the cup facing out (see the illustration below).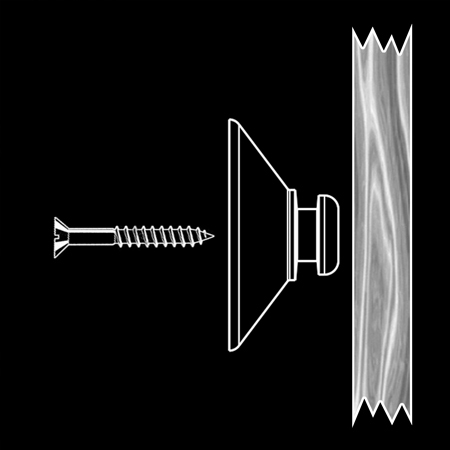 When fully inserted, the flared head of the wood screw created the air seal needed to allow the cup to work and the customer was then able to attach a plexiglass piece to the cup's base. In other words, the suction cups, affixed with a screw, worked on a wooden surface, something we didn't imagine was possible. The suction cup stem doubled as a stand-off for our customer's display and the customer was able to easily change out their plexiglass signage. Clever indeed! We are grateful to the customer for bringing to our attention this unique use for our suction cups.
Related Products and Categories
---