Thursday September 10, 2020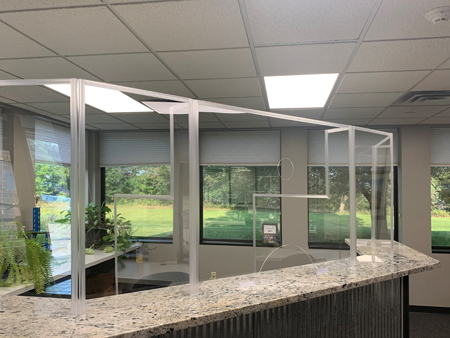 Forgive us if we keep posting about the elephant in the room. The elephant being, of course, the pandemic and its toll on businesses and individuals. It's not our intention to add to the glut of bad news. Instead, it's our hope to offer solutions and to contribute practical solutions to some of the challenges facing businesses in this time.
One such challenge is the installation of Covid shields. Popco has developed a number of new products that make this task easy and cost effective. Our new products eliminate the need for drilling or gluing to mount shields to counters. They also allow for great flexibility in adapting a shield to any space. Best of all, they are cost-effective, particularly when compared to heat-bent plexiglass shields or shields assembled with metal hardware.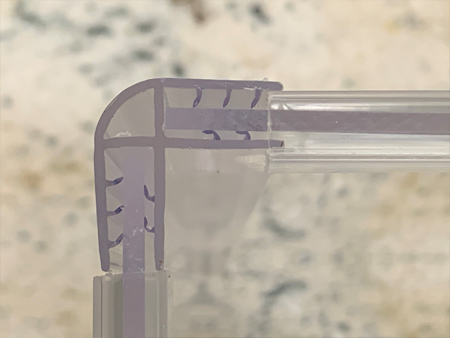 The first piece we now offer is a simple 90 degree corner former. Many, if not most, counter mounted Covid shields require this type of right angle.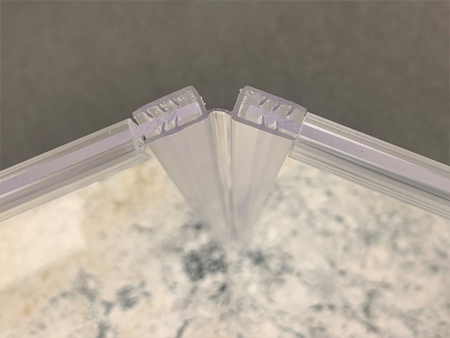 For unusually shaped counters, we offer a flexible joinery piece. This new product allows Covid shields to be easily adapted to counter angles other than 90 degrees.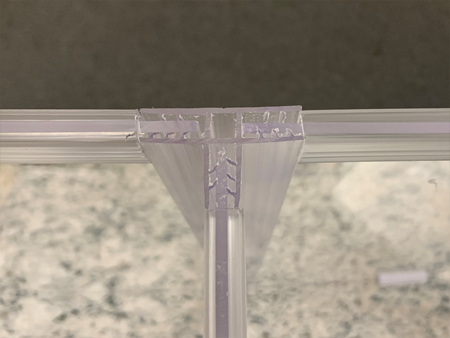 In some cases, Covid shields may need to separate mutliple customers as they are served at long counters. For this, we've developed the t-shaped joinery piece shown above. Currently, we are not stocking this piece, instead we run this to order with a lead time of about ten business days and with minimum order requirements.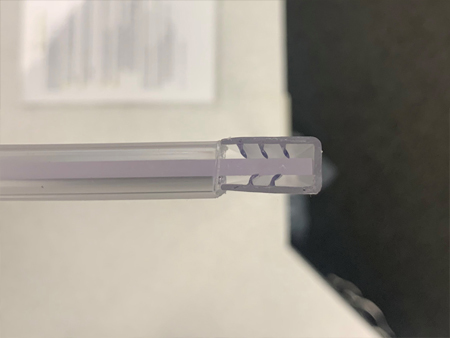 The last product in this new line up is an edge cap. This covers any sharp edges that may exist on cut plexiglass. It also creates a pleasing visual, making cut plexi sheets appear fully framed.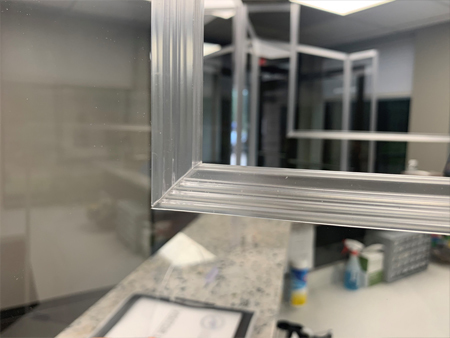 All of these new products are made from clear PVC. This means the material can be easily cut to the dimensions of your Covid shield. Miter cutting is possible and can create a highly finished look as shown above. Unfortunately, Popco does not offer miter-cutting services. If this type of cut is required for your installation, purchasing edge cap pieces a bit longer than needed will give you the material dimension you need to create your own miter cuts.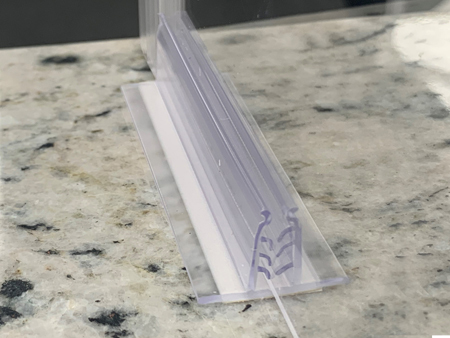 Once a Covid shield has been assembled using your plexiglass and Popco's joinery pieces, the shield can simply rest on your counter and be made stable using our t-shaped sign bases. Depending on the shape of the shield, the removable adhesive on the bottom of the sign base may, or may not be needed. What is certain is that no drilling or other damage is required on your counters. Instead, you'll have a repositionable and attractive shield all for a very attractive price.
If your business requires a Covid shield, please call Popco. One of our sales representatives can assist you with details on our new products that are perfect for this use.
Related Products and Categories
---