Wednesday January 15, 2014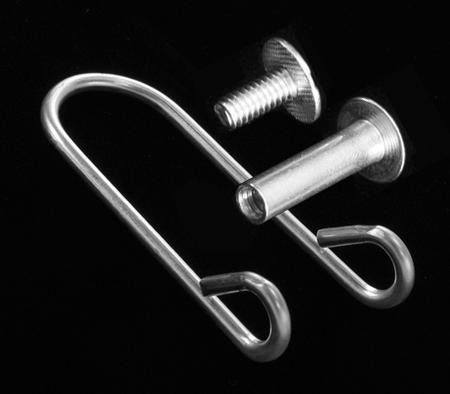 If you need to hang really thick signs, too thick for our snaprails or superail, the u-loop sign hanger is the part for the job. With the u-loop, in combination with our aluminum screw posts or plastic push-lock screws, signs as thick as 5/8-inch can be hung.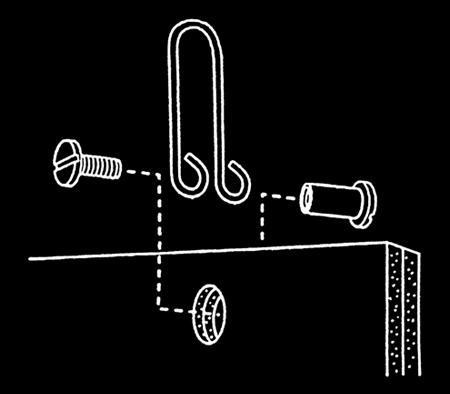 To do this, your sign will need to be drilled to accept a 1/4-inch diameter screw post or push-lock screw. The u-loop's eyelets are then positioned on either side of your drilled holes and the screw posts or push-lock screws connect all the parts (see the illustration above). Once in place, the u-loop creates a hanging point on your sign and can be connected to a ceiling with a wide variety of hanging hardware.
---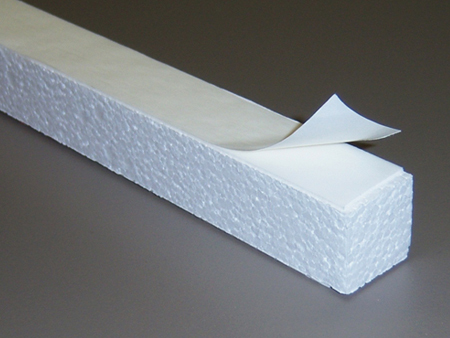 For three dimensional point-of-purchase displays, a popular product is the foam spacer block; sometimes known as a stand-off. Popco stocks two popular sizes of stand-offs. Our stock sizes are 1" cubed and 1/2" x 1" x 1". These sizes have worked well for a number of our customers, but, occasionally, larger stand-offs are required for especially elaborate displays. For these projects, Popco offers made-to-order stand-offs; cut to specified dimensions from styrofoam. Double-sided tape is applied to each side of the cut styrofoam and the tape's outward-face is protected by a removable liner.
Contact Popco for details on made-to-order stand-offs. Minimum order requirements apply and, as non-stock items, additional lead time also applies. Call 800-557-6726.
---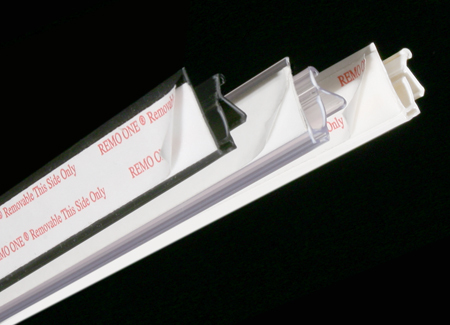 Though they are designed for hanging posters and banners from ceilings, Popco's snaprails can also be used to mount signs to walls. To do this, the snaprail can be modified with foam tape applied to the back. For small quantities, we can hand apply the tape, and for large quantities, the tape is applied to the snaprail as part of a custom run.
Both permanent and removable foam tape is available and either tape can be applied to the SPR and SPZ series snaprail. In addition to taping, the snaprail can also be cut to your required dimension. Contact Popco for a quote and add wall-mounted snaprails to your arsenal of ideas for POP displays.
---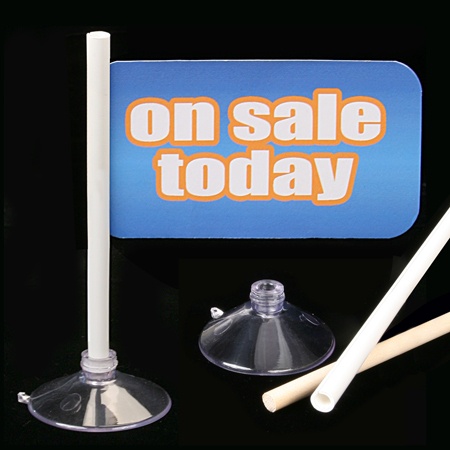 Popco has just added a new suction to the products offered online. This new suction cup, item number SCQH-187, has a 1-7/8 inch diameter base and a large, 1/4-inch hole in the stem. The large hole is meant to accommodate inserts such as dowels or split tubes, to which flag-style signs can be attached.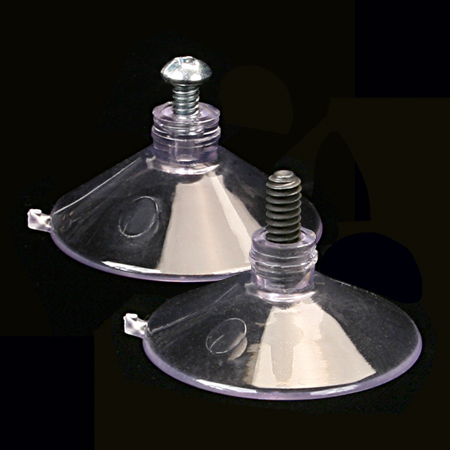 Another means of attaching signs or danglers is by using screws as inserts into the stem hole. Many different varieties of 1/4 inch diameter screws will work with the suction cup giving you a great deal of flexibility when designing your POP displays.
For more information on the new SCQH-187 suction cup, click here.
---
Monday September 16, 2013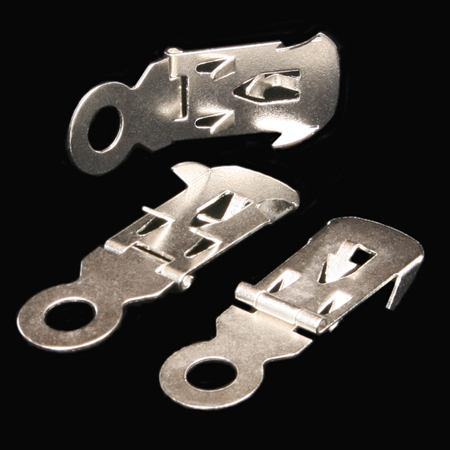 Popco has just added another new product specific to foam board displays. Known around our offices as the "dog tooth" hanger, this product is a hinged, metal part that can be pressed into foam core by hand to create a hanging point.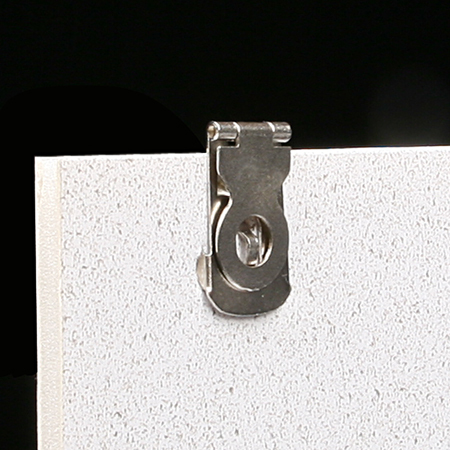 The hinge allows the hanging point to fold down, making your display piece easy to ship, then folds up for quick and simple hanging once the display is in a retail setting.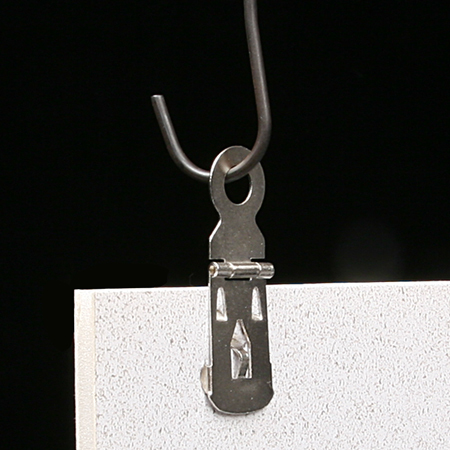 The foam board hanger can be used in conjunction with the foam board edge protector. Simply install the edge-protector on the foam board first, then attach the hanger beneath the edge protector. When the parts's hanging point is in the up position, it will stick up above edge protector.
For more information on the foam core hanger; click here.
---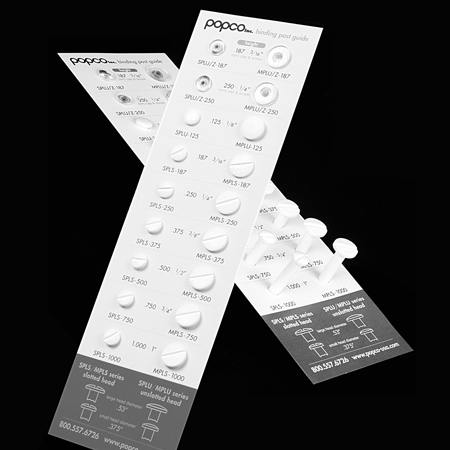 Popco produces a large variety of binding posts and screws, ranging in size from 1/8" to 1" shaft lengths, with head diameters of either 3/8" or 17/32". These posts and screws are available in white, black and clear and many of them are available with slotted or un-slotted heads. In other words, we have a lot to choose from!
To simplify the process of deciding which post and screw set is right for your project, we've created a sample card which includes examples of each size we offer and each head style. If your project requires binding posts, contact Popco and ask for the sample card. There are a limited number of these cards available and this offer is good only while supplies last.
To contact Popco, click here
---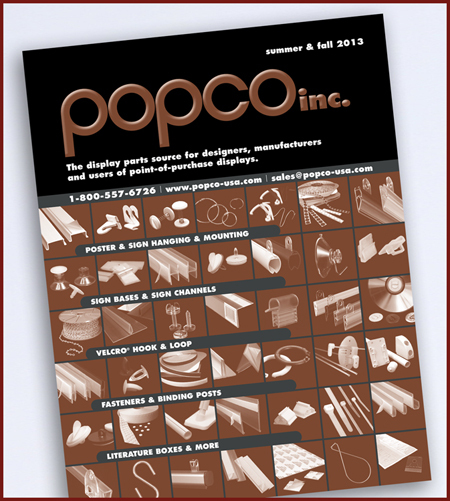 Popco's new catalog, the 2013 summer & fall issue, is printed and ready to mail now. A number of new products are featured in the updated catalog; some of them not yet available online.
Call us for your copy of the catalog, 800-557-6726, or, to use the web's contact-us form or email link, click here
---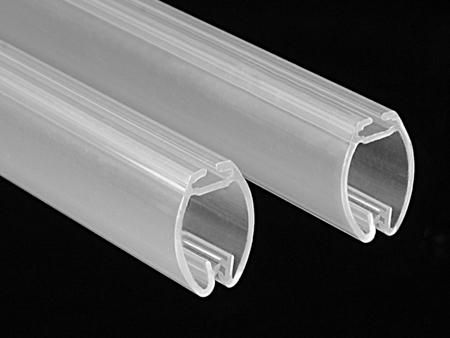 Popco has completed tooling for a new poster spine which will accept thicker stock than any of our other SNAPRAILS™ or banner rails. Our new part, the SR2 series super rail, is an oval-shaped profile with flexible, internal gripper fins.
This is a similar design to our discontinued SBR series super rail, but improved in a number of ways. First, the thickness of the new hanging rail has been decreased. This makes the part lighter and less expensive without compromising its strength. Next, a wider opening at the bottom of the rail accepts thick stock, but the flexible gripper fins allow the new rail to tightly grip thinner stock as well. Finally, the SR2 will accept the same end caps that serve our NX SNAPRAIL™; the end caps tab into the SR2 for a nice, finished look.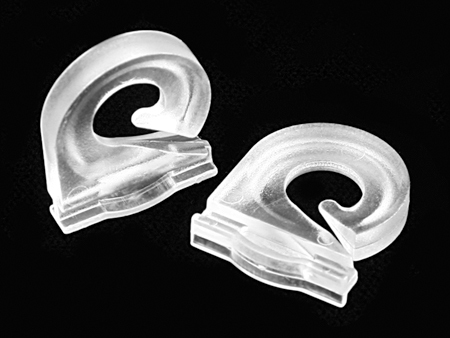 Another new Popco product is the BRC-5 universal banner clip. This clip is meant to be used with the SR2 series super rail and it also fits our SNAPRAIL™ and NX SNAPRAIL. The BRC-5 is made from tough, clear polycarbonate and it creates a hanging point which is ideal for use with wire hooks, jetwires, s-hooks and jack chain, and steel looped cable.
For more information on the new SR2 poster spine, click here, and for more information of the BRC-5 universal banner clip, click here.
---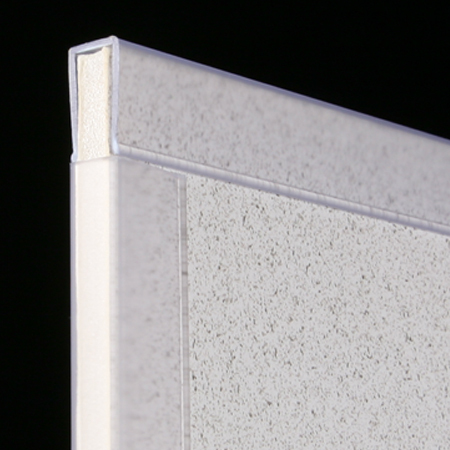 Foam board, or foam core, is a terrific material for retail signage. It's light, making it practical to ship and hang. It's also rigid; perfect for hanging displays or for use as a backdrop to dump-bin displays. The one significant weakness of foam board is its susceptibility to denting along the edges and crumpling at the corners.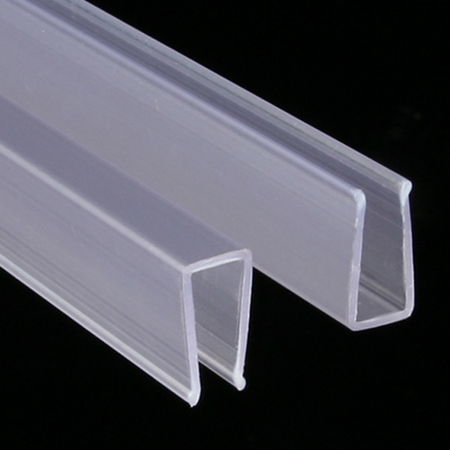 Popco's new extruded profile, the foam board edge-protector, solves this problem perfectly. Designed for 1/4" thick foam board, the edge-protector simply slides over the foam board's edge and turns a vulnerable area into a comparatively bomb-proof area. The edge-protector covers approximately 1/2" of the foam board's front and back; cut to size, the edge-protector can create an attractive frame on all sides of your foam board display.
For more information on this new product, click here.
---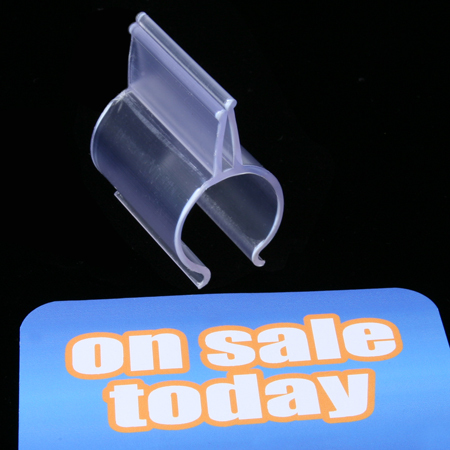 As the snow recedes, and spring reluctantly arrives, retailers in our area–Minnesota–start packing up the shovels and road salt to make room for the gardening equipment and lawn furniture. This is the time of year when certain Popco products are increasingly in demand. One such product is the tube-grip sign-holder.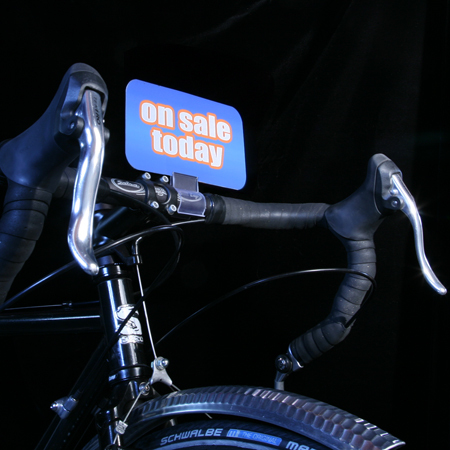 The tube-grip sign-holder does exactly what the name implies, making it an ideal merchandising tool for products such as lawn mowers, lawn chairs and bicycles. Simple, attractive, easily positioned and reusable, the tube-grip sign-holder is a great part for all sorts of products. And, of course, it also snaps easily onto a snow blower handle making it an all-season, all-around, useful part.
For more information on the tube-grip sign-holder, click here.
---